On Your Way To Travel Thailand: Part 3
|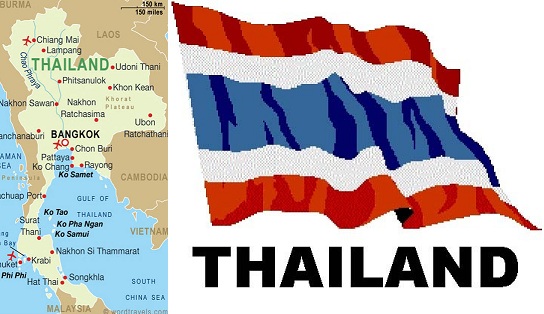 The main train routes
Northern Thailand
Bangkok – Chiang Mai: 12 hours, starts consistently at 19:00 clock
Ayutthaya – Chiang Mai: 11 h starts consistently against 20:00 clock
Bangkok – Nong Khai: 10.5 h switch, continuously at 19:00 clock
South Thailand
Bangkok – Surat Thani: 11 h starts consistently against 19:30 clock
Bangkok – Trang: 15 h switch, continuously around 17:30 clock
Local Transfer: taxi, tuk-tuk, Songtaew, moped and bicycle hire
Tuk-Tuk
Tuk-tuks are a popular transfer agent and a ride on a tuk-tuk is a real experience! You are seeing this motorized rickshaws actually everywhere. The rattle of the engine, the heat and the traffic – in our opinion, include a tuk-tuk ride to any trip to Thailand.
Speak, before you get the price with the driver off, which prevents misunderstandings. For a journey of 10 minutes, you pay about 50 baht – a little more than one €. All around the Khao San Road, the tourist street in Bangkok, we could for 10 Baht "anywhere we wanted" drive. But then we had e.g. a silver bazaar keep the driver was hoping that we would buy something here. If you do not want that, have a go at another tuk-tuk, you will probably direct you to your destination.
Thailand Taxis
Taxis in Thailand are cheap and the drivers are friendly and helpful. Especially in large cities, the taxi, the easiest way, you will have no trouble with exhaust gases. We recommend that the often bright colors painted taxis with "taxi-meter" to use. You then pay the price of the meter. The start rate is usually around 35 baht and get them about 2 baht per kilometer. It is not customary to tip taxi drivers, but he will be happy and grateful if you round the bill up. Some drivers claim that their meters were broken and would rather deny a price, however, this is often less favorable. Most taxi drivers speak only "hands and feet" English, so it is convenient to take a business card of the hotel or as a city map on which you can show you where you want.
Bicycle and moped rentals in Thailand
In addition to Bangkok, where we offer a very nice bike ride, it's great, especially in small places to go out even by bicycle or scooter. You can set your own pace and stick to the places you find interesting. Bicycles can be rented at several places in the hotel and cost about 2 € per day. Be sure to take a bottle of water and a hat against the heat with. At the slightly larger towns or on the islands you can rent mopeds. You can then visit the sites that are outside the center. To rent a moped, you do not need an international driver's license, your passport is often withheld or have to pay a small deposit. The rental price varies greatly, 3:00 to 8:00 per € day. Wearing a helmet is compulsory.