Chautauqua Creek Gorge State Forest, Westfield Western New York Attractions
|
Upstate New York overall, and Western New York in particular, are tough during winter time. No doubt. Sure, if you like winter, that's probably a plus for you. Yet again, no doubt that the area is amazingly beautiful during summer. Forests, trails, creeks, lakes, beaches, place to go for hiking, biking, walking, swimming — you name it.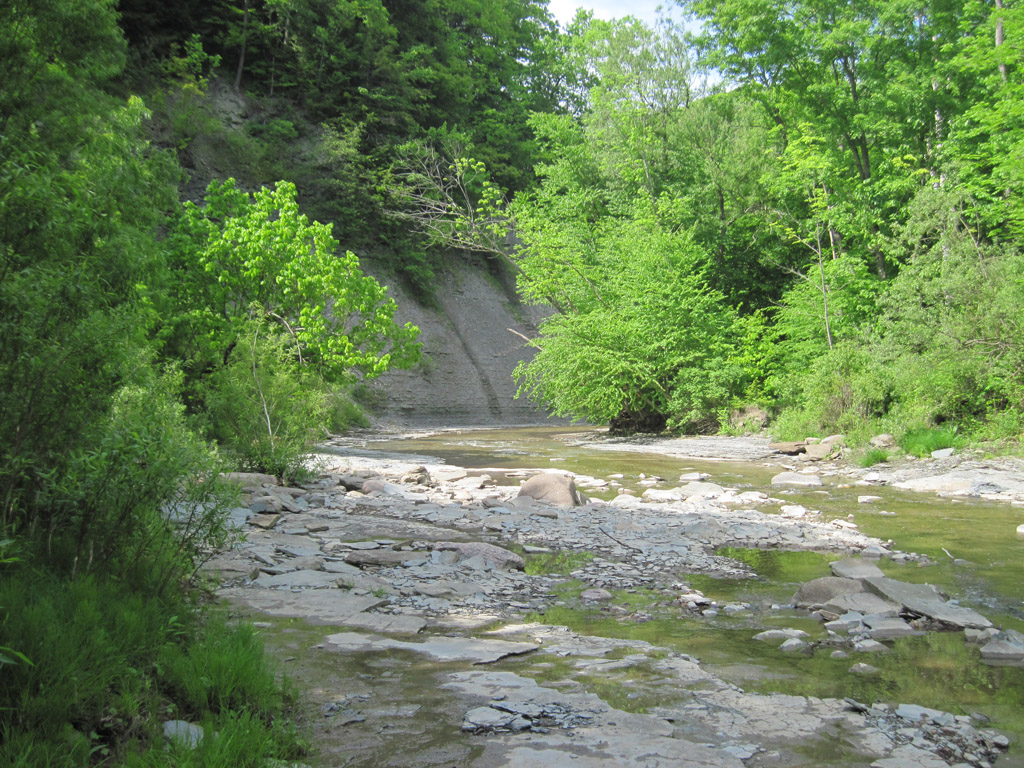 (This is the view to your left at the end of the trail that goes down to the creek. Make sure to remember this spot. Otherwise you might be in trouble on the way back. I give more information about it below. Nothing to worry about.)
We are at another secret destination in Western New York today. It is Chautauqua Creek and Gorge State Forest in Westfield, New York. As usual, I will only give a few necessary information about this place, and let the pictures tell the rest of it for you.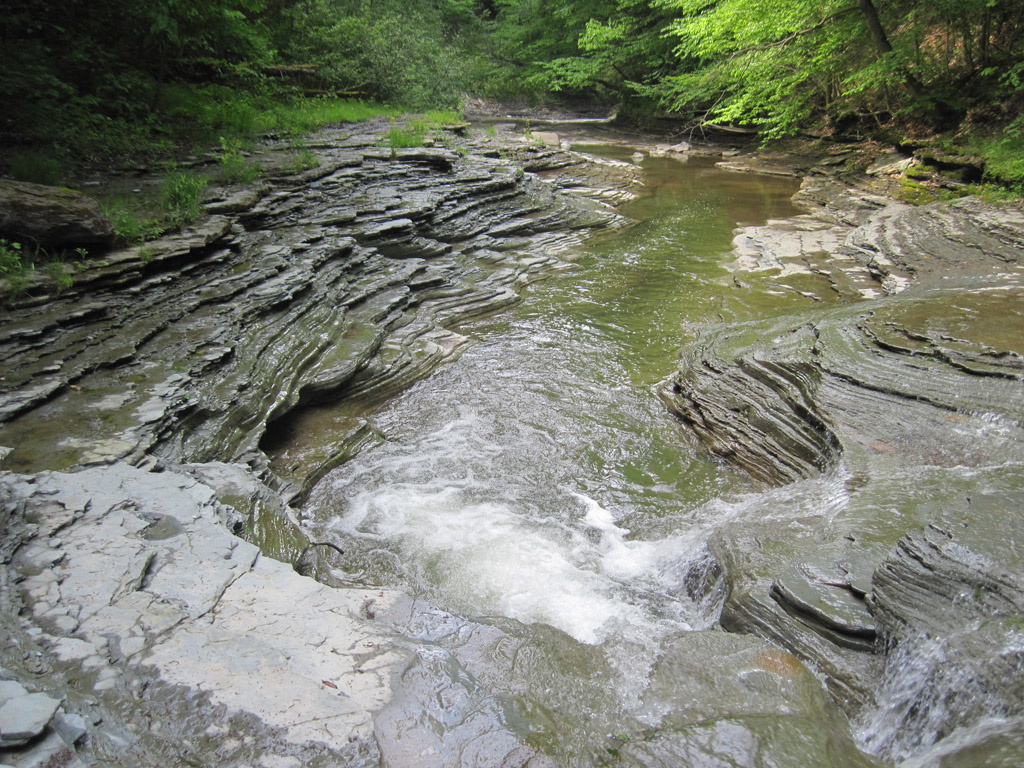 So, how to get to this place. You could find way more detailed information with a quick search on internet but I will make a summary of that should suffice for you to get there. Go to town of  Westfield. Route 20 passes right through the town. You will need to take off rt. 20 to Chestnut Street (Country Road 21). Chestnut Street will turn into Sherman Road — follow that. A little over 3 miles after that, take Ogden Road to the left. And about 1.5 miles after that, take another left turn on to Taylor Road. A little over half a mile, you'll see the parking area.
Don't drive any further. And once you start walking, you'll see that the path splits into two. To the right, it goes to the Cabin At The Gorge. As the sign clearly says it, they don't want to be disturbed. Take the path to the left and keep walking until you arrive at the creek.

(This part was nice really. As you can see, this little falls creates a little pond. But unfortunately a big portion of the pond surface was covered by residues — branches, wood pieces etc. Nothing harmful, though. Only it wasn't clean enough. If you get there and it's clean, it can be an awesome place to get into water. All these pictures, by the way, show the part of the creek walking to the left once you get down to the creek after the trail.)
You're there. It would be wise to keep in mind where you're at now. Since that's the path you will take back up where you came from. It's not difficult once you look to your right, you'll see across the creek, that high gray shade of little canyon, like a wall; and it sticks out. Also, there'll be an orange color ribbon hanging on one of those branches. And a little to the left, you'll see a small falls across the creek again. So, you could spot it this way.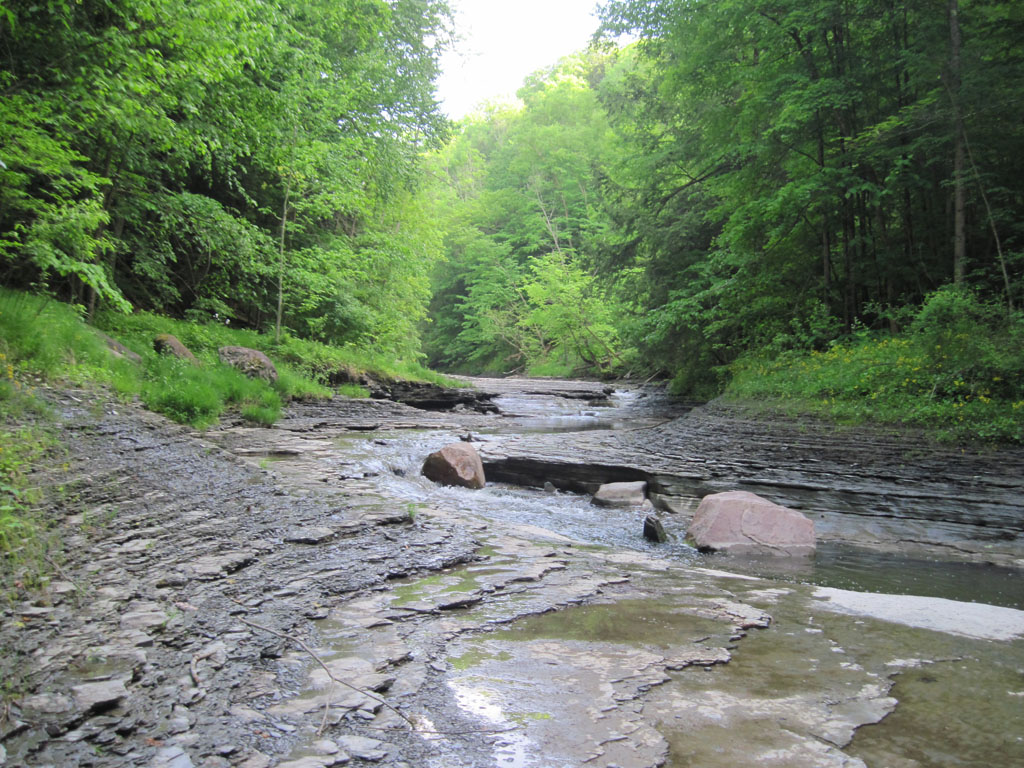 It's one of the best walks in the whole region really. Along the creek, it is fantastic. If you want to, you could also go for fishing. There is also an ATV trail on the eastern shore of the creek. So, I'd assume you could go there somehow with your ATV. Since I don't know much about it, I won't be much of a help here. Sorry. But you could definitely do it — that I know. You'll just have to find your ways.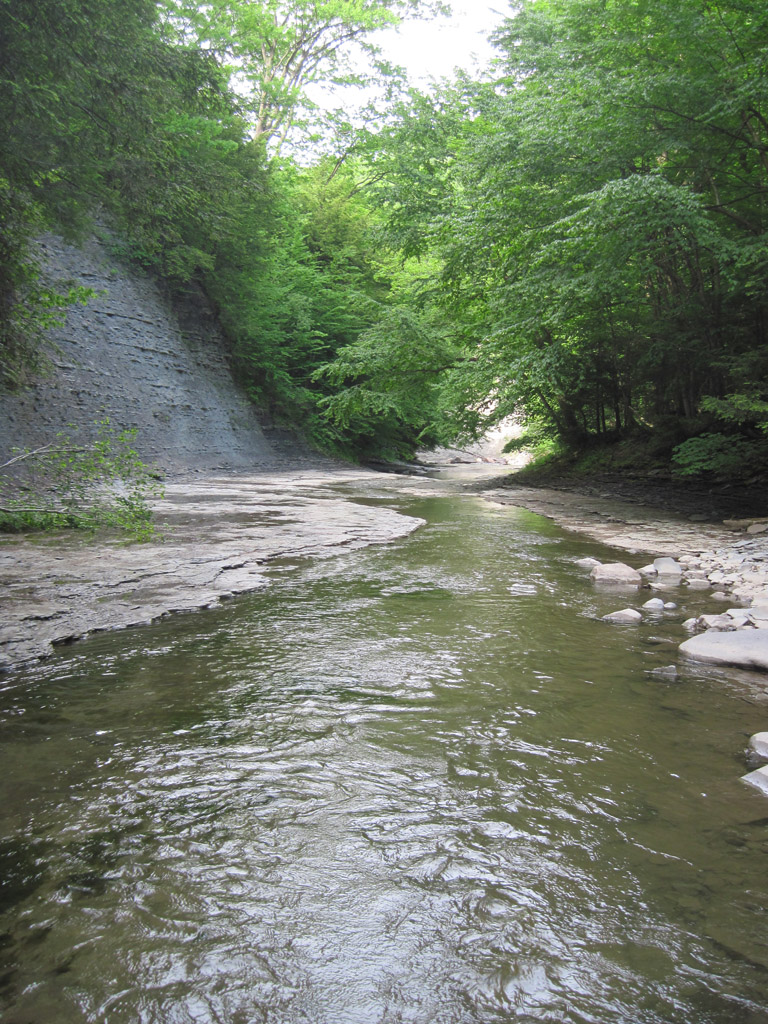 Along the creek, you'll see small ponds where you could swim, as well. Don't expect an Olympic size pool, but it should suffice to have fun. Oh, also, I mentioned this area as Westfield, but I think it's beyond the borders of the town. Though, it's the closest known town in the area, and should make it easy for you to find this place.
Here is also a fair warning. Some parts of the walk along the creek seems designated to be a nudist area. It stretches less than a mile along the creek. Once you get to the creek following the trail down as mentioned above, skinny dipping, or the nudist, area will be to your left.