The Hazar Lake and The Sunken City
|
Hazar Lake, with its nice public beaches and clear water, is one of the most important tourism centers of Eastern and Southeastern Turkey.The lake, which is a tectonic lake, is situated 25 km out of Elazig Province of Turkey.Hazar Lake -or so called Sivrice Lake because of the town next to it- is between Mastar and Hazarbaba mountains.Fishing, boating, snorkeling, diving and many more kind of water sports are possible in the lake.And the sunken city is a must have experience for divers, for those who wanna see the part over the water…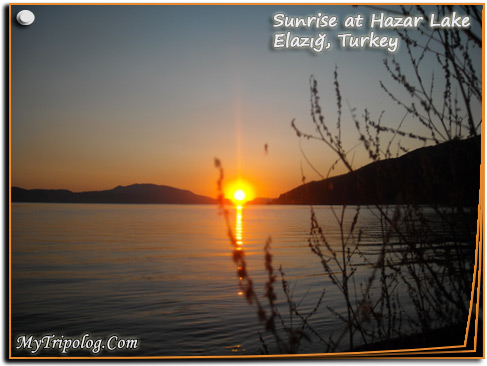 The sunrise and sunset scenes over Hazar Lake is absolutely spectacular.You could see some of my shots in the post.
Hazar Lake is known for its clean water.But in fact, it used to be much more clean and used to be the only Bluereen Flag (for its clean water) having lake in Turkey.The lake is surrounded by holiday inns, camping sites and private apartments.The swimming areas along the shores of Hazar Lake participated in "The Blue Flag" campaign in 1995.This was organized by The European Environmental Education Foundation.And various coasts of Hazar Lake were awarded with The Blue Flag in 1997 and 2000.
(Sunrise over Hazar Lake, Elazig, Turkey)
The Sunken City
The sunken city of Hazar Lake is and attraction center for those who want to dive for new explores.Recent years, a few meters high walls of a kind of fort can be seen over the water.There are two main parts of ruins, which are several meters away from each other, over a few meters high the water.The largest island in Hazar Lake is very near to the ruins.If you start swimming or boating from the very east point of the island to the ruins, under the water, you will see a bridge which is connecting the ruins and the island.It appears like a shadows from over the water.Clear water of Hazar Lake provides this amazing view.The sunken city has also been registered as an archeological protect area.
(Sunken city's over water part -on the right side-, clouds, sun beams and flying gulls, Hazar Lake, Elazig, Turkey)
There are a lot of remnants as dense.Many legends is told between public about the sunken city of Hazar Lake.According to a legend which has been told in public: "There was a city called as 'Sweet City'.One day, while a pregnant stranger woman passing through, she asked for some water from the people in the city.But no one gave her water.The woman cursed by praying: 'I hope, all of you and this city sink into the water.' And the curse came true, the city sank into the water." Now the same place is known a tectonic lake, Hazar Lake.
(Spectacular sunset over Hazar Lake, Sivrice town, Elazig province, Turkey)
(Sunset over Hazar Lake and fishing boatman, Elazig, Turkey)
(Enjoying my time on the little boat, Hazar Lake, Elazig, Turkey)
(Another spectacular sunset view over Hazar Lake, Elazig, Turkey)