Cebu Island, A Tourism and Commerce Center
|
Cebu Province is one of the best tourism, commerce and trade centers in the entire Philippines and the best of central and southern parts of the country.The Island is well known for its beaches, coastal plains, narrow coastlines, all characteristics of a tropical island; besides, the commerce and trade opportunities in Cebu is appreciated all over the world.It's a provice whose capital is Cebu city and in which includes many other cities.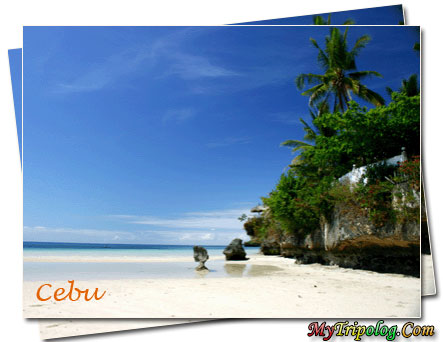 Here I will mostly mention about its touristic face rather than its important commerce, trade and education opportunities.The transportation to/inside Cebu, Where to stay in Cebu, What to do in Cebu, the most popular beaches of Cebu etc. will occupy the main part of my article.
Transportation to Cebu & Transportation inside Cebu…
Cebu has and International Airport called Mactan-Cebu International Airport.It's in mactan Island and only 30 minutes drive to Cebu City.Because of this airport, you can fly to Cebu directly from out of Philippines too.If you fly from Manila (NAIA) to Cebu,  it will take 1 hour to 1 hour and 15 minutes.You can find round trip flight tickets for about 150 – 250 dollars.You could check Cebu Pacific or Philippine Airlines, probabily Cebu Pacific is cheaper.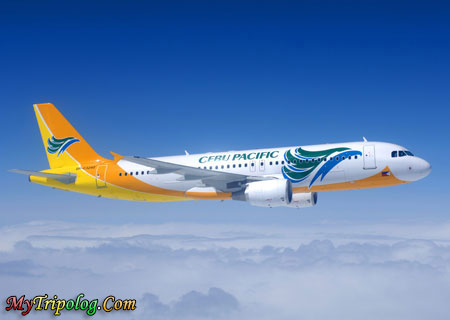 Going Around Cebu, you can take a bus, a colorful jeepney, a tricycle (motorcycles with sidecars), a taxi.You can even rent a car during the time you stay in Cebu.While you book your flight ticket or Hotel, check for options about rental cars too.That way you can combine many items in one and it will cost less.You might wanna go to the Islands around Cebu too, then you can take a boat for about 20 pesos (about half a dollar) for some destinations.
Where to stay in Cebu? Accomodation in Cebu…
There's a  wide choice range for you; from basic boardinghouses and hostels to five star hotels and suites/villas.The price range is quite wide as well; starts from about 20 dollars, goes up to 500 dollars and more.Most of these places are reasonably nice to stay but if you want many extras such as  gym, swimming pool,  spa, close to beach and/or airport sure it will cost as more as you want.
(A regular boardinghouse room in Cebu)
For the middle way, a 50 – 100 Dollars place is pretty nice.Such a hotel may offer you a pretty jacuzzi, spa, wide food options besides the basic things such as air condition, cable TV.Anyway, you know the proverb "Cut your coat according to your cloth" 😉 !!
What to do in Cebu ?
As I mentioned above, Cebu is well known for its commercail, historical face besides its touristic face.So, it's really so many to do.Here I will give you some tips about what to in Cebu.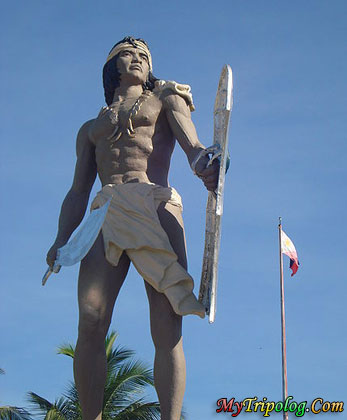 (Lapulapu's Statue at Mactan Shrine, Cebu)
Lapu-Lapu Shrine is one of the most important historical places in Cebu.That's place where LapuLapu and his men fought against Spanish soliders who were under the command of Portuguese Ferdinand Magellan in Mactan war in 1521.Magellan was killed by Lapu-Lapu in the war and the Spanish were defeated.As it is written there; "LapuLapu became the first Filipino to have repelled European Agression".By the way, Lapulapu was a muslim.And now he is like a symbol and a national historical hero.You could see his statue over there.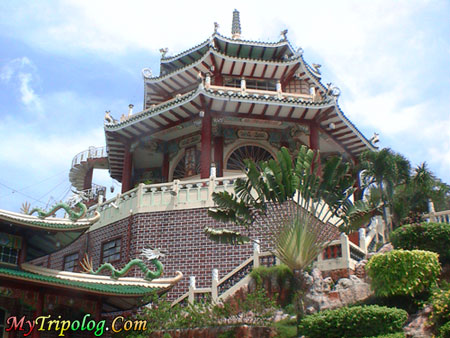 (Taoist Temple in Cebu, Philippines)
Taoist Temple, it was built in 1972 by Cebu's substantial Chinese community.The temple is located above 300 meters above sea level in Beverly Hills Subdivision in Cebu City.The Taoist temple is open to the worshipers and visitors as well.Balconies of the temple offer avery nice view of the downtown Cebu.
(Entrance of Historical Fort San Pedro in Cebu, Philippines)
Historical Fort San Pedro is the smallest and eldest forst in the country which was built by 1565.It's an important historical place in Cebu.The forst is now houses the National Museum that showcases Fort San Pedro diggings and the San Diego shipwreck.But no taking picture…
NightLife in Cebu , for the ones who are wondering, let me mention about it. Dance Clubs, Discos, restaurants and other nightlife places, quiet or fast places,  are widely availabe all over Cebu.As it is called "Never Ending Cebu Nightlife"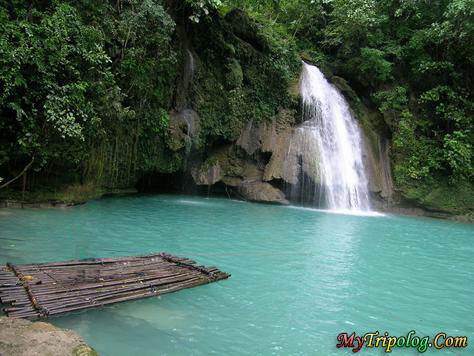 (Kawasan Falls in Moalboal, Cebu)
Kawasan Falls, it's absolutely a very unique experience.It's about 100 km away from Cebu city which is about 2,5 drive.Then, after short walk along the river and through three bridges, you will get there.Don't walk too quickly, there're many great impressions around such as plants, scienic views, the river vista.It's three hierarchical falls which also offers you a cold, refreshing bath beside its gorgeous view.It's amongst "must see" in Cebu.
And the beaches & islands in Cebu, here I will give you some tips about popular beaches and islands in Cebu.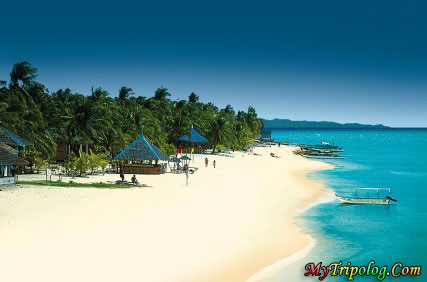 (A beach on Bantayan Island, Cebu)
Bantayan Island or you call it an island paradise in Cebu, Philippines.The crystal clear blue water and fine,wihte sand is almost to fall inlove with; gorgeous sunset, very nice peacefulness and kind natives of the island are all you can ask for a vacation.People from all over the world visit the island and even some of them decides to stay in Bantayan Island for the rest of their life.Many activities such as swimming, surfing, diving, sunbathing and many more are available.You'll find it in the northwest of the province, Cebu.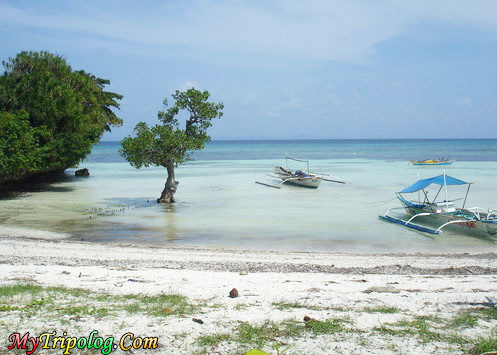 (A view from Malapascua Island Cebu)
Malapascua Island is located in northeast of Cebu.Some call it as second Boracay or Cebu's Boracay.From Cebu Island, It's only 8 km trip on Visayan sea to Malapascua.This island is well known by international divers, some of them come here especially to see various kind of safe to human sharks.Divers are also to see Japanese ship(s) from World War II. deep in the water.Island's white sand beaches stretches around the south-east coast.The other side of the Island has more high rocky coastline.The Island offers almost everything a traveller seek out.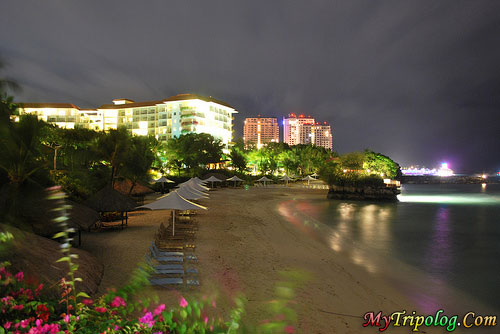 (Mactan Island at Night, Cebu)
Mactan Island is located a few kilometers to the southeast of Cebu and well known with its pristine beaches, diving opportunities, the only aquarium attraction in the Visayas and many other beach & water activities.It's connected to Cebu by  by the two bridges; Marcelo Fernan Bridge, and the Mactan Bridge.It's also the place where you could find luxury hotels such as Shangri-La's Mactan Island Resort and Spa and Hilton Cebu Resort & Spa.
Here are more photos of Cebu: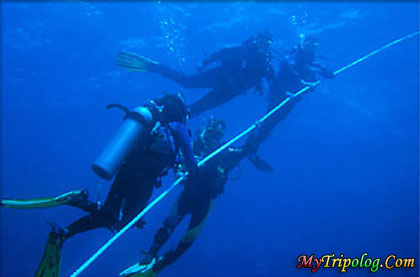 (Diving in Cebu, Philippines)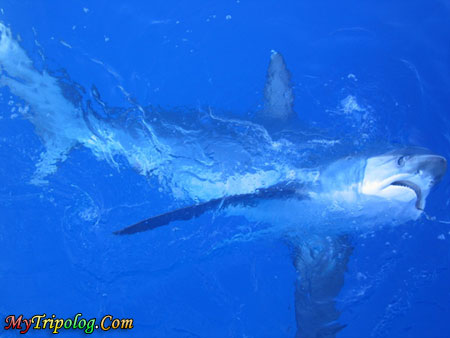 (A Thresher Shark, Malapascua Island, Cebu)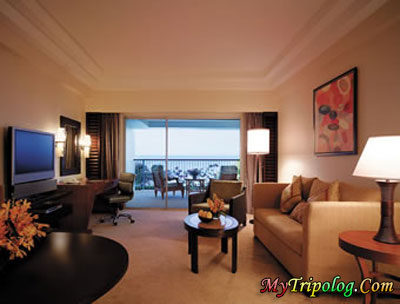 (Five Star Shangri La Hotel's Room in Mactan, Cebu)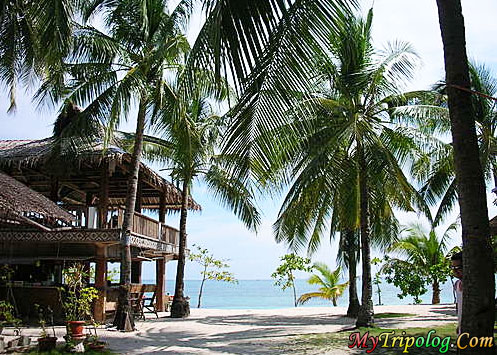 (A View of Malapascua Island in Cebu)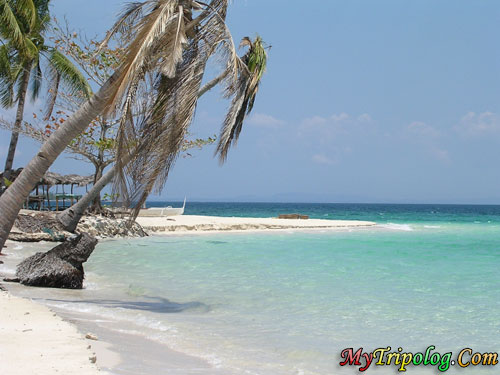 (A beach with white sand and crystal blue water in Cebu, Philippines)
(Santa Fe, Cebu, Philippines)
Cebu is to offer everything an adventurer, traveller seek out.It's to present you everything you ask from a vacation.Enjoy your vacation…
Would you like to share your comments about the article or Cebu -if you've been there before- with us ? Please, leave a reply then…