White Beach, Puerto Galera
|
The first time I have been to the White Beach, Puerto Galera (Philippines) was actually during out season time and to be honest I must be thankful.Why ? Beucase that's a very nice place for someone who wants a silent corner in a piece of heaven in the world.For sure, it's only for out season time which means by September, October…
What about in season which means especiall by May, June?Wow, it's quite busy around there; scuba diving, swimming, sunbathing, surfing, water banana boats and many other water sports and fun are available during the day.And the night? Yes there's also nightlife, people keep being on the beach, making parties etc. Also restaurants, bars and discos provide nightlife…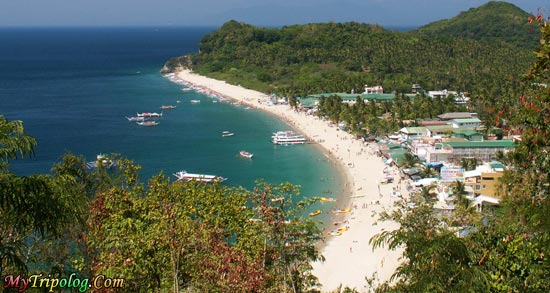 (General View of White Beach, Puerto Galera)
It's only about 3 and half on hour away from the capital city, Manila, by bus.Until Batangas city you are to go by bus or car and then by boat.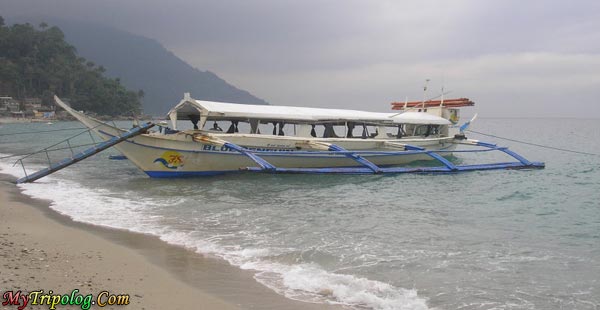 (Boat is anchored on White Beach, Puerto Galera)
Boats are available from Batangas Port.It starts from 7.30 a.m  till by 4.30 p.m.Boats are almostonce in 1 and half an hour.The boat trip will be another nice and obligatory  experience for the ones who have never had before.But not to worry, it's pretty cool and even funny.By the way, the price is about 260 Philipino Pesos which is nearly 6 dollars.During your trip to white beach, you will see many other amazing nature beauties around.The view is  "must see" during entire trip.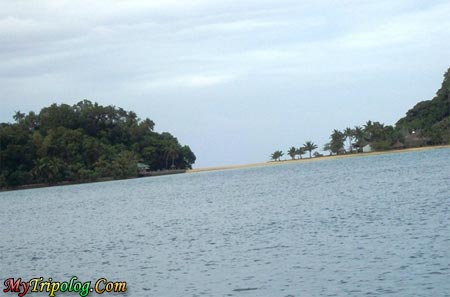 (Aound White Beach, Puerto Galera)
When you get White Beach, you will see it's a like thin and reasonably long strip and there are motels, small pubs/clubs, restaurants, retail shops, tattoo place, money changer…
(A busy time on White Beach)
The view you see will absolutely amaze you!The perfect clean color of the water, the mount running up behind and its full of green vista is excellent.The most important, you are in the middle of two wonderful view.The second one is the sea, also other Islands.You will LOVE to see the sunset on the beach.That's surely a must see, I strictly suggest you to see the sunset on White Beach.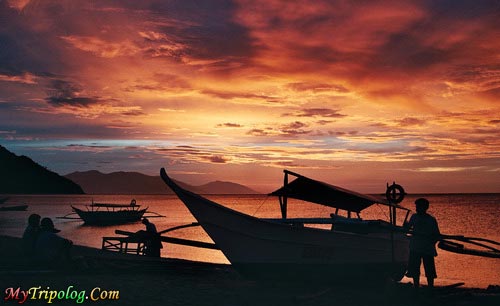 (Boat man & Sunset on White Beach, Puerto Galera)
You can get a quite nice room which will cost you about 15 dollars for out season, and in season, the price will be double or more which means 30 – 35 dollars per night.Most rooms are reasonably nice, have air-con and cable TV.Depend on what you like, you have a pretty wide choice range for accomodation.There are normal concrate buildings, wooden ones or bamboo huts;  mostly two or three storey apartment style and also single detached rooms.And the price will not differ too much between.
(White Beach From Sea)
As I mentioned above, you are able to find money changer on the Island.Especially most major currencies are to be exchanged.But a warning; the exchange rates will not be like in Manila!
There are many restaurants around and not really very expensive but if you want to stay there long and/or don't wanna pay to the restaurant all the time to save cash, prepare for it before coming to the Island.You could bring some easy to prepare noodles, crackers etc. from Batangas.And one more thing to bring from Batangas would be water! Drinking water which you can also buy on the Island is more expensive.So you can save some cash that way.If you have enough budget then not to worry.
(Sunset on White Beach)
You can also visit  other islands around such as Sabang, La Laguna over night.Nightlife is quite colored on those islands too.Not only the night life; The bays of Puerto Galera are among the best in the entire world and for some atuhorities, the best in Philippines.You could also have chance to see them during your boat trips to other Islands.I will mentioned those islands widely in another article.They are also surely worth visiting.
There will be more coming articles about Puerto Galera.Stay in touch…