Mexico Cancun, Caribbean Beaches and Isla Mujeres Vacation Review – 1
|
Hi there, everybody! As I had promised in my previous post, I am continuing my posts about Cancun, Mexico. Today, we will see all about that wonderful Caribbean island of Mexico, Isla Mujeres. I had already mentioned that Oasis Palm Beach Hotel is very near to two ports where you can find a ferry to Isla Mujeres.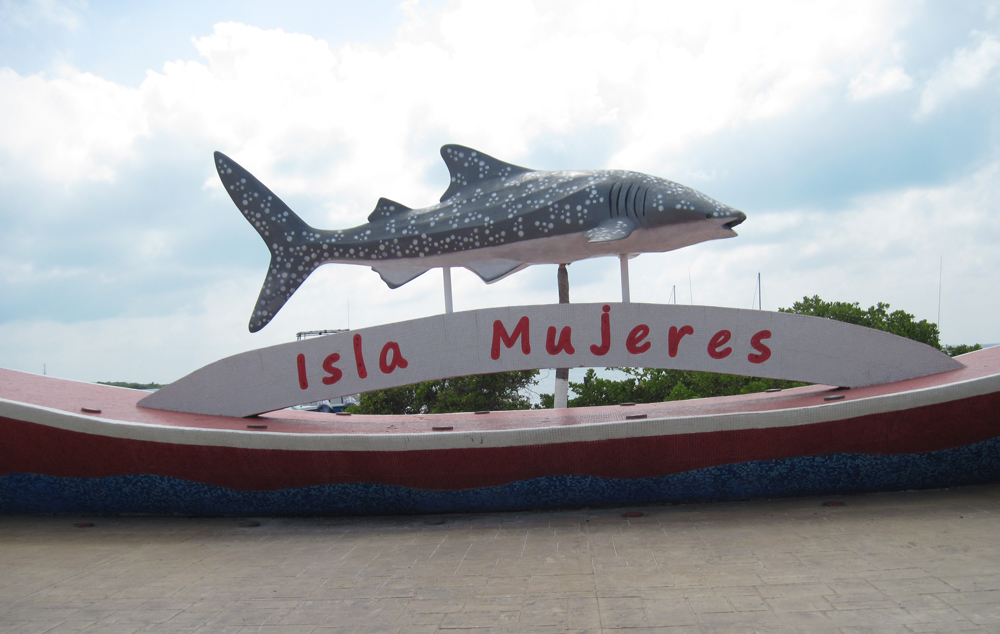 I will share the pictures of one of them in this post, as well. I am sorry but I don't remember its name, but I can define it by that port being a couple of miles from the hotel, not the one that is just several minutes walking distance to Oasis Palm Beach Hotel; I will also tell you why you should take this further one.
(The beach and the view around the ferry port to Isla Mujeres)
Well, the near one didn't really seem appealing to me, I am sorry. But this one, I mean this port where you can find a ferry to Isla Mujeres, is another tourist attraction as it is. With is absolutely gorgeous beach, amazing view, shopping places around and opportunity to have a some drinks on the deck while waiting, and for those who might wanna try, there is even a bungee-jumping place right on the deck.
(Lest side view of the ferry port to Isla Mujeres)
I guess, I have mentioned in my previous post but let me say it again; if you love cigars, you could find absolutely delicious Cuban cigars around this little ferry port, but don't forget to negotiate. You can buy Cuban cigars for half the regular market price.
(A view of Isla Mujeres from the ferry)
Ferry takes about half an hour to Isla Mujeres. Apart from the astonishing blue color of the Caribbean water and stunning view all around, there will be some people on board, some Mexican guy with traditional Mexican clothes, playing guitar and performing live music; sure, there will be the tip paying part at the end.
(Blue tones of the Caribbean sea, on the way to Isla Mujeres. Now, isn't it a beauty? 🙂 )
While on the ferry, there will be some agents of companies approaching to you to sell tickets for renting golf carts; you may, as well, go ahead and buy the tickets but don't worry that tickets will run out because there are a lot of companies, right around the port on Isla Mujeres, where you could easily rent a golf carts, you might even find some cheaper ticket if you look for by yourself once you arrive on Isla Mujeres.
(Gold carts on the streets of Isla Mujeres, Cancun, Mexico)
Why to take a golf cart? Well, it is not that expensive, so don't be afraid with it. I am sorry, I just don't remember the exact price, though. When you rent it, it is all included, and you don't have to fill up the gas tank while returning and you can drive around with it all day long, which will prove very useful and help you save your time to visit every corner of Isla Mujeres in one day.Don't forget to take at least one driver's licence with you if you are going with a group; there are golf carts good enough for a family of 5-6 and the smallest ones are for two people. You don't have to be a professional golf cart driver. Don't be afraid, the island is full of them and I assure you most of those people are first time golf cart drivers, just like me 😀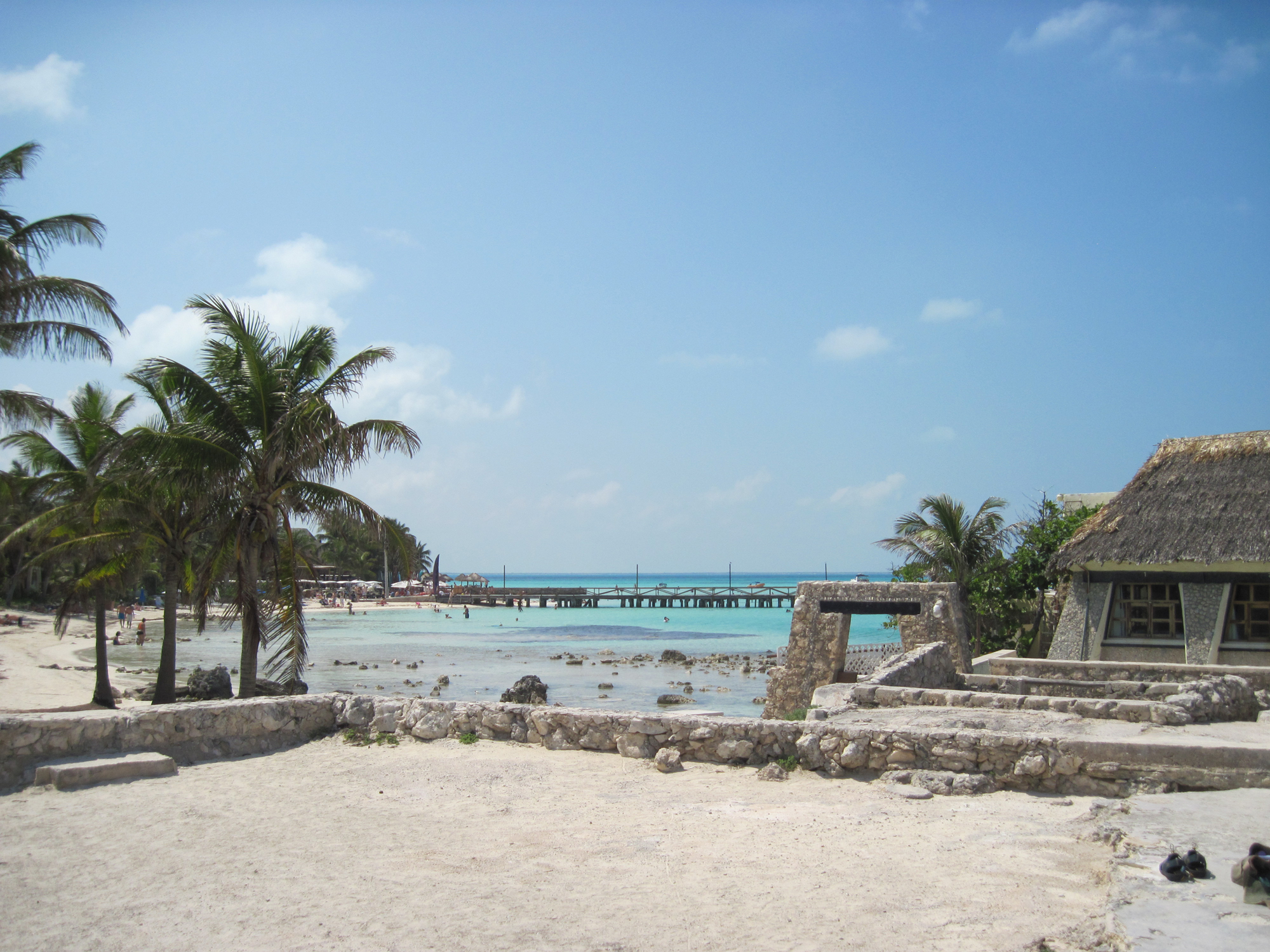 You actually don't need any map or any guide to see all around the island; you can never get lost on the island even if you try to 🙂 The whole island is only 400 square miles, anyways. So, just drive! And that's the reason, I don't need to tell you all the attraction point on the island but I will still mention some of them. And plus, I am sure all of us can make a use of being a little lost! You must do that.
Alright, now I will end this post here and you should check for the same title part 2, which I will publish right after this one, to read the rest of it about this stunningly beautiful and "must see" Caribbean Island of Mexico, Cancun, Isla Mujeres.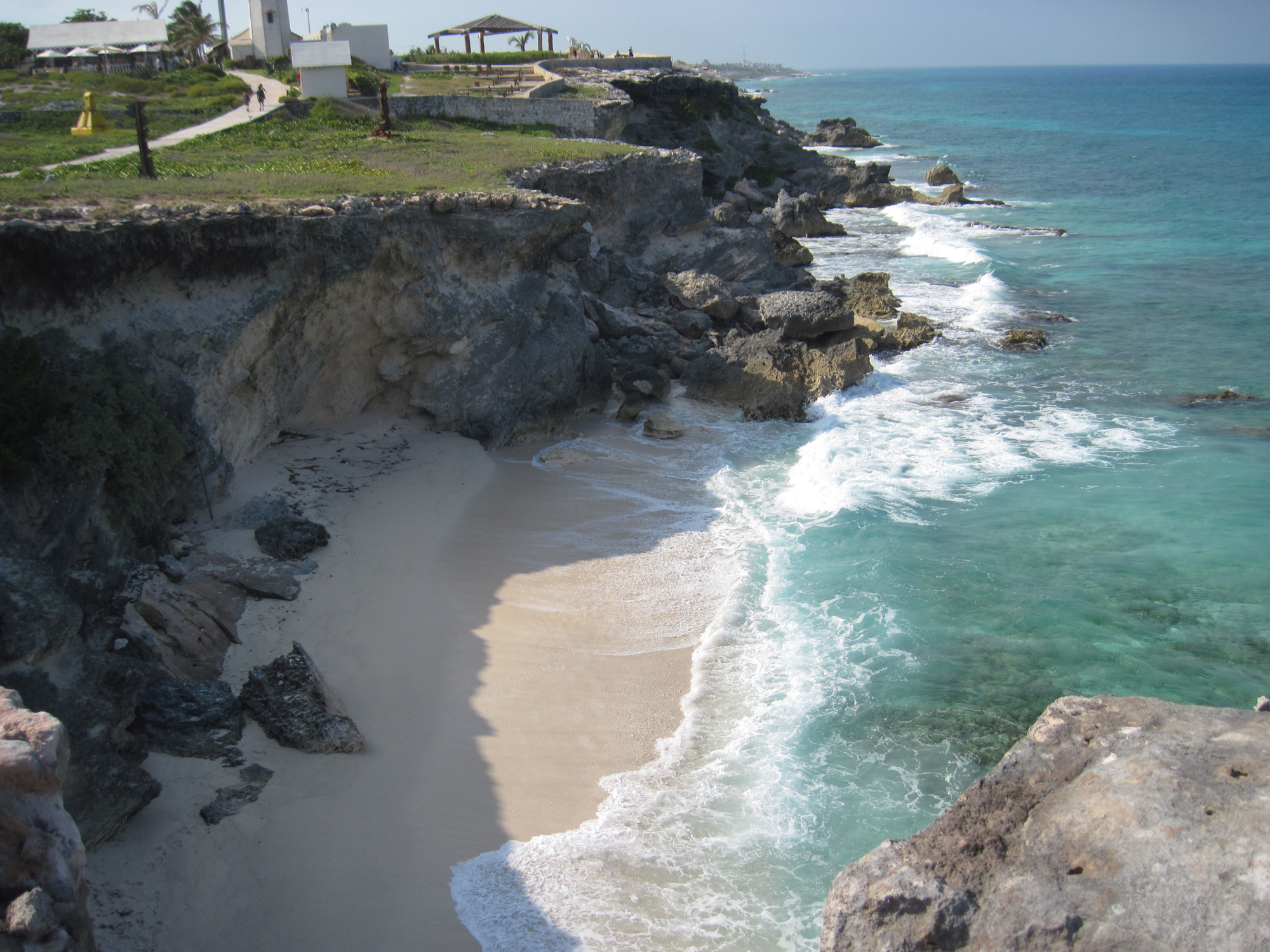 (The park at the southern tip of Isla Mujeres, the cliffs and the pristine beach of the Caribbean island of Mexico, Cancun)