Vacation in Puerto Vallarta, Mexico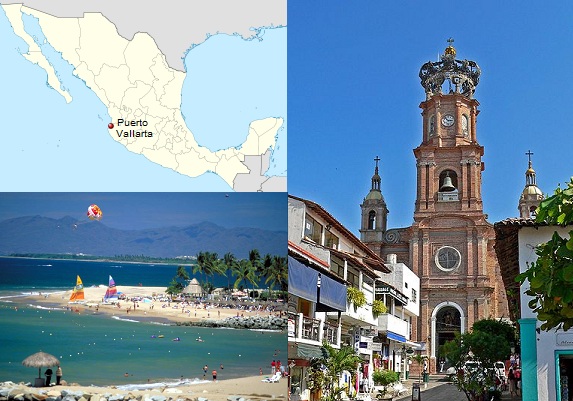 Puerto Vallarta is a city in Jalisco, Mexico, located on the Bay of Banderas on the Pacific. Puerto Vallarta has 165,800 inhabitants and is the capital of the municipality of Puerto Vallarta.Puerto Vallarta is named after the 19th century Mexican politician Ignacio Vallarta. The city has an international airport. Puerto Vallarta is located 989 kilometers from Mexico City and Guadalajara from 340 of the capital of the state.
The city's history dates back to the 16th century when the first Spaniards to the beaches of the Pacific came to be there to supply water, firewood and fresh food. The crew and Captain Pedro de Unamuno liked this place so much that they decided to build a settlement there. This created the port of Puerto Vallarta.
The region around Puerto Vallarta is called Bahía de Banderas and today, every year a large number of travelers that enjoy the wonderful beaches and crystal clear water. Puerto Vallarta has 96 miles of sandy beach and some very interesting dive sites. Moreover, the region of deep-sea fishing.
In the bay of Puerto Vallarta, there are every year the humpback whales. In the sea off the coast, we see dolphins, turtles and huge manta rays. On the islands there are several breeding sites of birds.
The hinterland is very interesting for the nature lover. In the mountains of the western Sierra Madre of Mexico, a jungle is still intact with many rivers and waterfalls. There are several hiking trails through the woods.
Puerto Vallarta offers not only natural beach and also some cultural treasures. In the old city, for example, the beautiful church of Nuestra Señora de Guadalupe, or the beach promenade with its bronze figures. Furthermore, there are galleries, markets, good restaurants and some interesting local festivals.
Festivals in Puerto Vallerta
In the month of May each year, the foundation of the city celebrated during Meifestival.
From 1 to 12 December is celebrated Guadelupefestival.