Ancient wrecks and beautiful coral reefs, diving in Aruba
|
Discover Aruba, take a dip!
Ancient wrecks and beautiful coral reefs, diving in Aruba
The island with a beautiful sea and always good weather, it's Aruba. And what can you do better here than in the water? Aruba is the ideal destination for a diving holiday.
Diving
Aruba is not only above water, a beautiful island, the underwater world of the island is beautiful. Do you want fullest, try diving! Many wrecks from World War II, beautiful coral reefs, colorful fish, you'll find it all here under the surface. And who is a certified Open Water possesses, can take a dip in one of the many dive sites that Aruba has to offer. During your holiday you can still get this certificate from a local diving school.
Most of the dive sites located on the west side of the island. Here, a land breeze blows, making the sea quite calm and even novice divers can cup under. Vakantie.nl selected for you the ten best dive spots.
• Antilla wreck. At twenty meters deep can you find the remains of this 'ghost ship'. This German freighter during World War II was sunk. The wreck has large holes, so you can swim through it easily. A special experience. Also find crabs and many species of tropical fish seen.
• California wreck. This ship wreck lies at a depth of five to ten meters. The California became known as the ship carrying the distress signals of the Titanic received but not responded. Meanwhile, the ship itself and the location of the sunken wreck is perfect for underwater photography. You will also find coral formations around the ship where many fish live.
Attention! Only suitable for experienced divers due to strong currents.
• Mike reef. This reef at a depth of eight to thirty meters is known for its vibrant underwater world. You can not only find many different types of coral, including barracudas swimming around here. These predatory fish in some parts of the world worse than feared sharks! But fear not, for man, they are usually harmless.
• Lake reef. With a depth of forty meters, this is the deepest dive site in Aruba. You can view all known species of fish and sea anemones and other deep-water fauna are abundant.
• Baby strandrif. Would you closer to the shore diving, you can go to the reef at a depth of 6 to 26 meters. The Baby strandrif is one of the few places in Aruba where you can shore dive. It is also the perfect habitat for crabs, lobsters and octopuses, which you frequently pass by swimming.
• Arashi reef. This reef is ideal for novice divers. Brain coral, huge star corals and sea fans here are surrounded by parrot and angelfish at a depth of eleven to fourteen feet.
• Malmok reef. Paths of wildly spread sheet and brain corals waiting for you at the bottom of the reef. Malmok reef is known for the giant lobsters and stingrays can be found here every day. In the vicinity are also large purple, orange and green sponges available.
• Kantil reef. This reef has a fascinating difference in height with huge rocks covered with brain and star corals. Sea fans and sea anemones can be found here in abundance, like moray eels, groupers and stingrays. These rays are not shy and easy to photograph.
• Kapiteinsrif. Typical of this are the many reef formations of leaf and star coral. Fish such as perch and snapper swimming around here regularly. The beautiful sunfish can be found here, and sometimes the barracuda a look.
• Scala Hein. This dive site is often visited by large barracuda and other predators. Previously you could also have spotting manta rays, but these traits are unfortunately more and more back. At the deepest point of forty meters you will find here the most beautiful coral formations.

Snorkeling / Snuba Diving
Is this something exciting for you, then you can go snorkeling. This is not your deep underwater and remains on the coast, but there is still plenty to see. A snorkel cruise you can book at most dive schools. Masks, fins and snorkels to get the diving school.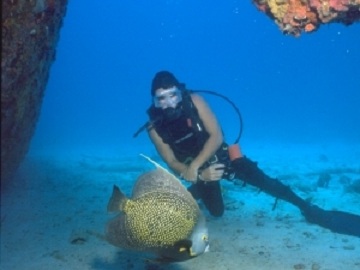 A new development for diving is Snuba diving. This is a combination of snorkeling and diving. You carry this with you not your own air, but breathing through one meter long air hose from an air tank on a raft floating on the surface. Unlike "real" dive, you do not need license and have less risk of decompression sickness, because you only six meters deep. Also, children aged eight years may take a snubaduik.