Viti Levu, Fiji Islands Vacation Spots
|
Viti Levu in brief
A rugged volcanic mountains with a thickly forested jungle. That's rich natural wonder that a holiday can offer you Viti Levu. But beautiful beaches with coral reefs can be found here.
Viti Levu is the main island of the Fiji Islands, an archipelago in the Pacific Ocean. Suva is the capital of the island. The city is located in the east of Viti Levu, a rainy but fertile side of the island.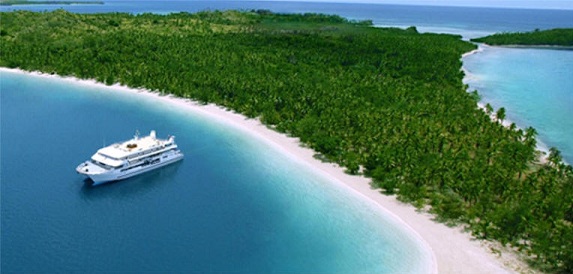 You'll find a rich architecture, beautiful parks and colorful markets where handicrafts are sold. Especially the Thurston Botanical Gardens and the National Museum of Polynesian art are highly recommended.
Other interesting towns are Nadi and Lautoka. From Nadi you can really explore the area full of sugar cane plantations. Through the Kings Road drive to Lautoka, a real port town. In the south of the island lies the town of Sigatoka. From here you can enjoy nature. Visit the Sigatoka sand dunes and the Sigatoka Valley where you can visit cultural and archaeological sites.
Are you more of sun, sea and beach holiday? Viti Levu is also a beach paradise: Natadola Beach. This beach is located on the Coral Coast, the south coast of the main island consisting of beautiful beaches and coral reefs. In addition, the island suitable for an active holiday. Viti Levu has a beautiful golf course at Denarau and the Coral Coast, you can also sunbathe next great diving. For both above and under water proves a wonderful Viti Levu island.