Popular Museums and Beaches in Chania, Greece
|
For museum and beach lovers
In Chania you will find many surprising and fascinating museums. We made a selection for you:
• The Archaeological Museum, located in st. Frangiskos church. Find objects dating from the Neolithic and Minoan periods. The church owns, among other collections of ancient vases and weapons.
Hours: Monday to Sunday from 9.00 to 16.00.
• The Byzantine Museum contains Byzantine and post-Byzantine collections.
Hours: Tuesday to Sunday from 8.30 am to 15.00 pm.
• The Maritime History Museum, northeast of Chania. Here you'll find collections of models of ancient ships. As relics of the historical battles in this area with ships are kept and used weapons.
Open daily from 09.00 to 15.00 hours.

• The War Museum you can see more weapons. There are also photographs, paintings and stories of wars that have raged in Crete, as the Macedonian War (1903-1908).
Hours: Mon to Fri from 09.00 to 13.00 hours.
Bounty Beaches
If, on top of the sandy beaches of Chania, white beaches with sky blue water like? Visit the Gramvoussa beach, 14 km west of the port located in Kastelli. Also easily accessible by water Elafonissi the beach, 67 km east of Chania. Also do you have in the south still a beautiful sandy beach where you Frangokastello fort, built by the Venetians in 1371, can visit.
Tortoise
On the north coast of Chania, the 'Careta-careta "turtles. If you're lucky, you come during the night perhaps even turtles laying their eggs or newborn turtles are rushing to the sea. Do you really see, please visit Chania between mid May and mid October.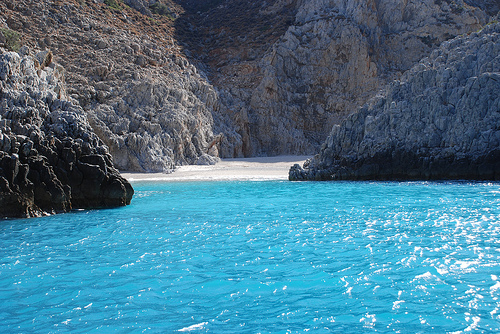 Narrowest canyon in the world
Chania offers several outstanding gaps. A very famous is the Samaria Gorge. It is therefore a challenge to a walk, on foot or by donkey. After a descent of 1200 meters you arrive at the national park, where you Cretan plants and rare species of wild goats against the body will walk.
The hike is not entirely harmless. In some places, the gap only four meters wide – it's not for nothing the narrowest canyon in the world. During the summer, it is extremely hot, so bring enough water with you!