On Your Way To Travel Thailand: Part 4
|
Car Rental In Thailand
A self-employed and to explore flexible ways, especially to Thailand is to go by car. This gives you complete freedom. We offer two Self Drives: in the north and south of Thailand. You travel at your own pace and can even determine where you stop on the road. On site you will get from our partner, the route description with many practical tips. We will book hotels for you on the route, so you also have to ever worry more.
They go to Thailand on the left side of the road – you will see that you get used to it quickly. The main roads are well paved and the signs are in English. Renting a car is about 40 € per day is very expensive
Songtaew

A Songtaew is a covered pick-up truck with built-in benches. It is a practical and cost effective transfer agent and is often used for short distances. The Songtaew runs solid routes, you can get off at any moment. If you stretch out your hand (palm down) will stop the driver and you can discuss a price. On the islands the Songtaews often go past all the beaches, handy if you even want to look around on the other side of the island.
During our tours we use this Songtaews also quite common, eg during the block forest giants and lakes in the south of Thailand. You will get almost do it by itself.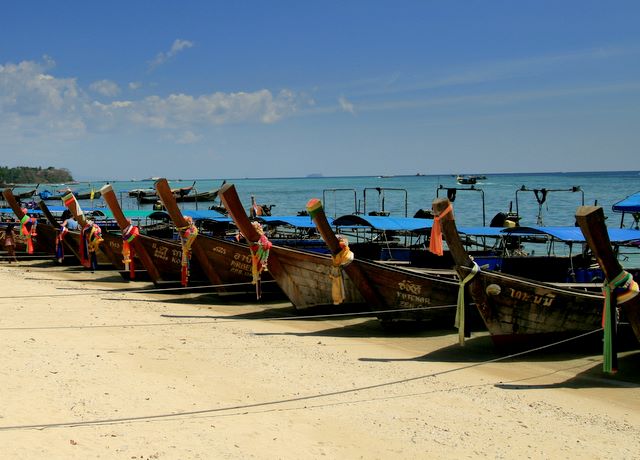 Transportation on water
By Ferries
Many large islands in the south of Thailand are easily accessible by ferry. There are different types of boats, for example a catamaran express boat and speed boat. On board you can buy snacks and drinks. The ferries operate between the main island several times a day. Tickets for the ferry can easily be arranged on site, if you want, we can book the tickets well in advance for you.
By Longtail Boats
This is a typical Thai long tail boat, wooden boat. They are narrow, long and often painted in different colors. On the bow of the boat several linen cloths and are sometimes bound wreaths. That's what the skipper to get to their gods of a protected drive. Some longtail have a canopy that provides some protection against the sun or the rain, but that's not always so. So always have a hat against the sun and sun cream in greifabrer near it. A loss to 16 people in a long tail, which also depends on the length.