Modern Wonders Of The World; Colosseum, Italy
|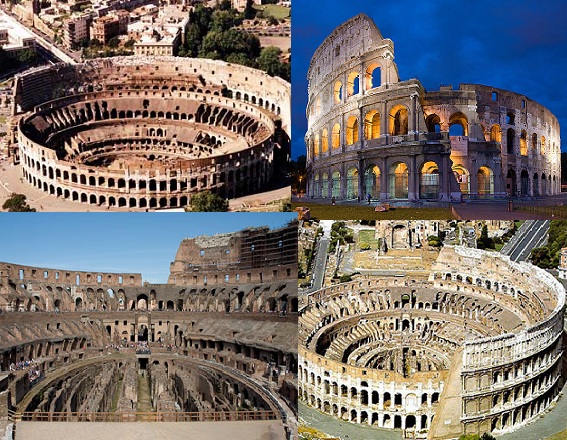 Rome Colosseum Arena
The Colosseum
Like the Italians had the Coliseum's most beautiful classical arena football for the national sport, but fortunately that never happened, it is only the ballerina, who's the Bolschoittheater acting and dancing werewere to play . Emperor Vespasian of Rome began the construction of the Colosseum in 72 AD, his sons Titus opened the Coliseum and construction arena after eight – years. According to the writings and narratives, the opening was a great show with one hundred days of celebration and play fights between gladiators and wild animals, during the festivities and play rich and the wine flowed, the "Roman people" entertained.
Building,  Colosseum
Located on marshy land between the Esquiline and Caelian hills, the Colosseum was the first permanent amphitheater which was built in Rome. The monumental size and grandeur of the Colosseum and the practical and efficient design of both the playing field for the shows of gladiators, as the way the public was held at the coliseum make it one of the great architectural monuments of the ancient Romans ever gerealiseerd.Het amphitheater is a vast ellipse with different levels of seating around 50,000 spectators around a central elliptical arena. Below the wooden arena floor, there was a large complex of rooms and passageways for wild animals, gladiators and other supplies needed for all those shows were staged.
Accessibility, Colosseum
The Colosseum in Rome, you can not miss if you are visiting the city. The Colosseum is open daily from 9 hours to about one hour before sunset. Admission is 10 euros * Address: Piazza del Colosseo, Metro B: Colosseo
* Subject to change, spot check opening times etc.