San Antonio's Seaworld Amusement Park, Texas
|
The world's largest marine life adventure park, San Antonio's Seaworld, is a four-in-one amusement park, full of new experiences, excitements.Four-in-one: amusement park, animal attractions, water park, live entertainment.It is the home of Shamu, the world famous killer whale.Whale shows, dolphin shows, classic amusement rides, roller coasters, water park funs; all and many more at one place brought to you by Seaworld, in San Antoni, Texas.
You will be surprised at the graceful jumping shows of world famous killer whale, Shamu.That kind of a giant thing, thought to be some kinda monster, but not, Shuma is here only to entertain you, amaze you, excite you.Having and overhead camera in its special stadium, and plenty of splash, this giant fish will make you a fan of itself.
Full of fun, the sea lion show is one of the major attractions of San Antonio's Seaworld.Beluga whale performances and dolphin shows are also as popular as water-ski shows.With daredevil slides and many of water play areas, the water park will keep the kids cool during the heat of the daytime, while offering a great pleasure to them.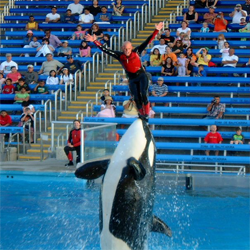 Classical amusement park is awaiting for the roller coaster funs.Inverted roller coaster, Ferris Wheel and many more.The Steel Eel is a must-experience, it will get you on a wild-wild ride.