Turkey, Four Season At The Same Time: Part 1
|
Turkey is one of the rare the countries where you can find four seasons at the same time during the year.When the summer season starts in the southern and western part, you will be able to find chance for winter sports in the eastern part of Turkey!Anatolia's thousands years of history and natural beauty will welcome and present you an unforgetable vacation.
(Istanbul City at night)
Before I start telling where to see in Turkey, I wanna let you know that it's quiet hard to tell everything about Turkey in a few articles.So, I firstly divided this article which has a general view on Turkey into several parts.And then there will be more coming articles with deeper information about the special places, cities, towns in Turkey soon.
In Istanbul…
The city can be  mainly divided into 2 parts: The Asian Part and the European Part.The city has been land and/or capital of many great civilizations; From Rome to Byzantuim; Byzantium to Ottoman… The city still has the prints and heritage from all its history.Visiting Istanbul is like visiting the entire world.With the population over 12.600.000, it's a city of world.People from all over the world, from many different religion, many different culture live all together in the same city.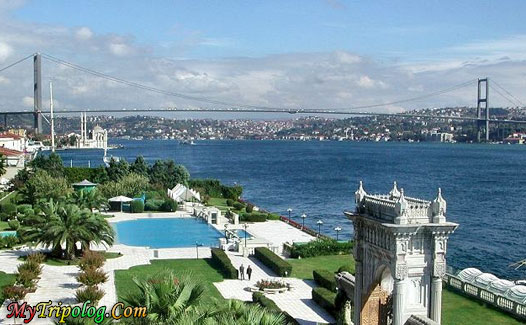 (Istanbul Bosphorus view, Turkey)
Beside its historical vista, Istanbul's natural beauty is absolutely amazing.Having a Bosphorus Tour will absolutely amaze you!That will probabily one of the unforgetable moments in your life.While the Bosphorus tour, the view around is excellent; traditional waterfront houses, Bosphorus bridge, Maiden's Tower (Turkish: Kız Kulesi) are among the wonders you will see.Maiden's Tower is among "must see".
(Madien's Tower, Istanbul Night)
Historical mosques (e.g Sultan Ahmet Mosque, ), churches  (Great Church or "Megala Ekklessia"), forts are worth to see surely.And absolutely the Hagia Sophia…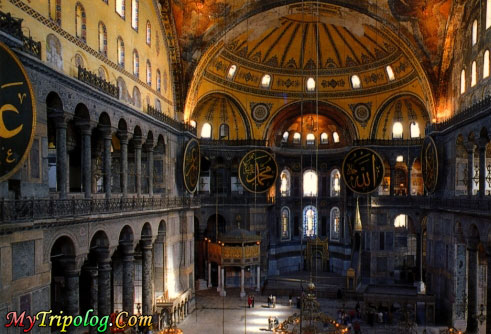 (Hagia Sophia Interrior View, Istanbul)
Western Turkey…
In western Turkey, especially the cities of Izmır, Aydın, Muğla are among most visited places for summer vacations.Plus the historical places -especially in Izmır- are also among most visited.E.g Hypaepa (Turkish:Hypaiapa), which is among "must see" historical places,  in Odemis town of Izmır was a city in Lydia.By The way, Ephesus (Turkish:Efes), among "must see", is from ancient Greek times.
(Izmir City Night View, Turkey)
Beside its historical heritage, this part is is also famous with its excellent summer vacation opportunities.Fethiye, Marmaris, Bodrum (which are towns of Mugla city); Kusadasi (which is a town of Aydin city) , for many people, are the very heart of summer vacation in Turkey.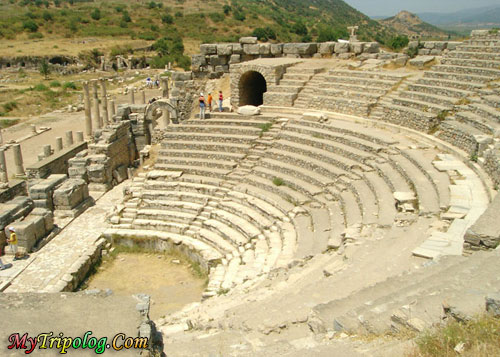 (Odeon, Ephesus,  Izmır)
With beaches, natural baeuty and great historical heritage; It will provide you a multi-faceted vacation.
(A view from Bodrum, Mugla)
Southern Turkey…
Especially during the summer vacation season, some cities in Southern Turkey are full of German, British, Russian, all other European, American etc. tourists.Especially the cities of Antalya and Mersin are the very heart of summer vacation in this part of Turkey, and for many of them, in the entire Turkey.
(A night view from Alanya, Antalya City)
Alanya, Finike, Manavgat (which are towns of Antalya city); Silifke, Mut (which are towns of Mersin city) are like tourist centers.Beside the regions summer vacation opportunities such as the beaches which are mong the best in entire world, summer sports, lot's summer fun, its historical heritage is worth to see absolutely.E.g Silifke town was built by a general of Alexander the Great.The Kız Kalesi which is a small fort in the middle of the sea will amaze you.And the anciet towns of Antalya such as Adanda-Lamos, Nephelis, Selinus are to present you  excellent historical view.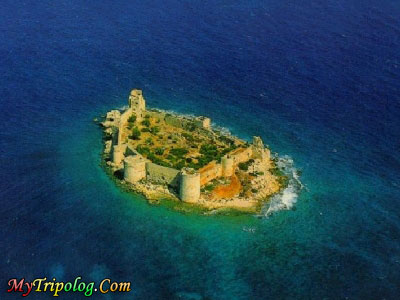 (A bird's eye view of Kizkalesi, Mersin City)
Amongst all those, maybe Alanya is to be especially mentioned; in one town you will find whatever you want for a wonderful vacation.Beaches, aistorical places, very best hotels, ammusement places, natural beauty… Don't pass without visiting it..!
Click To Read "Turkey, Four Season At The Same Time: Part 2"
Stay in touch with Your TripOlog …