Highlights of a Vacation in Iceland, Beaches, Transportation, Climate, Shopping
|
Iceland has been increasingly becoming one of the most popular vacation – tourist destinations in the world. In fact, according to some of the top best vacations destinations on earth for 2013, Iceland is in top 10 list.I will provide all basic necessary information for a wanna-be Iceland tourist. Beaches, transportation, climate, culture, food, shopping and many more. Enjoy and don't forget to leave comments, please.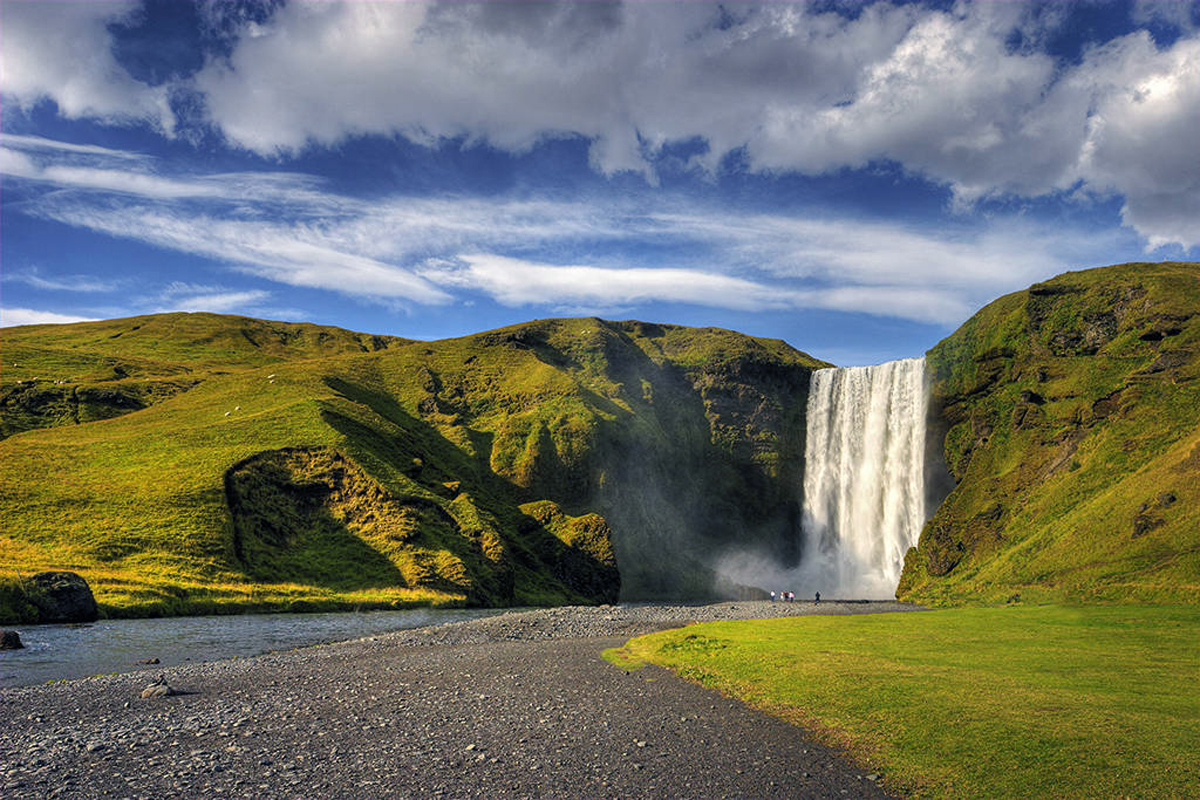 This colorful country, particularly the houses painted with bright colors, has a lot to offer. More than half of the population lives in the capital Reykjavik and yet this city is still small enough to get there. Village feel All attractions are within walking distance of each other, so book a cheap or even a luxury hotel and venture out on foot.
Iceland is becoming increasingly popular with foreign visitors. The second-largest island in Europe is about 3 times larger than the Netherlands. Volcanoes, geysers, glaciers and waterfalls are characteristic of the Icelandic countryside.
Population, Culture & Religion of Iceland
Population
Only a small part of the country is occupied. More than half of the population living in the capital Reykjavik. The people of Iceland are descendants of the Vikings, mixed with Scottish and Irish immigrants. Most foreigners are Danes.
Population of Iceland is 307,000
Culture
Although the largest city of Reykjavik Iceland, it is still small enough to get if you enter the city. Village feel Striking are the striking and multicolored buildings, because the Icelanders seem to have a huge color variation when they paint their houses. Predilection In ancient, vibrant city attractions are within walking distance.
Religion
The religion in Iceland is mainly Lutheran.
Food & Drink in Iceland
In Iceland you can enjoy spectacular cuisine made from the finest ingredients with many using the-range Icelandic lamb, fresh fish and seafood. Special traditional dishes are hangikjöt (dried mutton), salted cod, puffin and a milk product called skyr. But of course there are many opportunities in international restaurants. Coffee is almost the national drink of Iceland and the teeming therefore the coffee houses in many different styles. In the evening Reykjavik in a nightlife city with an extensive choice (although somewhat pricey) of alcoholic beverages. The party is here till late.
Geography of Iceland
Location
Iceland consists largely of low-and middle mountains, whether or not covered with glaciers, from which many rivers flow to the sea.
Iceland is an island northwest of Britain. It is surrounded by the Atlantic Ocean, the Denmark Strait (between Iceland and Greenland), and the Arctic Ocean. The northeast of the country is located just inside the Arctic Circle. Reykjavik is located on the southwest coast and is the world's northernmost capital. Iceland is the westernmost country of Europe.
Geography
Iceland has a total area of: 103000 km ²
Highest point: 2110 meter
Highest point: Mount Hvannadalshnúkur
Currency: Icelandic Krona
Tipping: Service and VAT is included in prices in Iceland. It is not customary to tip. However, if you are satisfied with the service you can always give extra tip.
Nature & climate of Iceland
Nature
Three-quarters of the country consists of sand and gravel deserts, glaciers, rocks and lava fields. This means that only a quarter of Iceland permanently vegetated. There are many rivers in Iceland, but the rapid flow of water that are not navigable. Well there is a lot of fish in the rivers and lakes, mainly trout and salmon, which Iceland is a true paradise for anglers. The meltwater from the glaciers provides many spectacular waterfalls, the Glymur (190 m) is the highest.
Climate
Thanks to the Gulf Stream, Iceland enjoys a cool climate. In the summer it is cool, fairly mild in winter and as in the Netherlands, the weather can be changeable. The average temperature in Reykjavik in January – 0.2 ° C in August and 12.6 ° C. The number of hours of daylight varies from 6 hours in December to more than 20 hours in june.
Flora and Fauna
Trees come in Iceland, especially in dwarf and shrub form. Although most of the country rocks, boulders and arctic desert landscapes exist, are mosses, lichens and grasses common. The arctic fox is the only original sucked by. The immigrants brought sheep, cows, pigs, horses and poultry along. Mice, rats, mink and rabbits are generally introduced accidentally. Reindeer were introduced in the eighteenth century and some are wild and living in the high plains in the east. Iceland is an important habitat for countless birds and bird species. Many species of ducks and geese come for, in addition to seabirds, waders and rare birds of prey such as the snowy owl.
Beaches
Clean beaches, good and safe bathing beach fun. These are the qualitative characteristics of beaches recognized with the blue flag award. This label is an initiative of the Foundation for Environmental Education (FEE). Worldwide there are more than 3800 beaches and marinas in 46 countries certified with the Blue Flag.
Iceland has one blue beaches
National parks in Iceland
Iceland has four national parks
World Heritage in Iceland
World Heritage Sites are unique attractions include cultural and natural, built and unbuilt monuments globally have exceptional significance and should continue. Preserved for posterity Worldwide there are 962 World Heritage sites in 157 countries. It is of great importance that the World Heritage be well protected. During your visit, you are indispensable. Leave behind example, do not waste stay on the marked paths and take some photos where permitted. Many sites will inform you.
Iceland has two World Heritage
World Heritage in Iceland:
Phone, Internet & Post
Phone: You can choose directly: 0031, then the area code without 0, and the phone number. If you are calling from a hotel, is usually a solid surcharge calculated on the call.
Language
In Iceland they speak Icelandic, a corruption of the Old Norse. Since the Vikings this language in the 9th century, Iceland brought in has changed the language but little. Today's Icelander can therefore often read sagas from the 12th century and understand! Most Icelanders speak English, so you can fine save. Themselves with this language site
Language: Icelandic
Visiting hours
Opening hours are generally from 09:00 to 17:00 hours and 08:00 to 16:00 hours in June, July and August.
Banks: Banks are open from 9:15 toto 18:00.
Shops: Shopping hours are Monday / Friday 9:00 to 18:00 pm, Saturday 10:00 – 16:00 or 13.00/14.00/15.00. Some supermarkets are open until 23:00 or in larger cities themselves seven days a week 24 hours a day. Banks are open Monday / Friday from 09:15 to 16:00 hours
Health
Drinking water: Tap water is drinkable in Iceland. However, it may smell a little sulfur.
Criminality
It is strictly forbidden to take to Iceland drugs. On the possession, dealing and drug smuggling are severe (cell) sanctions. Take only packs / luggage third party with which you know the content. TUI Netherlands can help you in any way if you run into problems with drug possession.
Transport in Iceland
Public Transport
Bus: The bus is fine in Reykjavik. The buses usually go every twenty minutes during the day and every thirty minutes in the evening and at weekends.
Taxi: Taxis in Reykjavik are reliable and all have a meter that shows the fare. Keep in mind that the taxis in Iceland are more expensive generally.
Traffic
The roads near Reykjavik and Iceland's Ring Road are paved. In other places the roads vary from good to barely passable. So drive carefully! It is mandatory to use headlights at driving.
Shopping in Iceland
Local specialties include handmade ceramics, glassware, silver jewelry and woolen knitwear and sweaters, vests, hats and mittens.