Baguio, The Cool City in Philippines
|
When I call it "cool" city, I mean the both meaning of the word."Cool":nice weather not cold and not hot.and "Cool": Very nice, relaxing city.Absolutely worth visiting…
Baguio is located in Northern Luzon, Philippines.According to 2007 estimate, the population of the city is 301,926.It is about 1,500 meters above from the sea level.Baguio is one of the cities which bounded by Cordillera Mountain.The city is build on uneven ground and is surrounded fully by green.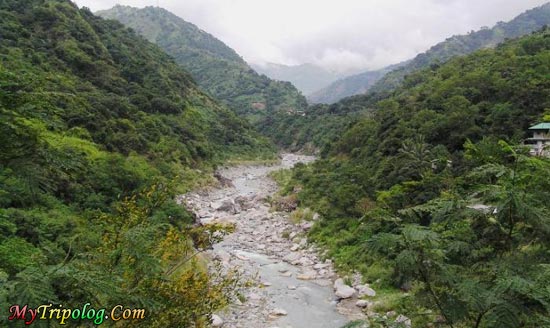 (River along the Kennon road, Baguio)
Philippines is a quite hot country.That's why tourist sometimes need a place which is naturally cool and relaxing.Philippines is mostly known with its world wide famous beaches but this city is another tourism center of the country with its different face.
You can get a very nice room in a Hotel, Motel or Inn starting from about 30 dollars per night.If you want your place to stay to be a little away from very center of the city and crowd, then I suggest you to check El Cielito Inn Baguio which has very nice rooms, service and location in the city.The prices starts from about 30 Dollars per night.You might want to be by very center of the city, so then check Hotel Veniz.The prices start from about 50 dollars per night.By the way, I suggest you to make your reservation before you go to Baguio, you might not find vacant room in the place where you want.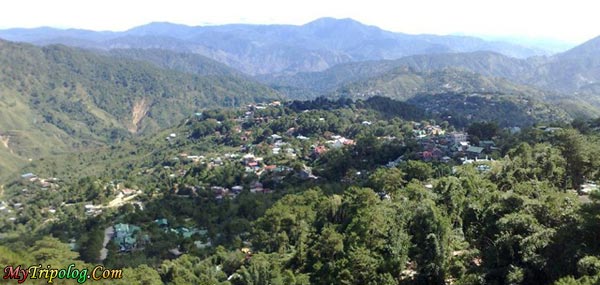 (General view of Baguio from Mines View Park)
It's actually not a very big and crowd city.It's not too much to see in city center but a little bit far from city center will be your place to relax,  to get some fresh and cool air, for horse back riding, picnic, hiking… It's like a city in the middle of a forest…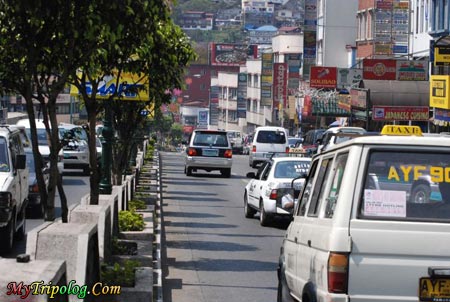 (Traffic in Session Road,Baguio)
Session Road…
It's a small city but life goes on almost 24 hours in the city centre.You might wanna go out and get something to eat at 2:00 a.m.Feel free, take a taxi or walk on foot to Session Road which is the very heart of the city.You will see people walking around, eating something as you want too.It's not crowded and not really noisy, cool and quiet.I am not sure if you can find an open Chow-King at that time but if you could, then I absolutely suggest you to  get some Halo-Halo to eat after meal.Going to Philippines and not tasting Halo-Halo? That'd be nonsense… So, try to get it in the morning if you can't have it at night…
(Publicmarket in Baguio)
Mines View Park  –  Burnham Park…
Both parks are amongst the most visited places of Baguio.Burnham Park is the heart of city but Mines View Park is little away from city center.They really are worth visiting.Burnham Park will give you the feeling of being in a forest; the place to go for a walk, fresh air, picnic… Mines View Park's vista is excellent.Cordillera mountain view is amongst "must see".You can also try local dresses or buy nice presents there.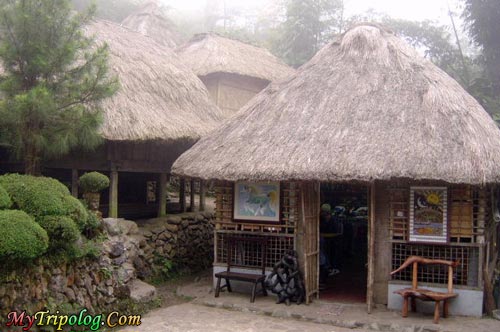 (Tamawan village, Baguio)
Tam-awan Village
It's a special village which is noteworthy.It's at the outskirt of the city.It's been headquarters for famous  national and local artists such as Ben Cabrera, who is always referred to as BenCab, Jordan Mangosan, John Frank Sabado and Ged Alangui.There are Art Galleries which you can find traditional works in it and also Cofee Shops to get some rest adn drink something.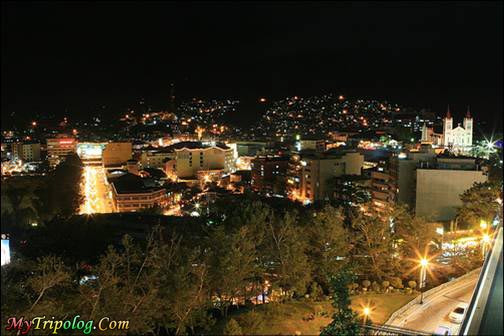 (Baguio at night, Baguio Cathedral is up on the right)
Baguio Cathedral…
That's a nice building one of the most photographed buildings which is adjacent to Session Road in Baguio.Its rose-colored exterior is eye catching.
Wright Park… You could go to Wright Park if you are intrested in horse back riding.There are hundreds hundreds of horses with different and amazing colors, hair styles to rent.
A "must see" city of Philippines; Baguio.Enjoy your vacation…