The Largest Cuban Flag and Map Online
|
Important Tips & Informations for those who think of a vacation or plan for a travel to Cuba.And in between, we will share the best, the largest and the most detailed maps of Cuba and also the Cuban flag within this post.You will find necessary titles about Cuba, such as departure tax for Cuba, health insurance for Cuba travellers, what to eat and in Cuba, phone-GPS-internet use in Cuba, is it safe to travel Cuba and many more…

IMPORTANT! With effect from 1 May 2010 it is mandatory that passengers who travel to Cuba on a valid travel insurance with medical coverage available. When you can show no valid insurance upon arrival at the airport (take your valid insurance card with you!), You are obliged to them locally in Cuba to purchase. It is advisable to make a statement in English to have (ask your insurer) otherwise you risk that your insurance is not recognized and you still spot an insurance policy.
Departure Tax
Upon departure from Cuba is a departure tax levied on about 25 CUC per person (to pay).
(Click to see the original larger sizes of the Cuba Maps and the Flags; or simply save it in your PC, it will be saved in its original large size.)
Phoning / internet / GPS
At hotel receptions and post offices it is possible to call directly to the Netherlands. It is not possible to collect or calling card to use a scope. Mobile telephony is the most tourist places possible, but it is pricey. To use your cell phone during your stay, you get the best from your provider information about the options and costs.
You can, for a fee, use the Internet in Internet cafes and often in the hotels.Taking a GPS to Cuba is prohibited. GPS systems on mobile phones work in Cuba, so book a fly-drive, we recommend you to spot a GPS system to hire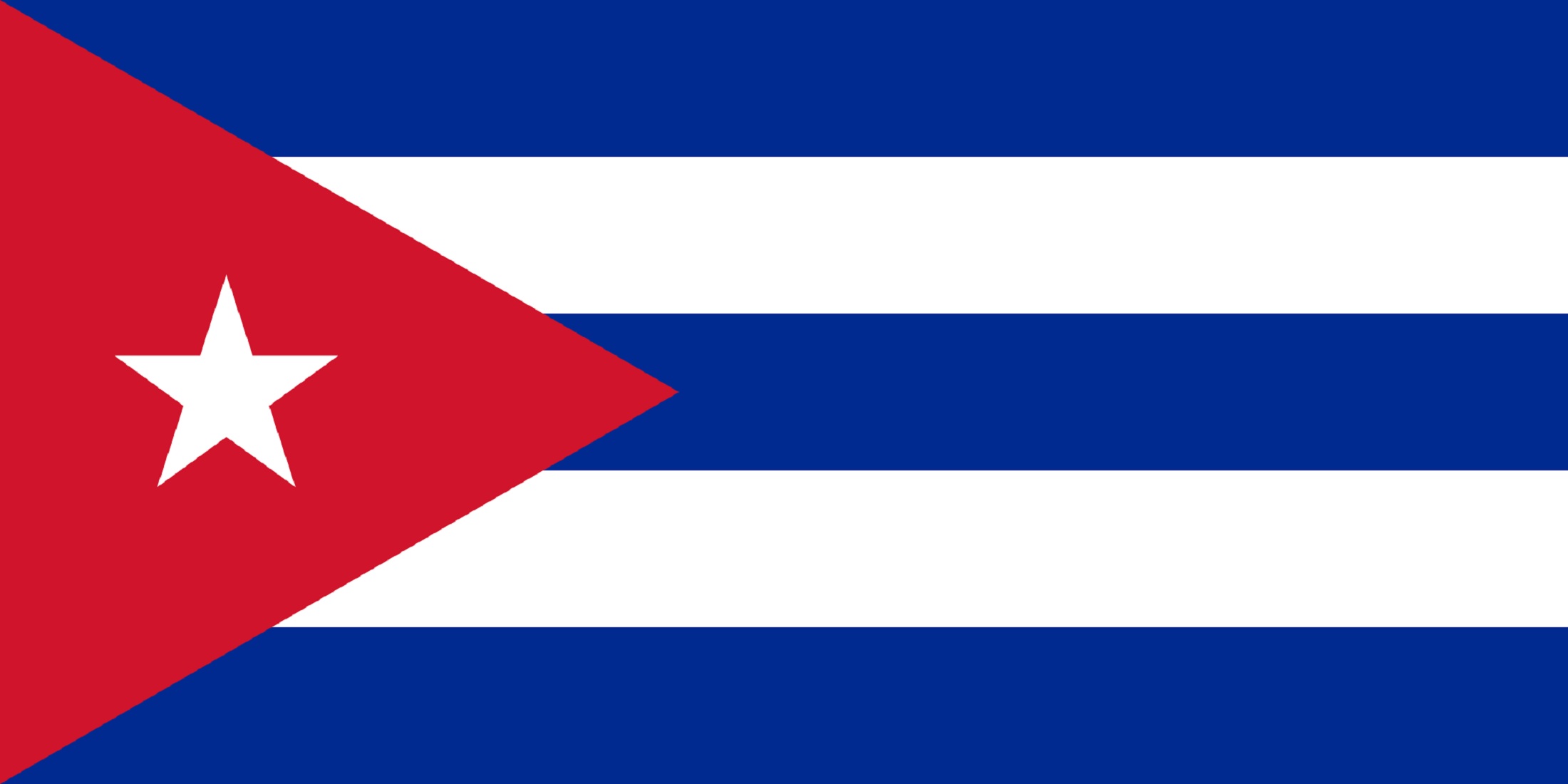 Safety
Cuba is the most stable country in Latin America in the field of security, the threat of terrorist attacks is low. Although Cuba has relatively little crime, remain vigilant. The petty crime absorbs increasing, especially in the tourist areas of Havana and Santiago de Cuba. This petty crime is usually limited to tasdiefstal, rarely with additional violence. We suggest you keep your identity and travel papers in a safe in the hotel and keep a copy of these documents with you at all. In addition, we recommend only the required cash and valuables to take with you on the go.

Food and Drink
Typical of the Cuban cuisine is the fact that in most dishes black beans, rice and pork are processed. A real Cuban meal is' arroz 'congri' (rice with pork). The traditional drink is rum in Cuba, which is the basis for many forms of drinks and cocktails. Examples are the 'Cuba Libre' (rum and cola) and the cocktails mojito (rum, sugar, limes), "Hemingway Special" (rum, grapefruit and lime juice and maraschino) and 'd aiquiri "(rum, lime juice and maraschino).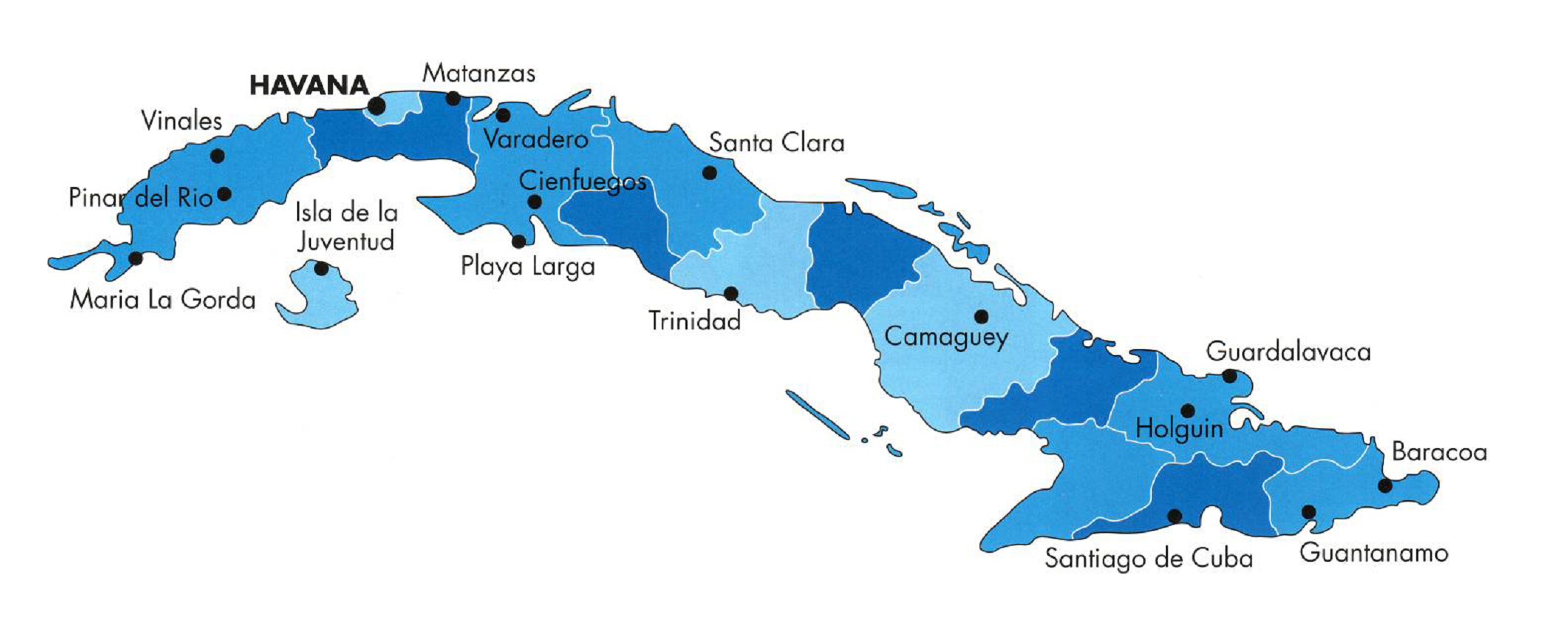 Travelers would do well in general the following advice with regard to food hygiene and safety to follow:
• do not eat lettuce and unpeeled fruits and eat only food that is cooked well and hot
• Be careful with shellfish and unpasteurized milk and cheese
• choose a restaurant that is crowded and where to eat so long will never lie
• wash your hands thoroughly before eating
• Use caution when buying food from roadside stalls
• Use boiled water or bottled water (for brushing and cleaning wounds). You should also no ice cubes in your drink.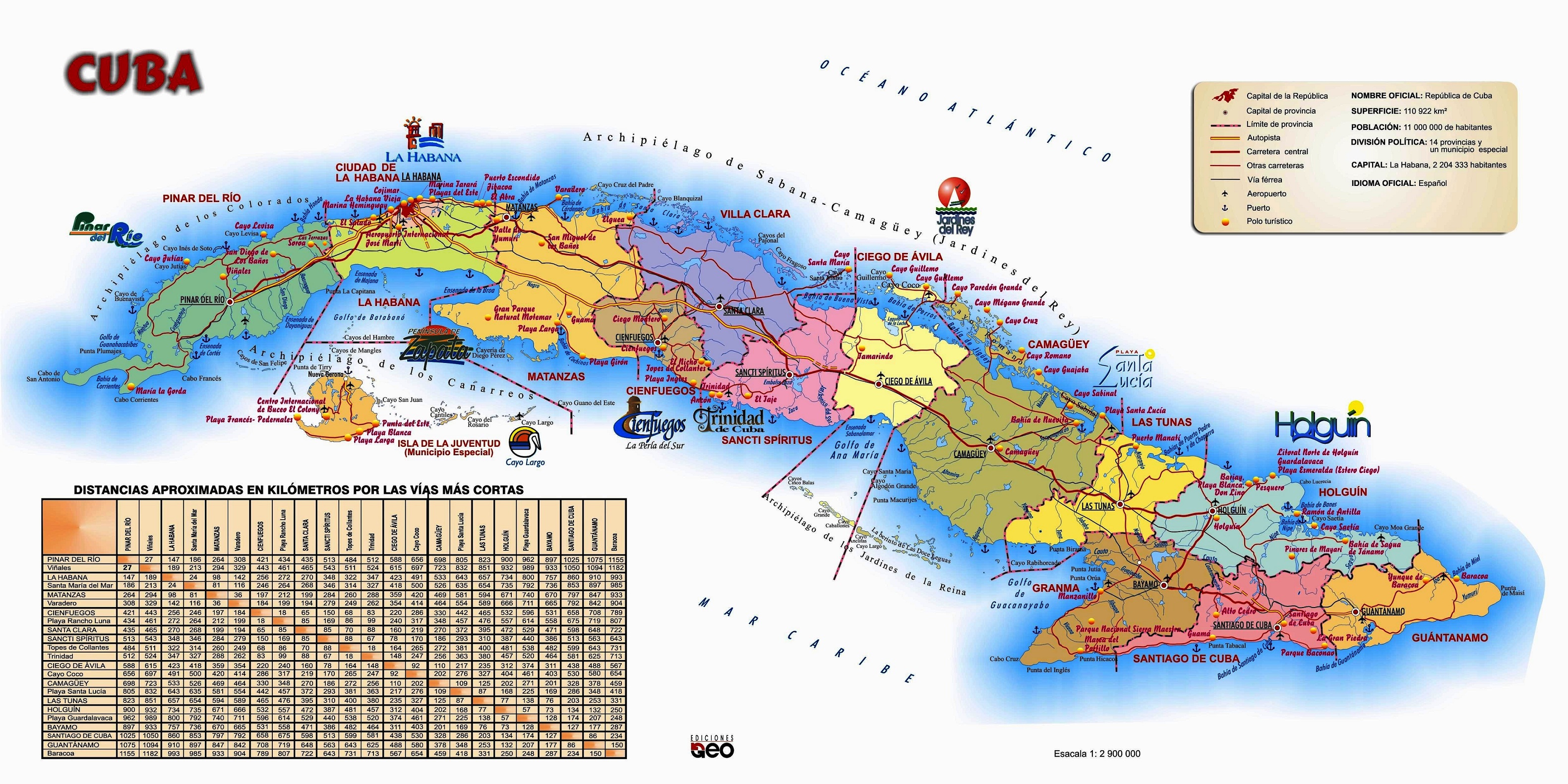 (Map of Cuba indicating the touristic destinations of Cuba)
Money
In Cuba there are two valid payment together: the Cuban Convertible Peso (CUC) and Cuban Peso (CUP). For the tourist, the designated payment Cuban Convertible Peso (CUC) (for example see the current price www.wisselkoers.nl). This is only in Cuba to buy back and exchange. Dutch giro and debit cards can not be used in Cuba, also pins with a regular bank card is not possible! However, it is unlikely to be possible to withdraw money with the credit cards of Visa and MasterCard issued by a European bank. Examples of this are your spending limit! We encourage you to cash in euros and also to take a credit card (Visa / Mastercard) to have on hand for emergencies. For credit card transactions are the amounts CUC through a fixed formula converted to the USD, the currency in which your home act is depreciated. Withdrawals or payments with credit cards are actually no more expensive than the exchange of euro cash in CUC. You can not pay cash in USD, but you can change it in CUC's. There is however an additional 10% commission on.
Local prices
– Indicator price lunch € 5, € 13 dinner
– Indicator price coffee € 1, € 1 glass of fresh, beer € 2, glass of wine € 4.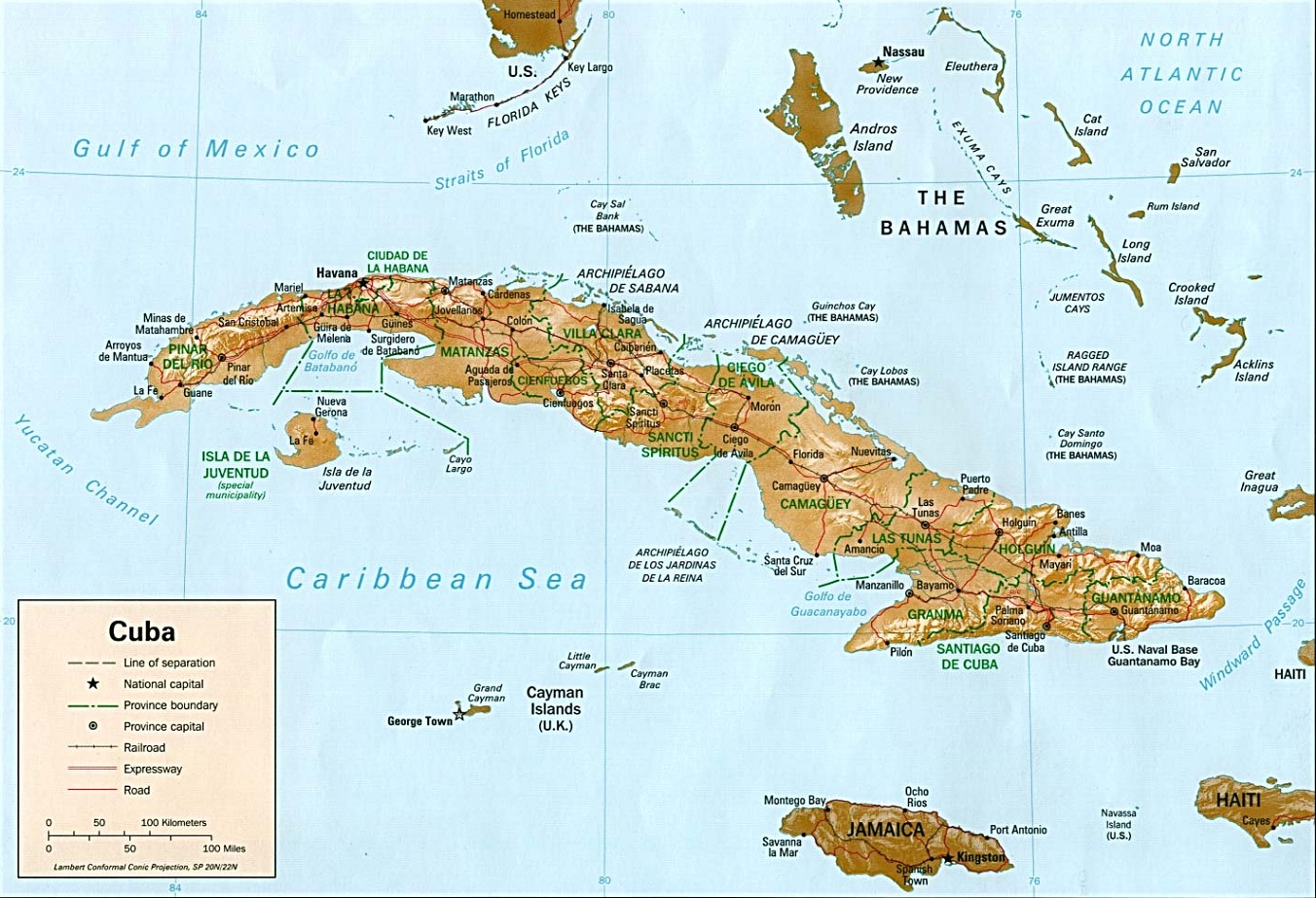 When in Rome, do as the Romans
A holiday abroad means different people, different customs, different cultures, different food, in short, other than at home. You should expect your vacation to adapt. Also please bear in mind that the comfort of transport / infrastructure, accommodation, meals and climate are different from home. It is important that you as a traveler are set flexibly. Because you well to adapt to local customs, you will have your holiday the best possible experience.