Wellness in Turkey, the trend since antiquity
|
Wellness in Turkey, the trend since antiquity
A journey through Turkey is not complete without a visit to one of the many spas. Turkey is blessed with many natural hot springs. The mineral baths have a healing effect on many health problems. But they are obviously too good to just enjoy … they did in ancient times already!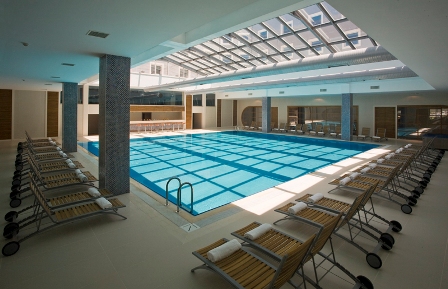 Lovely warm bath
The pleasures and benefits of a thermal bath the Turks know everything. Already in ancient times was the population used the hot springs. Many historical places came right near these sources. Thus the ancient Hierapolis was built on top of the hot mineral springs of Pamukkale. The ancient Lycian city arose on the Kaunos Köycegizmeer, where people took a bath in the mud. That would be particularly rich in minerals.
Curative
Turkey has more than 1,000 hot springs with temperatures between 20 and 110 ° C. These natural gifts the country owes to the fact that a major geothermal belt. Turkey is among the seven major countries in the world with healing hot springs.
Remember that bathing is not overly luxurious, but that bathing in a natural environment is a special experience. Most spas are located in Marmara and Aegean regions. Often being near popular cities like Istanbul, Izmir, Pamukkale and Marmaris are, they are easily accessible by public transport.
Relaxing in a spa
Visit during your holiday to be one of the spas, which often ancient history. Some attractions include:
• Kangal Hot Springs. In Central Anatolia, the territory of Turkey, the Kangal Hot Springs are located. The thermal baths are special because there are small fish in the water swimming around. They play a crucial role in curing various skin diseases such as psoriasis.
• Denizli. At five km north of Pamukkale, near Karahay? T, are some hot springs in a beautiful nature. They contain many minerals and are good to include arthritis, heart disease and kidney disease.
• Orucoglu Thermal Center. The Orucoglu Thermal Center is located in Afyon. The temperature of the water is 49 ° C and the minerals have a beneficial effect on arthritis, nerve pain and a host of other complaints. You can also stay!
• Oylat. This spa is 27 km south of Bursa, near Inegöl. The hot water has a calming and soothing effect and enhances the transport of moisture.
• Sultaniye Thermal Springs. Located in Mu? La, a sunken area near Köyce? Iz. The water temperature varies between 32 and 42 ° C and is even suitable for drinking. Good for your metabolism – perceived to be claimed …