Top Best Bali Vacation Attractions
|
Best of Bali
The island of Bali is one of extremes. White or black beaches, safaris, surfing, or expressed an oasis of tranquility. Here, everyone feels really at home. Bali is an Indonesian word on his Bagus, or beautiful!
Bali in brief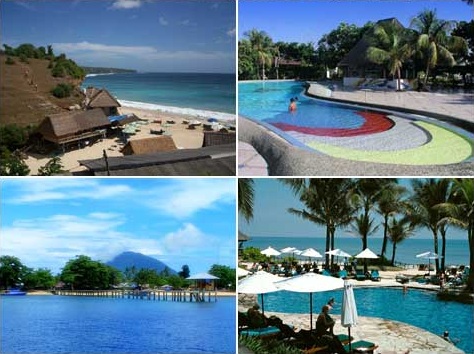 Bali is one of Indonesia's 6000 inhabited islands and is about one day traveling from Amsterdam. Where the south of the island is characterized by crowded beaches, surfers and the many hotels, find the rest of Bali peace and natural beauty. In tropical areas come to travel to the sparsely populated west. Find the protected Bali Barat National Park. Or go east and climb the sacred volcano Gunung Agung. Balinese believe namely that the gods live in these mountains since eruption fertile soils of the mountains have provided. Eventually you'll find in North Bali, the more educated population, thanks to the Dutch rulers who lived decades ago, and thanks to the universities that are located here.
Hindu traditions
Throughout Bali there are a lot temples. Bali is the only Indonesian island that is almost entirely Hindu. In many traditions of Hinduism are watching. Of cremations to temple festivals in Bali are the real attractions. Vakantie.nl the most famous traditions selected (you can also attend):
• Nyepi is the Hindu New Year's Day tradition and is held on the first day of the new (lunar) year. To know when this occurs, we check the state of Mon The last day on which there is no moon appears (in our calendar it falls in March or April) the year ended. Nyepi follows and that means that the whole island is quiet and dark. Bars, restaurants, everything is closed for the evil spirits keep away from Bali. Who for his rest is well here!
• Barong and Rangda is a fight between Balinese, where they become completely trans. According to rumors, the tradition of a battle between the bad and the good priest widow Ranga Barong. When Rangda after showing black magic was banished to the forest, waiting for her son (then king) and the Barong priest. Barong finally won the battle. At present the Balinese performances are in combat, but never Ranga slain. The performers wear a mask and costume, and the battle is depicted as dancing.
• Odalan, temple festivals, like almost every day, every month and place throughout Bali. On February 3 they find such place in Pura Tanah Lot, Pura and Pura Bucabe Alas Harum. On April 23 you can find back partying in Rambut Pura and Pura Ratu Pasek Siwi. Sacrifices (like rice) in leaves given to the gods and ritual dances are performed. You can feast on such a distance.
Special stamps
Religion and tradition are of great importance in Hinduism. However, even Buddhism that has established itself in small numbers in Bali, committed to tradition. Sacrifices are brought to temples, festivals are celebrated at temples and death is "settled" back in the same temples. Vakantie.nl has the most beautiful temples for you to put a row:
• West Bali Pura Melanting. This temple, situated diagonally on a cliff and surrounded by beautiful black walls, guarded by hungry monkeys stolen. They monitor not only the temple but also the surrounding rock. Although we are far from sacred animals would like to mention this as if they are descendants of Hanuman (monkey god).
• The most important Balinese Hindu temple is Pura Besakih, in eastern Bali. This is located at more than 914 m at the Agung, the highest and holiest mountain in Bali. When the mountain (Gunung Agung volcano) erupted in 1968, the temple unharmed. The temple is still beautiful. Gardens and shrines are dedicated to the gods. The stacked layers of roofs put you in an oriental ambiance.
• Pura Dalem in North Bali, or the temple of death, was created for the Hindu god of destruction, Shiva, and is in Jagaraga. Regular here Balinese cremations, which put the ashes then scattered by sea.
Brahma Vihara Arama • North Bali is a Buddhist temple, built by monks in 1958. You have a beautiful view of the coastline and there's lots of color incorporated into the images and the roof.
Sunbathers in Bali
The vast majority of the beaches in Bali is characterized by black and gray color. For us particularly, but not the typical image you have in a tropical island. Yet the beaches are beautiful. We have the best selected for you:
• Lovina Beach, located in northern Bali, is a black sand beach surrounded by wooded mountains. The sea coast is perfectly suitable for diving and snorkeling with its many coral reefs. A perfect beach for those who want to relax and black sand beach is also interested in trying again.
• Do not leave your beaches? Yet Seraya Beach a feast for the eyes! A must-see with the brightly colored boats on the pitch-black beach.
• Kuta Beach. Who wants action is good in Kuta. A busy beach, where surfers, souvenir stalls and masseurs will entertain you well. In addition, Kuta is known worldwide for its beautiful sunset.
• Mawun Beach. For the real tropical feel you can go Mawun. White-yellow beach, coconut palms and tropical Balinese give you the feeling.
• If you want to be comfortable, but not the crowds you're good at Sanur Beach. Near the bustling Kuta Beach (South Bali), this tropical white sand beach. The sea is relatively calm and shallow, so Sanur Beach is ideal for a family holiday.
Thrill seekers on Balinese Water
Are you a real water lover? In Bali you're good! With the many coral reefs the island Bali for surfing, diving and snorkeling. In addition, the Balinese also slightly rougher seas activities in store for you. Vakantie.nl has the best water activities selected for you:
• Tough surfers beware! Particularly South Bali is known for the good breaks. The best breaks are found in the months April to October, including Kuta Beach, Nusa Dua, Uluwatu and Balangan.
• Fun and excitement … who wants action and wants to discover the Balinese landscape is properly during a rafting trip. Rice fields, rainforests and waterfalls pass you during a trip on the Ayung, Unda or Telaga Waja. Ask for more information at the reception of your hotel.
• Do you like the magical underwater world? Take a dip in the deep and visit the Gili Islands! The Loggerhead and Green turtle swimming around here in the coral and the cheers things up. A close second is located in North Bali Tulamben Marine Reserve – a wreck of a navy boat – beautiful fish you encounter.
Other activities in Bali
To complete your holiday on Bali, we have to do some special activities for you selected:
• Visit a spa where a yoga massage, exfoliating treatment or visit a sauna in an oasis of peace will bring. Spas in Bali include the Rits-Carlton Bali Thalasso & Spa or Jari Menari.
• Always wanted to make a game drive? At the Elephant Safari Park you can see the Indonesian elephants up close and feeding. For an additional amount on their backs can be a trek through the jungle.
• To the west of Bali is Reef Seen Aquatics, a park where you can get diving lessons. The special feature of the park is that hatchlings grow up, you can view here.