Vacation in Southern France; Cannes
|
Cannes
Besides the site of the Cannes International Film Festival is a delightful seaside resort on the Cote d'Azur. And having seen what this is all about. The yacht harbor is one bigger than the other.
In southern France, on the Côte d'Azur near Nice, Cannes is the city. This town is known for the annual international film festival held here. This festival is attended by many movie stars and is a popular venue for film producers to present their new films. Besides the film festival Cannes is also famous for its sandy beaches can be found here.
In Cannes, there is plenty to do. Bring above to visit the old port, where you can take a look at the tower from 1385. The Grand Jas Cemetery, you may skip it. With a size of nine acres is the largest park in Cannes. Its location, the architecture of the landscape and the diversity of tombstones is one of the most remarkable cemeteries in southern France.
On the slopes of Mont Chevalier is the old part of Cannes. This section is the Place de la Caste a visit. On this square you can have a portion of the old city wall and is here Nortre Dame de l'Esperance, from the 17th century. Another interesting attraction in Cannes is the city hall, which was originally the Museum of Natural History was established.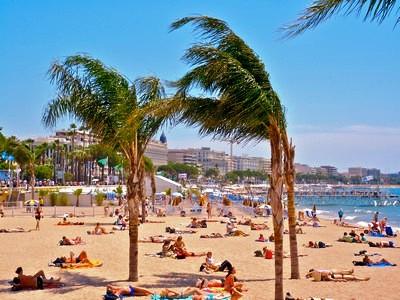 Cannes is known for its many villas, often on the steep slopes of the hills are built. Against a small fee in most cases possible to one of the villas open to visitors. A famous villa is Villa Domergue. The painter Jean-Gabriel Domerque built this house in 1934 and designed everything to the smallest detail. The garden was designed by his wife and consists of waterfalls and ponds. This villa is led by a tour guide.
Off the coast of Cannes are the Iles des Lerins. These islands by boat from the Old Port to reach. Sainte-Marguerite is the largest island and its main attraction the former convent Fort Vauben. The story goes that the man in the iron mask would have been locked up here.
For shoppers, Cannes is the place to be. The Rue d'Antibes and Rue Meyandier are the main shopping streets. These streets are close to the Boulevard de la Croisette, where especially chic and expensive shops are located. The Marche Forville is a daily market where locals sell fruit, vegetables, fish and meat come from.
In the evening there is plenty to do in Cannes. There are many casinos, restaurants, bars and theaters. In the summer there are many beach parties. From the marina you have a good view of the ordinary fishing boats alongside exclusive yachts.
Rating Cannes
Help each other to find a nice holiday, write a review of your experience or ask advice if you do not know. Others want to help!