Madrid, Royal Metropolis Of Spain
|
General
The Spanish capital of Madrid is home to about three million people and the variety of sights can easily compete with cities like London or Rome. A city break in the Spanish city offers a special kind of atmosphere, the history of the city of Madrid leads back to the time of Moorish occupation, that of characteristic influence can still be seen throughout Spain. The impressive fortification from the period dominated long stretches of the city.
Madrid is also famous for its dazzling nightlife, which is certainly among the strangest in all of Europe. A trip to Madrid attracts families and individuals with exciting experiences in one of the most impressive cities in Europe. In Madrid, the Spanish zest for life combined with world-famous culture and excellent cuisine.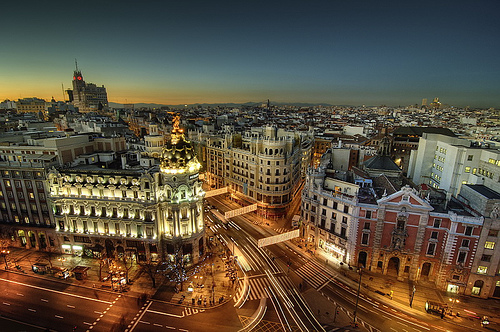 Weather
Madrid is at an altitude of 650 meters. A characteristic of the continental climate of the city are the hot summer and relatively cold winter. For in contrast to the coastal areas it may be in Madrid during the winter chilly.
Plaza Mayor and Gran Via
The Plaza Mayor is the public center of Madrid dar. The impressive space can be there in the summer in a number of bars and restaurants sit comfortably in the sun. The former market place serves the artists and tourists as a central meeting place.
The Gran Via runs right through the heart of Madrid and is the central shopping street of the city. On both sides of the prominent shopping street lined with boutiques and exclusive restaurants. Also find here some of the most famous theaters in Madrid.
Prado Museum, Placido Real and Excursions
The famous Prado Museum is one of the most important art museums in the world. In addition to the world's largest collection of Spanish painters like Velázquez and Goya, there are also many works by Botticelli, Dürer and Rembrandt. Also, in addition to the established cultural landscape are friends of many alternative art and painting galleries of the vibrant art scene.
On a city break in Madrid should also Placido Real, the mansion of the Spanish royal family to the program are. The Retiro park is the Palacio de Cristal, an impressive building, which consists almost entirely of glass. On a nearby hill is the Casa de Campo. After the spectacular Travel by cable car opens up a fantastic view over the city.
Getting Around Madrid
While the cities provide public transportation to travel to Madrid. They are reliable and in the urban area spread over. The main sights can be reached even on foot, and for longer tours are underground and buses ready. More Urban Transport Madrid.