Mexico, Playa del Carmen and Cancun Review Activities in Xcaret Park – 2
|
Hi there beloved followers 🙂 How are you all today ? Hopefully it is a bright day out there for everyone of you. As my regular followers know, I am posting about my recent vacation in Cancun, Mexico and this is the second of three parts of my posts about Xcaret amusement park which is visited by tourists both from Playa del Carmen and Cancun. As I had said earlier, even if you are 100 mi away from this beautiful piece of heaven, do not miss the chance of experiencing it.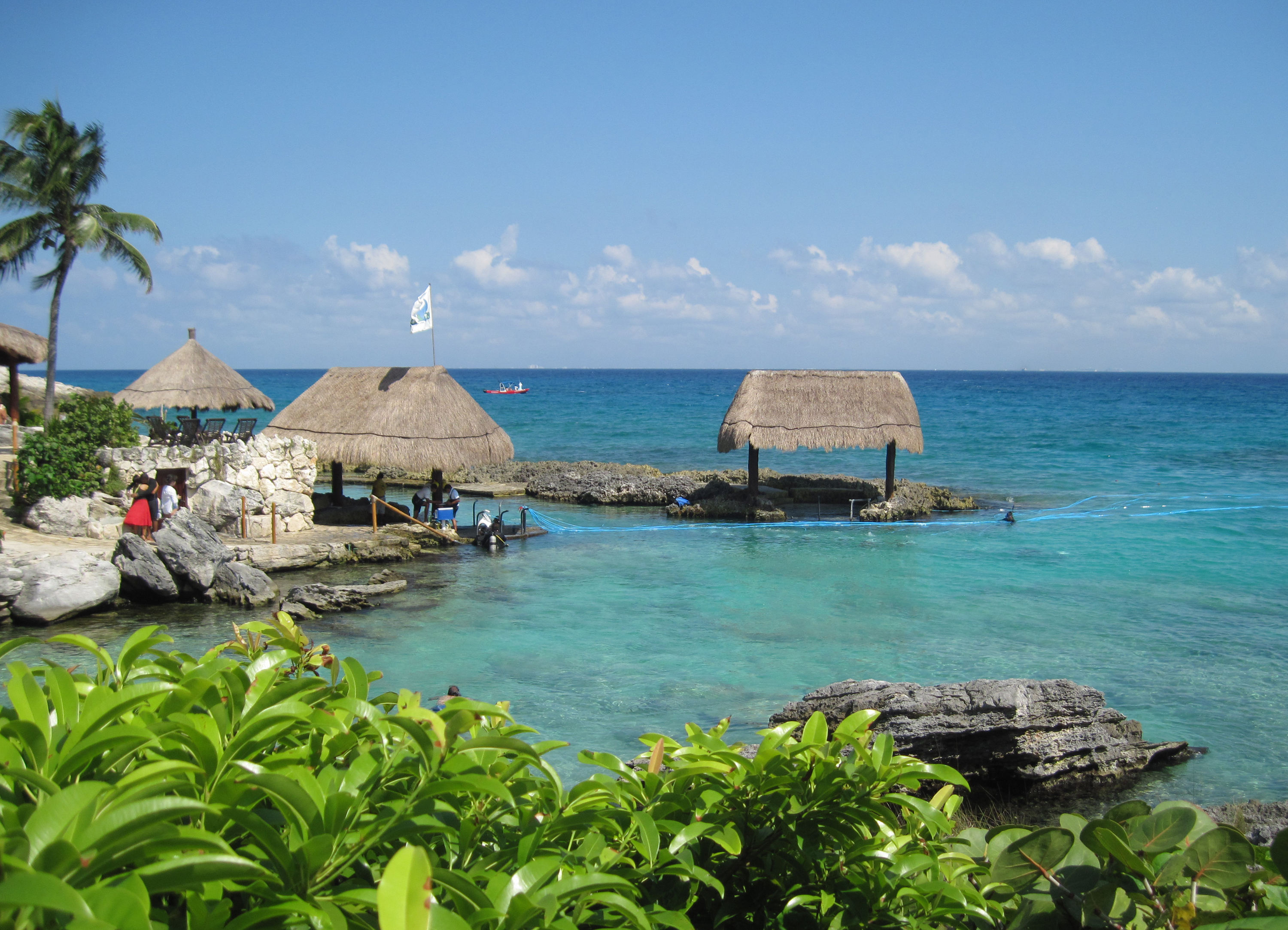 The lunch service in all the restaurants of the park starts around 11.30 a.m. to 12 p.m. All the services in these restaurants are free for those who have a "plus" ticket to Xcaret park. All the services, I mean, except liquors; you could take beer or any other soft drinks, juices etc.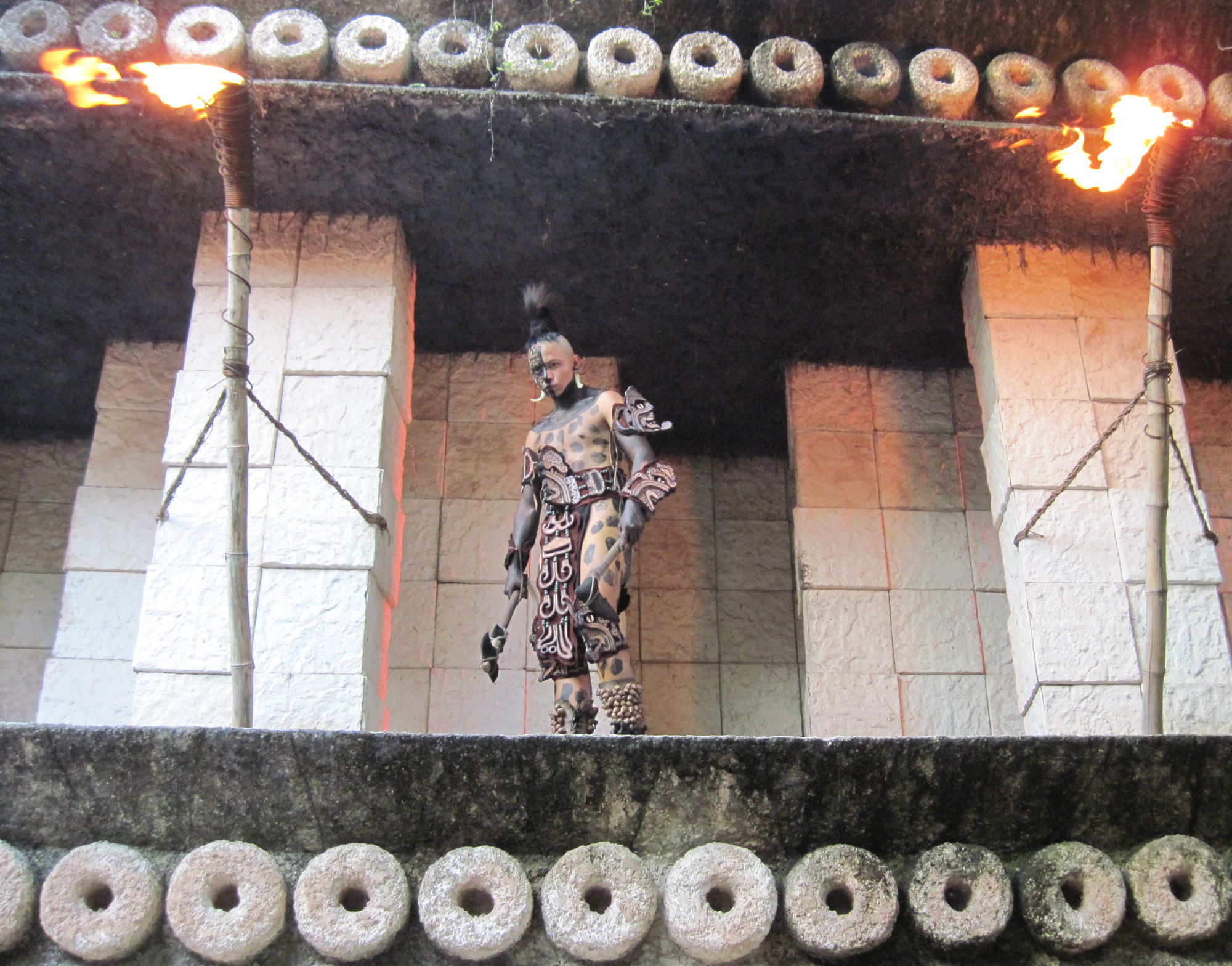 (Ancient Mayan warrior, Xcaret Park, Mexico)
Let me tell you what you should do for lunch. Go and experience that amazing underground river which starts from one corner of the park and diagonally goes throughout the park and ends on that fantastic Caribbean coast of Xcaret park. I am not exactly sure how long it takes, but I loved it so much that I went through it twice; of course, trying two different rivers both of them were more beautiful than another. It should be around 45 mins give or take 10-15 mins.
(Restaurante El Manglar, restaurant on the Caribbean beach of Xcaret Park, Mexico)
By the time you arrive at that stunningly beautiful Caribbean beach on the other side of Xcaret park. Go under fresh water and take a shower, and then lay on one of those beautiful hammocks for sometime to get a little rest and dry up. Then, when you look around, it is impossible to miss that gorgeous wooden building of Restaurante el Manglar!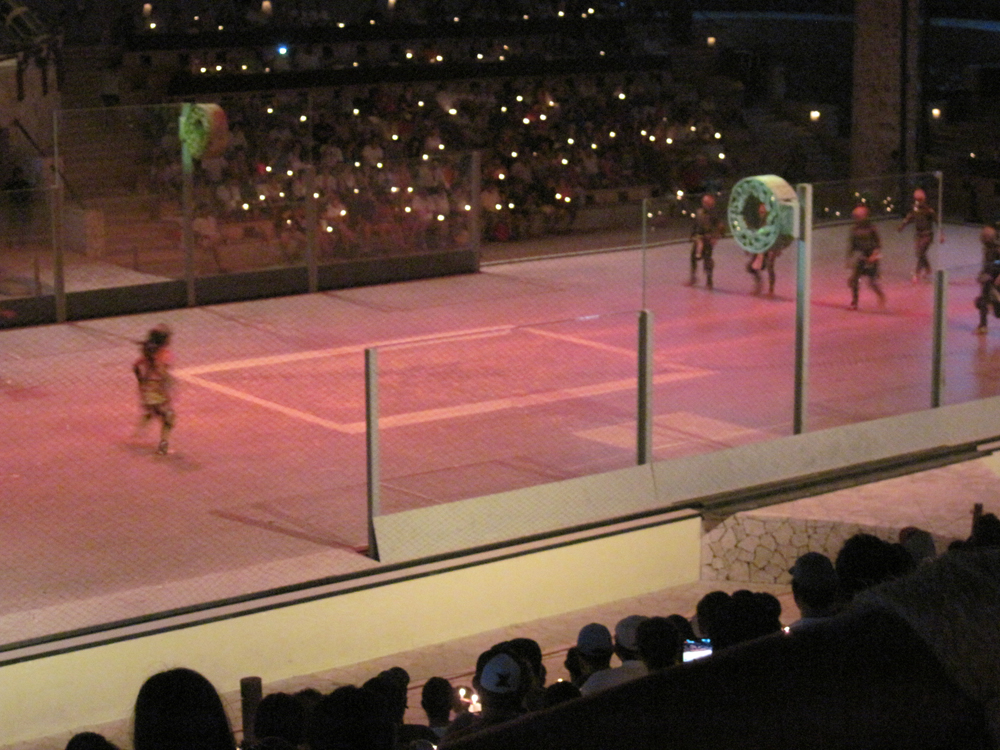 (From the evening show; the Ancient Mayan ball game, Ulama; or as many people call it, Mayan football 😀 It is not played by feet, though. They try to hit the ball by their hips or the right/left side of hip/waist area.)
Restaurante el Manglar was one of the best restaurant experiences of mine during my whole vacation in Mexico. The building itself, the variety and deliciousness of the foods, desserts etc, the astonishing Caribbean beach and sea view right before you. A absolute beauty all together. A must and must experience!
(This is just a small portion of the spectacular Caribbean view you are going to get while having your lunch at Restaurante el Manglar)
There are a lot of choices of different restaurants and you will eat at least twice while inside the park. Make one of it Restaurante el Manglar! By the way, if you are planning to have your dinner in the park, as well, just keep in mind that restaurants all close by 5-5.30 p.m.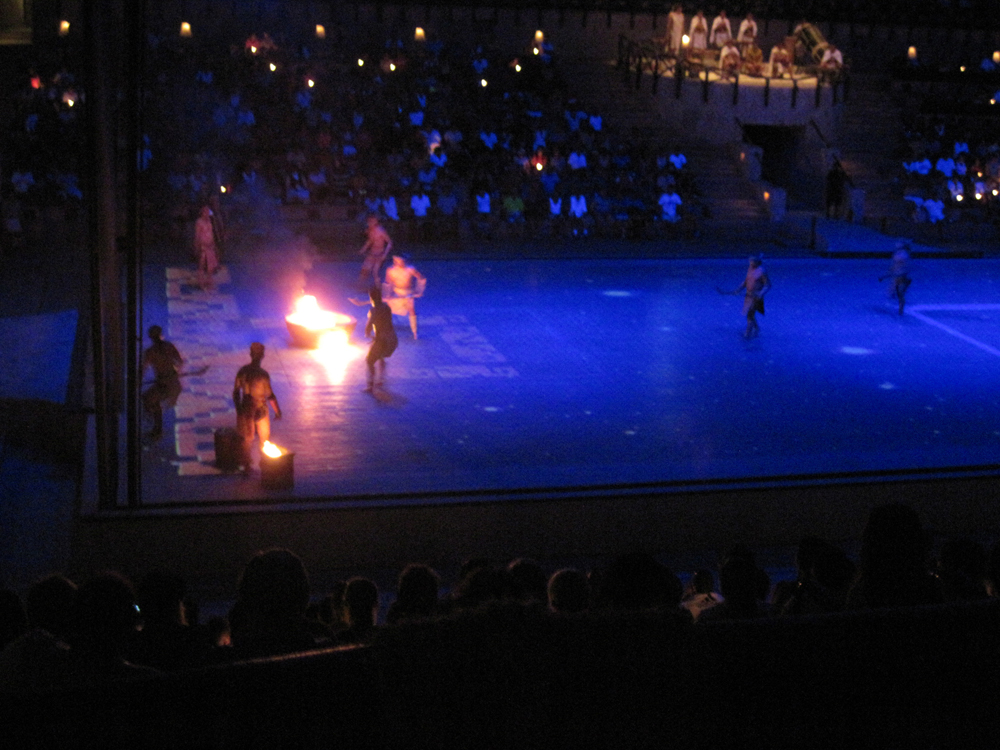 (Ancient Mayan fireball game; or, as some call it, the ancient hockey. It is almost exactly like hockey, except they use real fire ball as you see in the picture, and both teams are trying to get the ball into other team's pot in which there is also a big fire.)
(Ancient Mayan woman warrior show, Xcaret Park, Mexico)
After lunch, keep walking along the beach to the same direction; you will be stunned by the view around. Pools, lagoons, beaches, snorkeling locations, crystal clear water, palms, sand, sun, sea… You do not need to hurry to pick a place, take a walk and see around first; try to pick some location to enjoy the Caribbean sea. One place more beautiful than another…
(One of the lagoons and pools -on the left- while walking along the Caribbean coast of Xcaret Park, Mexico. Across these huts are also another spectacular restaurant -feeling regretful of not trying this one, now-, La Peninsula restaurant, which is also included for "plus" ticket holders for free.)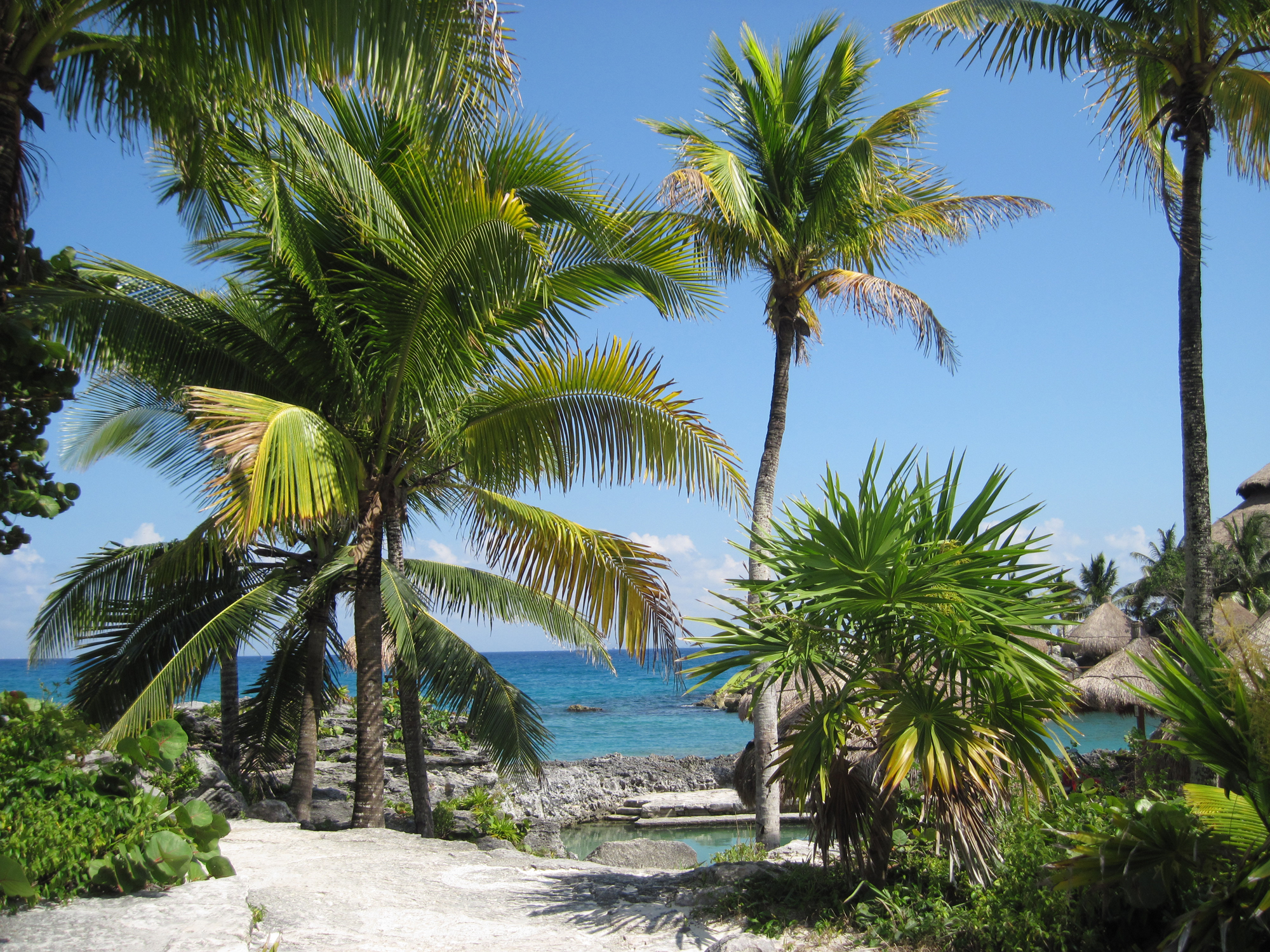 By the way, around noon time (should be between 11 a.m. – 1 p.m.) there is the show of Paplanta Flying Men. Amazing show of a pre-Hispanic ritual dedicated to Sun God of Ancient Mayans. The location is not far from the coast, you could go see it and come right back to beach and enjoy more.
(And here is another treat for you guys. A large size map of Xcaret Park, Mexico. It is pretty big size, just right click and save it in your PC and then look at it. You can clearly read everything on it and see all the places that I am talking about on the map.)