Turkey, Four Season At The Same Time: Part 2
|
Here I am with the second part of my article about Turkey.In second part I will mention about historical and/or touristic places, worth to see natural beauties, "must visit" points of Eastern and SouthEastern Turkey which is a part of Mesopotamia the cradle of civilisation.With its thousands year of history, the past of being land of great civilisations such as Hittitie, Babylonians Commagene, Medes, Parthians (Persians), Rome, Ottoman; these lands have a lot to offer you.This part of Turkey is pretty important also with its religious face which includes and combines many different faith's historical prints such as Islam, Christianity, Judaism etc.Besides all, the natural beauty of the region…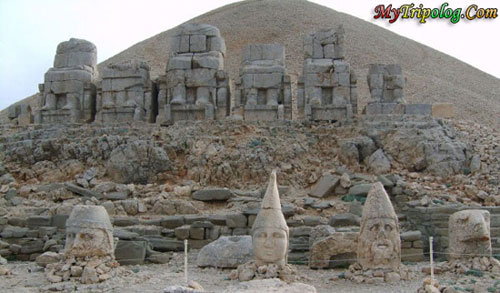 (Mount Nemrut and The Statues, Adiyaman City)
In Adiyaman City, Land of the Kingdom of Commagene…
This city of Turkey is  one of the most visited cities.Thousands of people from all over the world, Europe, Japan, America etc., visit Mount Nemrut where there are giant statues from the Kingdom of Commagene.The mount is 40 km (25 mi) away from the Adiyaman city center and in Kahta town.The King Antiochus I Theos of Commagene built statue of himself two eagles, two lions and various Persian, Greek and Armenian gods on the mount.The giant statues on 2,134 m (7,001 ft) high mountain are absolutely very impressive.It's one of the best places in the entire world to see the sunrise and sunset.Thousands of tourist go there to see it every year.After the middle of June till by the first half of August is the time for it.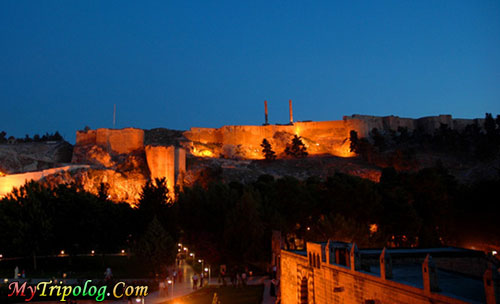 (View of Historical Urfa Castle At Night)
Urfa (Şanlıurfa), The city of Prophets…
For some historians, this city is the birthplace of prophet Abraham.The city in where prophet Ayyub lived; The city which was Blessed by Jesus.This city is absolutely like an outdoor museum.Besides prints of the prophets, the Harran, also known as Carrhae, was one of the science centers and the first university in the world was built there which now you can see the ruins of its.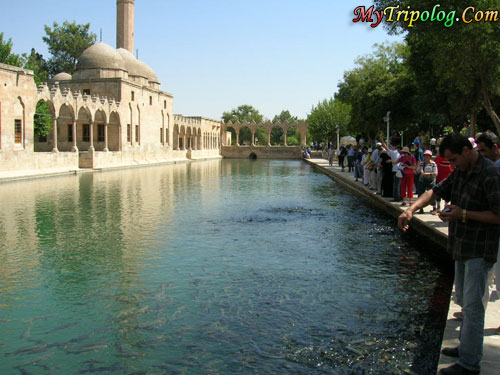 (Tourists feeding the fish in Balıklıgöl, Urfa)
According to traditional, prophet Abraham was born and lived there before reached Canaan.And the famous tale happened in this city; Nimrod had Abraham thrown on pyre, but God turned the fire into water and the burning coals into fish.This "fish lake" (Turkish: Balıklı Göl) is amongst most visited by local and international tourists.The Urfa fort which is near by the this "Balıklı Göl" is worth to see:It's pretty high and will let you see a great view of Urfa City.
In Diyarbakır City…
It's the largest city in Southeastern Turkey and has one of the largest and richest cuisine in Turkey.I strictly suggest you to taste a few different kind of Diyarbakır foods such as liver.Demographics of the city are made up  of predominantly Kurdish People.So, It's also a great place to know about Kurdish traditions.
(Diyarbakır Walls at night in winter)
The city was originally surrounded by the walls, a "must see" place, which were built by Roman Emperor Constantius II.These walls are also agreed as the longest after the Great China Wall.But today's the city is not only the part which is surrounded by the walls.
Mardin City, Another Outdoor Museum…
The city has a very mixed population,  Kurds, Turks,  Arabs, Assyrian/Syriacs and a small Armenian community.It's called "The City of Languages and Religions" which true.There's a wonderful harmony of many different religions, languages and cultures in the city.All these elements of the city has its own mystic history, architecture, culture within a perfect harmony which is very difficult to find in any other part of the world.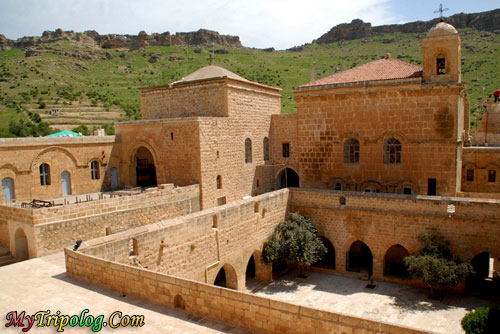 (The Saffron -Dayrulzeferan- monastery, Mardin City)
Most Syriac Orthodox churches and monasteries in the city are still active toda.And they date from the 5th century AD.The Mor Hananyo Monastery (Deyrülzafarân Monastery or Saffron Monastery) is one one of the most visited among them and a must see place in Mardin.It was also visited by the Pope XVI. Benedictus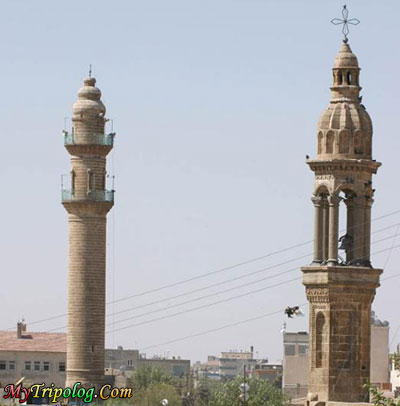 (A Mosque minaret and a Bell Tower in the same square, Midyat town)
Midyat town and Dara village of Marding will amaze you and it will be among unforgetable moments in your life.The extra ordinary architecture in Midyat is to keep your eyes on.One of the greatest amples of toleration will be seen in this small town.You can see a mosque and a church in the same square only a few meters away from eachother.And Dara village; The ancient buildings which were built by only shaping the rocks and stones in the village are so amazing.It still amazes me even when I see my photos which were taken in Dara.It will also be among unforgetable to you.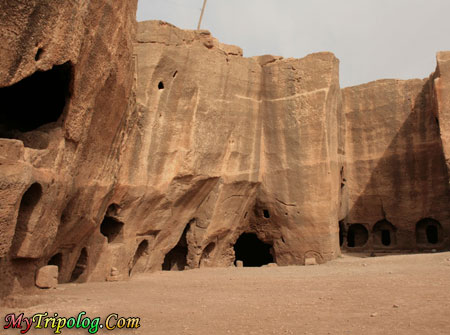 (Dara, Mardin City)
Van, Agri (Ağrı), Erzurum Cities…
Mount Ağrı is the highest mountain in Turkey and is visited by adventurers who wants to reach at the top.For sure not need to be an adventurer to see its great vista.Ishak Pasha Palace in Dogubeyazit district of  Ağri is a semi-ruined place.It is an Ottoman-period palace whose construction was started in 1685.The palace is amongst the best samples of Ottoman architecture.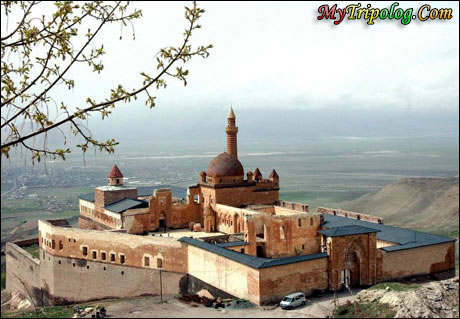 (Ishak Pasha Palace, Ağrı City)
Van has a world wide fame with its cats (Van Cat, Turkish:Van Kedisi) and the lake.Lake Van which owns amazing natural beauties  is the largest lake in Turkey.It's also one of the world's largest endorheic (having no outlet) lakes. Akdamar, Çarpanak, Adır and Kuş islands in the east part of the lake are tourism centres of the Lake and the City.
(Akdamar Island in Lake Van)
Erzurum, Palandöken district is one of the most visited winter tourism center in Turkey.The weather and nature of the city is to give you chance for winter sports even when it's summer vacation season in some other parts of Turkey.
(Skiing tourists on Palandoken Mount, Erzurum City)
In Elazig (Elazığ) City…
Especially Palu and Sivrice towns and Harput district of Elazığ are the touristic points of the city.The population of Elazığ consists of Zazas, Kurds and Turks.
(A view of Harput Castle in Winter)
Harput is only 5 km (3 mi) away from city center and is widely known with its castle named Harput Castle.According to traditional, milk was used to build this castle because of water famine.
Buzluk Cave (Buzluk Mağarası) is another place to see.It's hot inside the cave during winter and icy during the summer.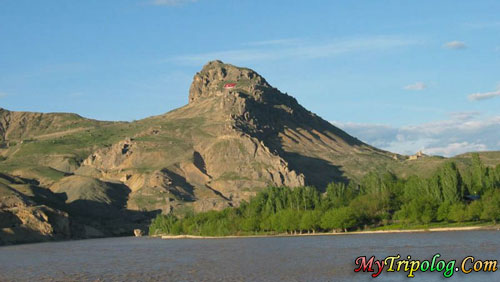 (A view of Murat River and Palu Castle, Elazığ City)
Palu town of the city is famous especially with its castle and the ancient places such as inscriptions, churches, mosques, turkish baths.Population mostly consists of Zazas.The castle is mostly built by shaping the rocks and has been a very important base for many civilisations.The inscription The inscription of Menua, the king of Urartu still remains around the castle and amongst  "must see" ancient prints.This town has also been home for many Islamic scholars whose tombs are open for visitors.
Sivrice's visitors are increasing year by year.Lake Sivrice (or Lake hazar) and Mount Hazarbaba are amongst most important touristic places in the city and Turkey.Mount Hazarbaba is used for winter tourism.It's 2347 m high pretty good place for winter sports.Many people from all over Turkey visit this place for winter sports.Lake Sivrice is a pretty nice place for summer vacations and the natural beauty of its keep saving the place as a tourism centre.There many campgrounds around the lake which will let you stay by the lake if you want.
(A Campground by Lake Sivrice, Elazığ City)
As I mentioned above, this part of the world has been land of many great ancient civilisations.That's why it's not easy to tell everythign only in one article.For sure there're things missing for now.But I will keep writing about this regions under specific city or town or region names of theirs with deeper information and new photos.Stay in touch with your Travel Advisor, Your TripOlog.