Vacation in Mexico Cancun, Oasis Palm Beach Hotel And Activities
|
Well, it has been quite a while since I had a real vacation; and that caused my posts being a little slow lately. When I say lately, my regular followers know that it has truly been pretty long. But now, since I am just back from a brief -but very very intense- vacation in Mexico, I am to start posting again. It was my first time in Mexico, and I actually did not expect that much but it was truly way beyond my expectations and I can not tell how much I enjoyed it. I will start my Mexico postings with the hotel area in Cancun and then more postings will come; about Isla Mujeres, about the exotic amusement parks, about Chichen Itza and more; all together with my newly taken exciting pictures of Mexico. Let's get started…
I stayed in Oasis Palm Beach hotel, as it can be understood from the title of this post. I have only great things to tell about the hotel itself. It is a three star hotel but most of its qualities will provide you the service of four maybe five star hotels. Foods are excellent, first of all; and then it is perfectly clean. Well, I should have firstly mentioned that it is right on a beautiful beach; even though some might find the beach being a little small, but no worries, I am sure you can all the beach stretching along right and left.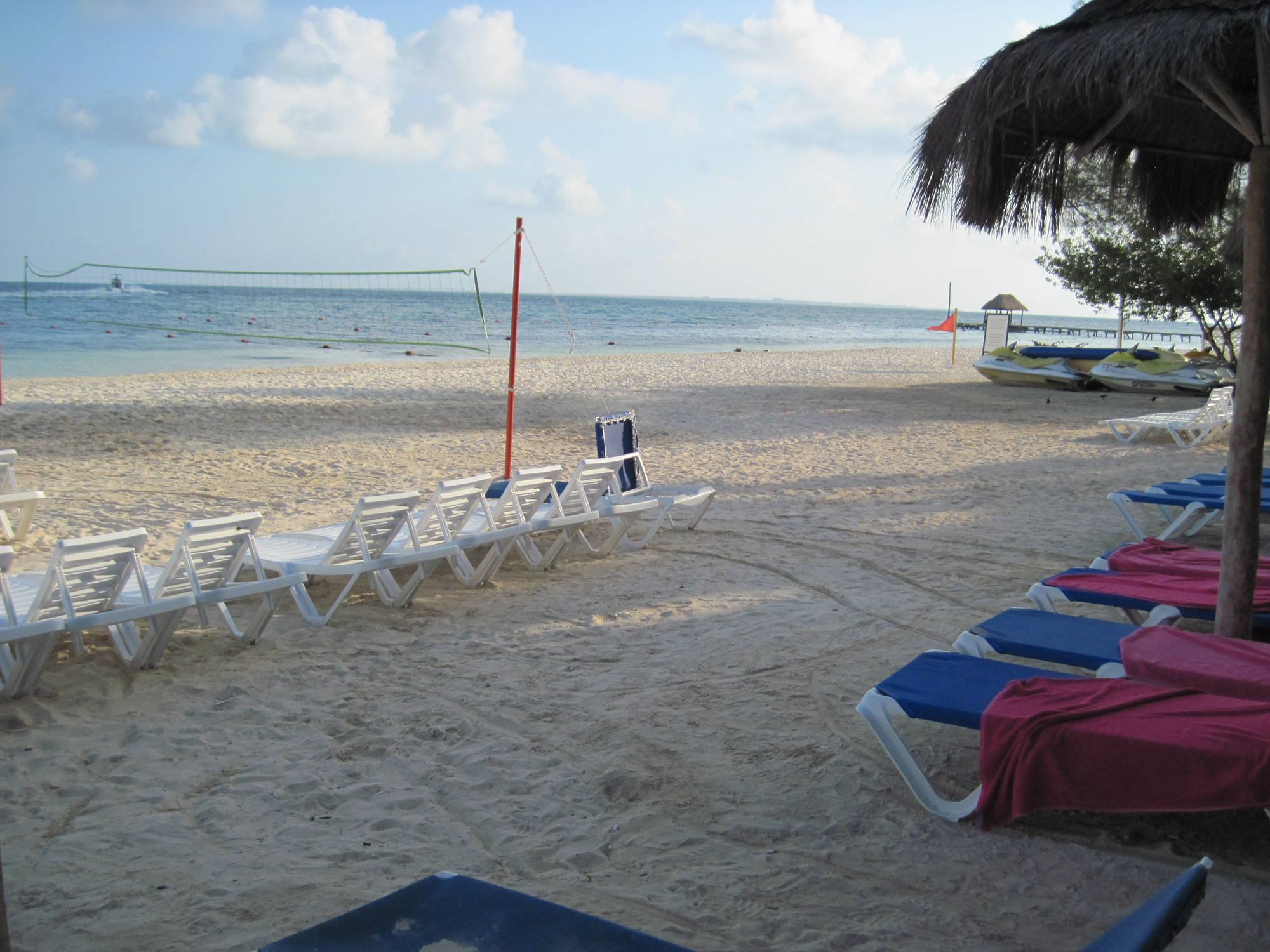 (Oasis palm beach hotel, Mexico, Cancun beach & palm trees)
Besides, if you are there to go for many activities during your vacation -that's what I did- you might not even find time to enjoy that beach, while you can enjoy many other and more beautiful beaches almost where ever you go with your activities. They will even take you to Ik Kil to swim in that amazingly beautiful well which is about 150 feet below the ground when you are on the way to Chichen Itza.
Plus, Isla Mujeres is right across Oasis Palm Beach hotel, you can clearly see it; you can walk to the port or take a couple miles of bus trip to the one a little further which is what I would recommend you to do, because there is another absolutely gorgeous beach at the port area and besides you can do a little shopping, and on top of all, you could even bungee-jump ! Yes, you heard right! If you love cigars, don't miss the opportunity of buying some Cuban Cigars at that very port, but try to negotiate, you can bargain some excellent Cuban Cigars for unbelievably cheap prices. Anyway, I will tell more about it when I write about Isla Mujeres.
(Took this one from the top floor of the hotel; Isla Mujeres is right across; can be seen as a thin line on the horizon; takes about half an hour by ferry)
In your room, water, soft drinks and beer are for free and if you want to drink more than beer, it is all free at where you will find the stand right next to the beautiful pool. There is also a club right at the same point -down stairs, though-
Yes, the hotel got a very very beautiful pool; you can swim, you can lay down around the pool and enjoy your drinks any time you want. By the way, I would also recommend you to take a room on the first floor, because the elevator hassle might drive you crazy! believe me, it is worth it! You may think it is good to have a nice view of higher floors but think again.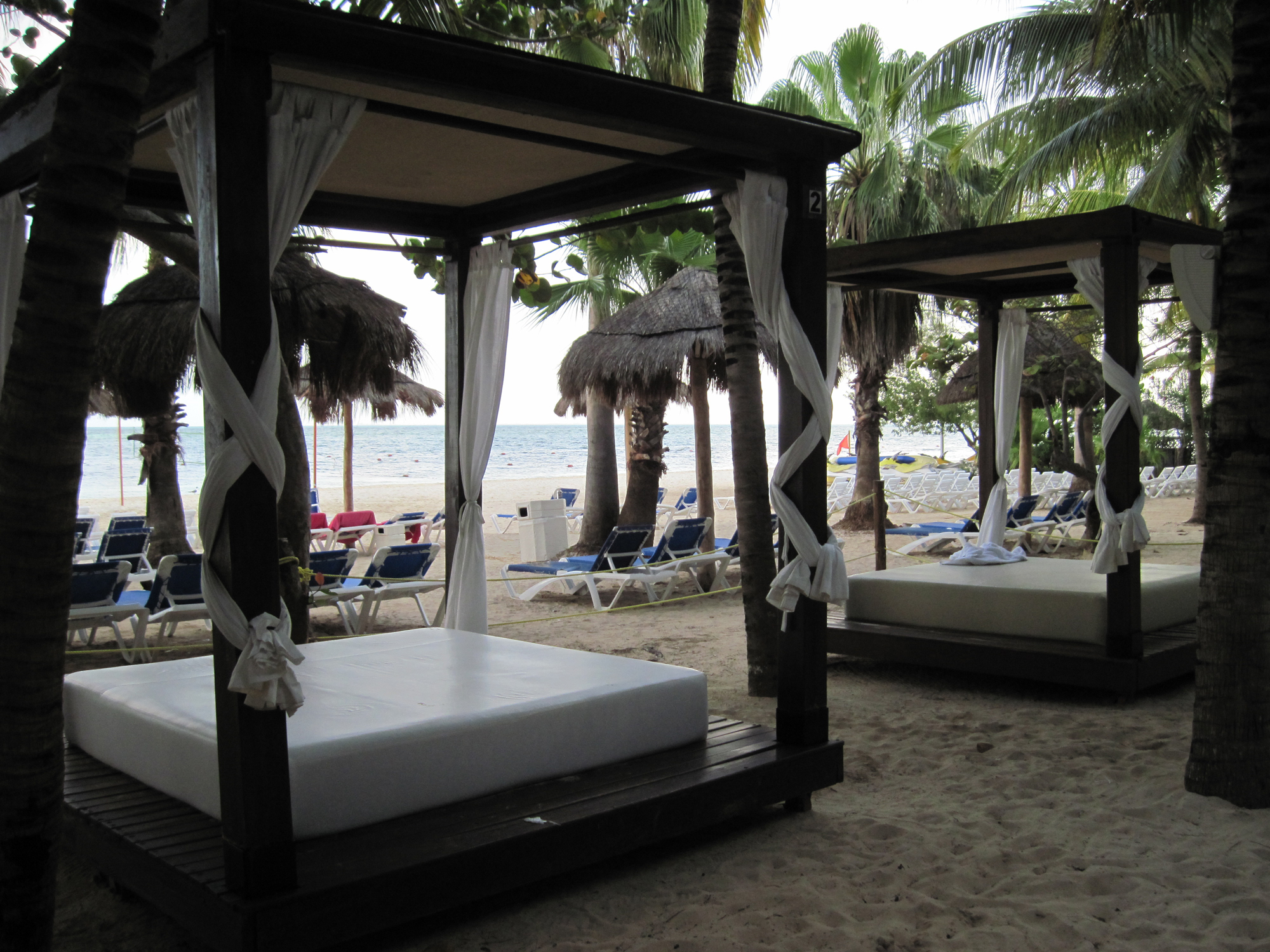 If you are going for a vacation in Mexico. I would suggest you to take some cash with you, apart from the hotel and activities that you already paid for, and exchange the money -not necessarily all at once, but as you go- and try to buy things by Mexican Pesos; that way you can save a lot of money. Because when you want to buy something, they will tell you, for example, it is 28 Pesos; 11.50 Mexican pesos is equal to about 1 dollar; then 28 pesos is more and two dollars but 6.50 pesos less than three dollars, so, you will most probably lose that 6.50 pesos. You might say, who cares about that little amount; well, it is right, if it is only once, but imagine if you do that at least several times a day and you stay in Mexico for about 10 days, then it is a considerable amount.
Besides, don't think that things are cheap in Mexico, because it is not! You will understand when you have to pay 3-4 dollars for a small bottle of water, or the same amount for a small cup of coffee.
There are agents of different tour companies inside the hotel; if you had not arranged your activities before going to Mexico, it is never too late, you can always go and talk to one of those guys and arrange your activities for next day(s) by, of course, paying for it (you can pay for it with you credit card, no cash needed for that). Chichen Itza, amusement parks that are right on beautiful beaches, Playa del Carmen, you name it.
A note: I am not really checking my e-mails that I connected my blog with, so, please, if you have questions,  just leave a comment and follow up for my respond. Thanks…
More about Mexico is coming up! Way more fantastic posts and pictures…