Palaya Del Carmen, Mexico
|
Palaya del Carmen, in the state of Quintana Roo of Mexico, renown for its beautiful sandy beaches, stunning nature that combines the green and blue within, also known as a wonderful vacation place for reasonably cheap prices.For some authorities, it is one of the top summer vacation place as well the cheapest.It is also defined as a resort city.
Playa del Carmen, or just Playa, originally was a small fishing town and now is a major tourist destination and renown to have cheap prices.You could find the best rooms from 50 to 150 dollars in hotels such as Hotel Cielo, Kinbe Hotel, in Mayan Rivera which is one of the most attractive places.Some of the best hotels are  El Taj Condo Hotel, Banyan Tree Mayakoba, Secrets Maroma Beach Riviera Cancun, The Royal Playa del Carmen, El Dorado Maroma.
It is a wonderful coast city where tourists easily could find a great variety of attractions and activities.Night life of Playa is very famous.You could take a walk for a nice shopping, the prices are generally cheap.If you are looking for some nice Cuban Cigars, this is the place.Don't think it is not a family-friendly place hearing about the night life, Playa is a family-friendly vacation place.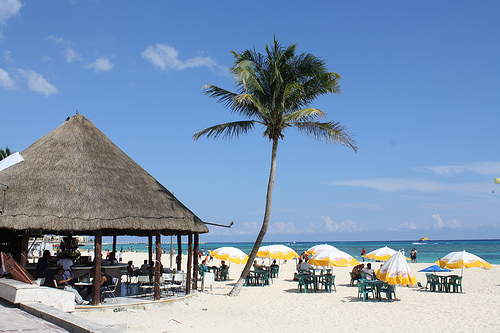 Beautiful sandy and clean beaches, scuba diving, snorkeling, surfing and many more to attract you to this place.And maybe the most important for the many is that it is truly cheap.