Tips for a visit to Petra in Jordan
|
Tips for a visit to Petra in Jordan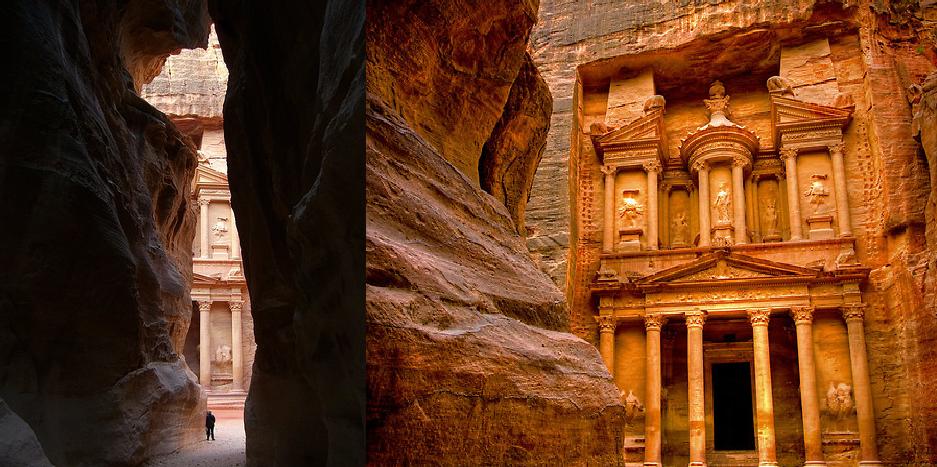 Petra in Jordan is definitely one of the most beautiful sights in the Middle East and therefore is not for nothing was elected one of the new world wonders. This former capital of the Nabateans fact is spectacular! But what is the best way to this beautiful ancient city to visit and what should you absolutely not do? Here we put a few tips to visit this world wonder for you here.
1. What time should I visit Petra ?
Visit Petra in the late afternoon or very early in the morning. Most tourists visit Petra in the period from 8:00 to 16:00. Because sooner or later to avoid the real big tourist groups. Than 7:30 or 5:00 p.m. and from one hour you have this special place almost all to yourself, so you can quietly enjoy changing the color of the sandstone rocks at the rising and setting of the sun.
If you really are unable to Petra outside peak hours to visit it is advisable to visit the city in the reverse order by first going to the 'convent' to go and from there slowly return to end with the "High Place of Sacrifice." The tour groups do all the route in reverse order and this way you have the most places at some times are still reasonable for yourself.
2. What route should I take to Petra ?
You can visit Petra via several different routes. The most common route is through the Siq (canyon). If you have only one day then this spectacular route. Visit Petra on more than one day? Walk on rocks around the city and enter the city via the 800 steps higher monastery. The long walk (2 1/2 hours) is beautiful with views of deep gorges and the surrounding mountains. Also you pass make frequent temple ruins. On arrival in Petra have a beautiful view over the city. Then you stand almost directly face to face with the spectacular temple of Deir El.
3. Best Sightseeing places in Petra
Take in the gorgeous Petra climb to the High Place of Sacrifice for a nice view of Petra. There are relatively few tourists, while the view is great.
4. Visit Petra by night
Every Monday, Wednesday and Thursday from 20:30 to 22:30 it is possible to Petra in the evening to visit, called Petra by night. The entire route through the gorge to the Treasury is lit by chandeliers of 1500, a fantastic spectacle that ends with traditional music and a story about Petra on the square. Very fairytale!