What type of safaris are there in Africa ? Where in Africa you could have the best safari trips ?
Tips for a safari in Africa & Safari Types.
Africa is one of the most fascinating continents of the world population and a rich traditional culture. The reason why many travelers to Africa, however, is enormously varied and impressive scenery that you encounter on the continent.
For centuries, the African plains and the wild animals that live people are fascinated. However, where there used to go forth to the big five to lay people today come from far and wide to capture this on film. The gun may have happily made room for the camera, but the scenes that you stay at a safari dished fascinating subject. An African safari is a true adventure!
Many travelers come to Africa in search of the big five: buffalo, lions, leopards, elephants and rhinos and that's not for nothing. Come face to face with these magnificent animals in their natural habitat is a unique experience. A safari in Africa is quite different than a trip to the zoo. Safaris can be physically strenuous and unlike the zoo there is a big chance you will not get to see all the animals that you would like to see. Good preparation is essential.
Types of safaris
Safaris come in all shapes and sizes. On a safari, most people think of the classic game where you drive with an open jeep, led by a guide in search of game, but there are so many more opportunities to African nature to explore.
Game Drives
This is, as mentioned, the classic game where you have an open jeep with a local guide by nature drive looking for wildlife. Game drives you in a group with other business people, but you can also private game drives, using the guide all to yourself. Private game drives are of course more expensive than group game drives.
Self-drives
In a self-drive safari you drive yourself. This allows you to travel at your own pace and stop at the places you want to stop. The disadvantage of a self-drive safari is then that you have the knowledge of a trained guide fog. This may cause you to miss a trained guide animals or would not have noticed.

A self-drive safari of course requires more preparation than a game drive. There are plenty of tour operators that a lot of things you can control, like a car that is suitable for the terrain of the park you want to visit and the property (called a package safari in the jargon). This takes you a lot of hassle out of your hands and that is certainly for the first time when you go to Africa or in the less developed countries such as Zambia and Malawi safari quite convenient.
Walking safari
On a walking safari runs through between the wildlife in the park. For many people this is the purest form of safari because you in this way more spectator than participant in the natural feel. As you can imagine is to create a walking safari is not without dangers. It requires a vast knowledge of nature and wild animals you may encounter. It is definitely advisable to make only walking safaris led by an (armed) professional guide. Moreover, walking safaris in game parks, not all allowed.
Canoe safari
A number of wildlife parks are perfect for a boat or canoe to be explored. Examples include the Okavango Delta in Botswana, Mana Polish National Park in Zimbabwe and the Lower Zambezi National Park in Zambia. All quiet paddle you see the African landscape pass you by and you can slide the wild animals in this way are often very closely. A canoe safari is not without danger (especially the hippo along the way can be very dangerous) and hereby is recommended to only with a trained guide it along.
Train Safari
In Africa runs a number of old luxury trains in some cases parks traverse. This is an ideal (but very expensive) way to the spectacular African nature to let them pass you by as you now enjoy a snack and a drink.
Examples of this type of "train safaris" are the Rovos South Africa, the train from Nairobi to Mombasa in Kenya and the Shongololo by South Africa, Swaziland, Namibia, Botswana, Zambia, Zimbabwe and Mozambique are driving.
Other safaris
Besides the aforementioned safaris, more and more new types of safaris. So you can now also horseback safaris, balloon safaris, bike safaris and photographic safaris.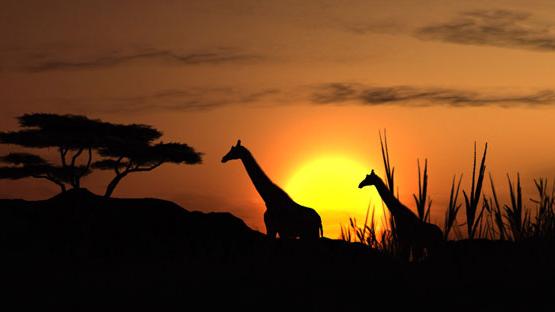 Of choice in the types of safaris is no lack. Besides choosing the type of safari is still the choice for the duration and level of luxury safari. There are safaris of a morning or evening, but you can for several days and sometimes several weeks on safari. In a multi-day safari you can often some of the aforementioned types of safaris combine. Also in terms of luxury (and hence price) everything is possible. There are opportunities in extreme luxury to go on safari, where you sleep in tents that are more like hotel rooms and where your evening on your porch sipping Chablis can all enjoy the animal. On the other hand, you can also back-to-basic on safari, where a toilet is far away and where you need to cook your own meal.