Most Popular Prague Museums, The Top 10
|
Prague is the capital of Czech Republic with beautiful historical buildings, interesting sights and beautiful museums such as the National Museum.Looking for a weekend in Prague to visit a few of the beautiful museums? See below the top 10 most museums in Prag, for the best tips and addresses, opening hours and admission fees.
National Museum
The National Museum, founded in 1818, is the most important museum in the Czech Republic. This museum has an impressive collection of some 20 million objects spread over dozens of buildings.The main building is located in a beautiful palace that one of the most prominent buildings in Prague. Tip: every first Monday of the month, admission is free.
The National Museum, Wenceslas námìstí 68, Prague 1.
Hours: Daily from May / September from 10.00 – 18.00 and from October t / m april from 09.00 – 17.00. Every first Tuesday of the month closed.
Subway: A / C – Station Museum
Tram: Line 11 stop Museum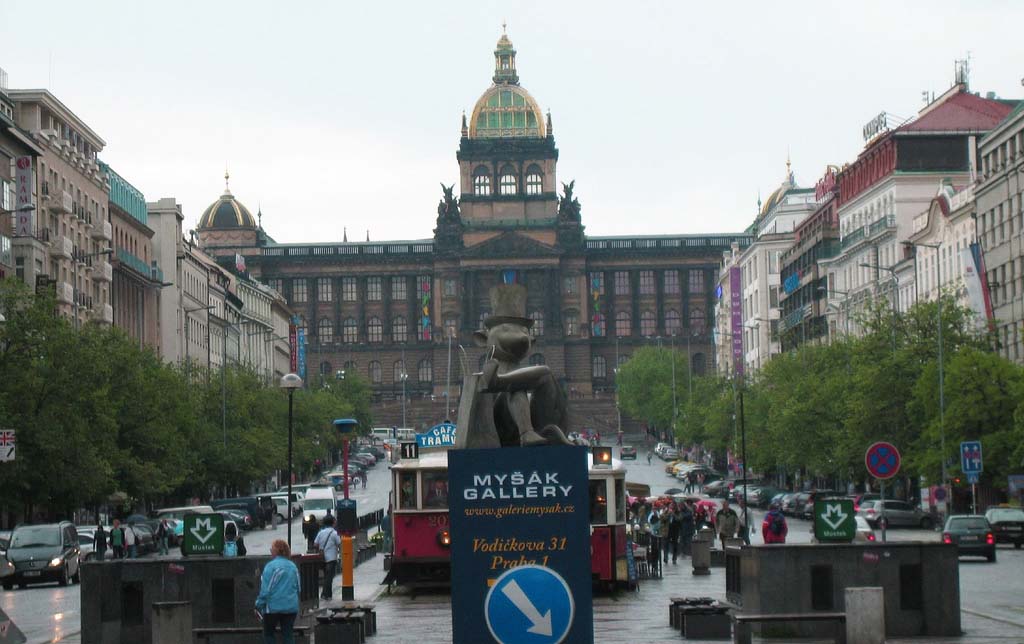 The Gallery of Prague, GHMP
The gallery of Prague, short GHMP, was founded in 1963 and puts its focus on Czech art from the 19th and 20th centuries. The collections of the GHMP (sculptures, paintings, graphics) are very interesting. In the gallery you can find works by artists such as Alfons Mucha, Jaroslav Èermák and Emil Filla.
National Gallery in the Exhibition Palace, Dukelských hrdinu 47, Prague.
Hours: Daily from 10.00-18.00, Thursdays from 10.00-21.00 hours. Closed on Mondays.
Tram: 5, 12 or 17 to Veletržní
 Museum of Applied Arts
In the Applied Arts Museum are all kinds of porcelain and ceramics of the Classical Antiquity to the present to see. The museum also has the largest collection of glassware in the world. Especially the furniture in cubist style.
Applied Arts Museum, Praha 17 listopadu 2, Prague 1.
Hours: Tuesday to Sunday from 10.00 to 18.00.
Metro: Staromestska
Tram: Line 17 or 18
The Jewelry Museum
The jewelry museum in a beautiful old piece of Prague. The unique collection was compiled by the museum of the decorative arts and displays the artistic developments in this area again in the period 17th century to the present. Feel free to explore the beautiful objects Tiffany, Faberge eggs (made from include gold, diamonds and pearls) and jewelry from the Art Nouveau and Art Deco period!
The jewelry museum, Hergetova Cihelna, Cihelna 2b, Prague.
Hours: Daily from 10.00 to 18.00.
Metro: The green line – stop Malostranska.
Tram: Line 12, 20, 22 or 23 stop Malostranska
 Mucha Museum
The newest museum in Prague's Mucha Museum is dedicated to the famous Art Deco and Art Nouveau artist Alfons Mucha, who lived from 1860 to 1934. Mucha's work consisted mainly of designs for posters. In addition, he also made wonderful sets, costumes and jewelry.
Mucha Museum, Kaunicky palác, Panská 7, Prague.
Hours: Daily from 10.00 to 18.00.
Metro: Mustek
Czech Museum of Fine Arts
The Czech Museum of Fine Arts is housed in the 'House of the Black Madonna. " an important monument in 1911. You will find here interesting exhibitions about Czech Cubism and other Czech and international art movements.
Czech Museum of Fine Arts, Husova 19-21, 110 01 Prague.
Opening hours: Daily 10.00 – 18.00. Closed on Mondays.
Metro: Line B stop Narodni Trida
Urban Museum
One of the masterpieces at the Museum is the attractive paper model of Prague created by Antonin Langweil early 19th century. In addition you can in this fun museum lot about the history of this city to learn!
Hours: Tuesday to Sunday from 09.00 – 18.00.
Metro: Florenc
Tram Line 3, 8 or 24
Villa Bertramka
Villa Bertramka is dedicated to one of the world's best composers: Wolfgang Amadeus Mozart. Mozart in the villa are famous opera Don Giovanni. The interior of the beautiful villa is very remarkable. In the summer you can, in the garden, attend concerts of music by Mozart.
Mozart Museum, Bertramka Mozartova 169, Prague.
Hours: Open daily from 09.30 – 18.00.
Metro: Line B stop Andel
Tram: Line 4, 7, 9, 12 or 14 stop Bertramka
Narodni Museum of Technology
The Narodni Technology Museum displays in chronological order the development of technology within the Czech Republic, and weather is very nice to visit with children. You find here because, among other racing cars, but also all kinds of machines and large aircraft engines.
Narodni Museum of Technology, Kostelní 42 170 78, Prague 7.
Opening hours: Tuesday / Friday from 9:00 to 17:00 and Saturday and Sunday from 10.00 to 18.00.
Metro: Hradcanska, Vltavska
Tram: 1, 8, 25 or 26
Schwarzenberg Palace
In imposing the Schwarzenberg palace is now the Museum of Military History located. This castle has a striking decoration with large stones.
Tip: free admission on Tuesdays!
Museum of Military History, Hradcanske namesti 2, Prague 1.
Opening hours: From May / October from Tuesday to Sunday from 09.30 to 18.00.
Metro: Malostranská
Tram: Line 22