BINKAP Thermal Resort, Bingol Province of Turkey
|
In my previous post I mentioned about this thermal resort a little bit.When the last time I visited the resort -which was several days ago- I got several brochures to use in my post.But it's all Turkish, so I need to translate some parts for you.Especially the information about resort rooms, spa, thermal water, fitness center, restaurant and surely the contact information.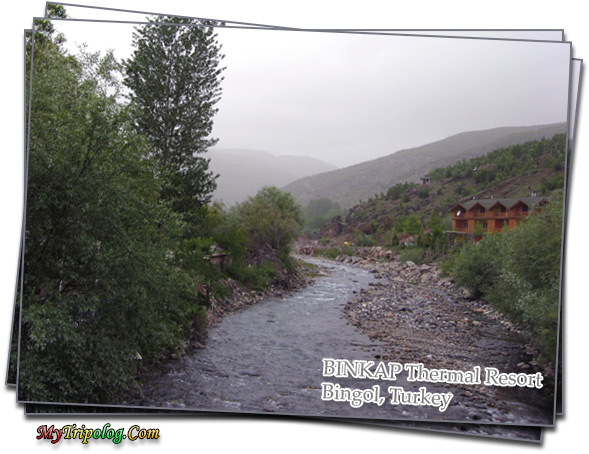 Like I said in my previous post, Bingol province -especially the city center- has not many to offer but if you are passing through or in a city which is around Bingol, it's really worth visiting this place.For health, fun, new experience… And yes, this thermal water is really healthy and helps healing many sicknesses.I will mention them too.
BINKAP thermal resort has 360 rooms and all the rooms have a nice view of the river and nice full green nature behind.All the rooms has direct international phone line, TV, mini bar, bathroom and 24 hour room service.Thermal water is used in all resort rooms.There's another choice to stay in which is "Dublex Motel" and has a swimming pool down stair, three bedrooms upstair, bathroom and others.
(Entrance of BINKAP Thermal Resort, Ilicalar Town, Bingol Province, Turkey)
The restaurant is open between 09.00 a.m – 12.00 a.m.They've got reasonably nice and wide menu, cold & hot drinks.
BINKAP thermal resort has also a spa, swimming pool, fitness center, billiard, aerobic center.The swimming pool is filled up with the healthy thermal water.It's kinda hot water, the warmth is natural.Ceiling is closed and when you get into the room where there's the pool, it's not easy to see the next corner because of the steam.But it's all natural…
(The river infront of BINKAP Thermal Resort, Ilicalar, Bingol, Turkey)
According to Istanbul technical University's report, the termal water in the resort is very healthy and helps to heal many sicknesses.Again according to this reposrt the thermal water of BINKAP resort is healps healing embarras gastrique, osteoclasis, tooth decay, cardiovascular diseases, diabetes, gynecopathy, urethra problems, neurotic problems.
Lastly, I will give you contact information:
Tel. Number & Adress : (+90-426 )252 50 03  / Ilicalar Town, Bingol, Turkey.
(The mountain behind the thermal resort and that's a part of  the restaurant on the right side down)
(Nice nature view around BINKAP Thermal Resort)