On Your Way To Travel Thailand: Part 2
|
Thailand by bus
Thailand has a modern and well-organized bus network. All major cities are connected. A cheap and nice way to move is local bus. These buses stop at many places on the road, sitting between Thais. They are curious and try to come to talk with you. Sometimes they are a little embarrassed and smile gently. You will see that monks take place back of the bus, never find a woman – it will be highly appreciated if you leave these places left. You pay about 0.20 € for a ride of one hour. Note, however, that the buses are often full and there is little space for large luggage. The local buses are a fan, often open the windows and doors to ensure freshness.
For slightly longer trips, we recommend a more convenient bus service. The buses run between the cities several times a day and go from (almost always) on time. We can make reservations for you in these buses, there is air conditioning and lots of space. Air conditioning is also often very high, take a jacket or sweater on the bus. A trip from 3 to 4 hours will cost about 6 €. On the route Bangkok – Mae Sot, we reserve the slightly more comfortable (night) VIP bus as there is no connection with the train. This is equipped with adjustable chairs. Often cold drinks to get on board and there is a toilet.
Thailand with the (night) train
The train transfer is very well organized in Thailand. Above all, long lines are good to bridge the night train, because you can sleep. They just come in contact with other travelers and also meet the Thai middle class. You will also save you a hotel overnight and arrive early at your new destination. The trains are reasonably clean and well kept, but do not expect too much comfort. thailand-experience pre booked tickets and reserved seats. The Zugstewards show you your seats. In most cases, you sit across from each other. The night train in Thailand has several classes: 1 2. and 3 Class.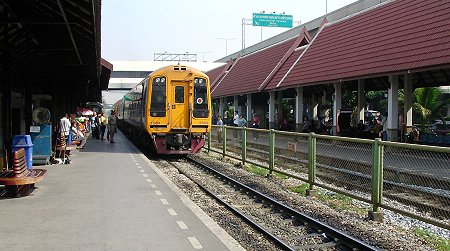 We almost always book the 2 Class. The beds are as comfortable as in the 1 Class and there is enough space for your luggage. The air conditioner is automatically controlled and it is often cold in the train. A pleasant warm sweater is therefore not an unnecessary luxury. You can store your luggage next to your space in the luggage bag. There are (squat) toilets and wash basin with cold (non-potable) water, with which you refresh yourself and brush your teeth. Who wants a private compartment, may the 1st Class book. There is a locked room with a bunk bed for two. It is a little tight, with just enough room for your luggage. Due to the small room here there is still a bit cold. In the 3rd Class one usually has no bed and no air conditioning.
There is a separate "Restaurant" on the train, where you delicious Pad Thai or a cup of soup to eat Noodle. There are also cold drinks. You can eat in your own compartment, in the early morning someone comes by to take your order. You can then specify your wishes directly to the breakfast, but not expect too much of it: a cup of hot water, and a few Teesäckchen Noodles. Meals and drinks are paid on the town itself – about 3 € for a meal and about 1 or 2 € for a cold beer. You can even bring a few snacks from the station.
In the evening, come by the Zugsteward and conjures out of your chairs in a flash a bed with clean sheets, a pillow and a blanket. On the two sides created a number of transitional beds stack. It will be hung curtains, so you have some account.
We train the book well in advance, especially around the holidays Loi Krathong (November) and Songkran (April), these fill up quickly.