Fethiye, The Anatolian Pearl
|
Fethiye, located on southwestern Anatolia -Turkey-, is one of the major tourist destinations of Turkey, and the world, actually.Its Mediterranean climate, historical and natural beauties all together, Sun-Sand-Sea -the magnificent triple- and many more worth seeing, experiencing attractions attract people from all over the world.It is a major vacation destination especially for the European tourists, as its costs are much lower compared to most European tourist destinations and much more beautiful.
If you want to enjoy all the attractions of Fethiye, just couple days, or a week is not enough at all.Fethiye has tens of little bays, coves where the green and the blue dances harmonically.Oludeniz (literally means Dead Sea), is just another beauty that really deserves a separate post, so I just mention its name here, and that I will write another post separately about Oludeniz of Fethiye right after this post.
Saklikent is one of the major attractions of Fethiye. Saklikent, literally means hidden city, is like a paradise hidden into a 18 km length of a canyon.Beautiful creek, gorgeous natural beauties which will absolutely stun you here.Yakakoy, which is very near to Saklikent is another attraction where you could also have access to some delicious foods while having your feet into the cold waters of the creek.
You could get into the sea where ever you sea it all over Fethiye. The water is crystal clear everywhere here.Having real long beaches, such as Cayagzi beach being 17 km long, you will exactly feel it is worthed to be here no matter what.Sun, Sand, Sea; this is the place for all of it all together and of course many many more.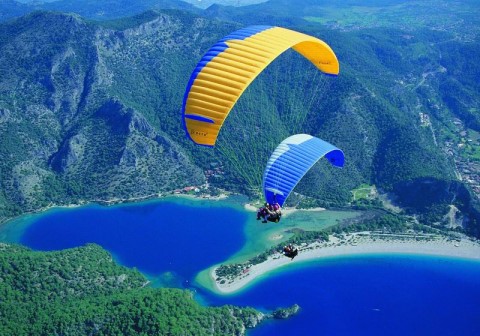 Don't forget to visit ancient sites of Fethiye.