Galata Tower For A Dreamy Day
|
I have been to Galata Tower in Istanbul a few days ago and really impressed… So, now I am writing about the Tower.It's not just a historical tower to see but you can also enjoy its nice cafeteria, lunch, dinner, Turkish night show, traditional dances, belly dancers, showmen, harem show and more…
It's one of the oldest towers of the world which is open for visiting where you can enjoy the magnificient view of Istanbul.You can spend an unforgettable evening at Galata Tower; Delicious international cuisine, oriental dance shows and authentic attractions await you.A dreamy day and colorful night where you can enjoy all the beauties of Istanbul from a 360 degrees angle.
(Galata Bridge and Galata Tower at night, Istanbul, Turkey)
Now, here's some information which may be useful before visiting the tower:
Galata Tower, one of the eldest towers of the world was built of wood by Byzantine emperor Anastasius Oilozus in 528 as a lighthouse, in 1348 it was recontructed by Genoese as Christea Turris (Christ Tower) using stack stone.
Galata Tower owned by Ottoman Empire during the conquest of İstanbul in 1453 by Sultan Mehmet II "The Conqueror" and witnesses the most brilliant and the most troublesome era of the empire.
Tower was repaired by the Turkish architect Murad Bin Hayreddin in 1510.During the reign of Murat IV (1612-1640), Hezarfen Ahmet Çelebi flew as an early avaitor using artificial wings from this tower over the Bosphorusto the slopes of Uskudar on the Anatolian side nearly 6 kilometers away.
The tower was closed for restoration for three years and re-opened in 1967.During this period of time, the tower had been restorated to its former appearance as it had been in Mahmut II period.The external diameter of the tower at its base is 16.45 meters, the inside diameter is 8.95 meters.The thickness of the alls at its base is 3.75 meters and the uppermost floor it diminishes to 20 centimeters.Between the fourth floor and the uppermost flor there are slits made in Ottoman age.On the fifth flor there are holes where gun barrels are located.The tower's altitude is 61 meters.On each of seventh and eighth flor there are 14 windows.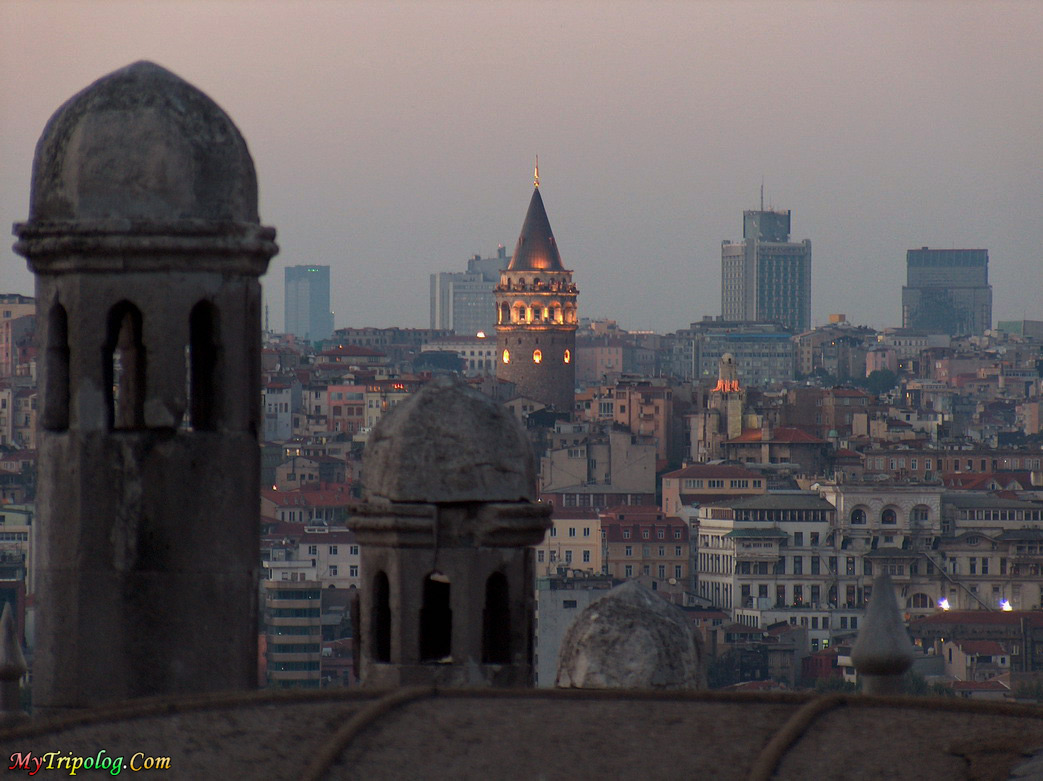 You can go to  www.galatatower.net and get some information about menu, reservations, shows etc.The web site is available in several languages such as Turkish, English, German, French and Russian.By the way, you could also see panaromic photos which shows the view can be seen over the tower.
(Restaurant inside Galata Tower, Istanbul, Turkey)