Six Flags America Amusement Park & Largo, MD
|
Yes, the summer is coming soon.It's gonna be time to have some fun and relax.Amusement parks, far away from city centres, to some quiet corners, countries…
Here we will talk about most of it.Regarding to our topic we will see about Six Flags America and Largo town.First I will mention about both and there will be photos amongst as always.And at the end of the article, I will share many nice photos of Six Flags America (Baltimore/Washington D.C) Amusements Park.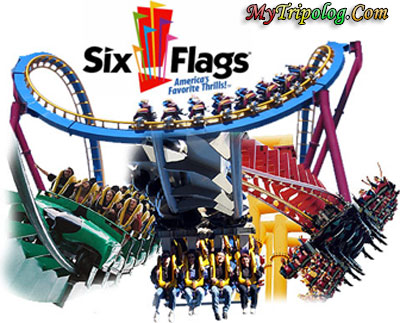 Yes it's actually known to Six Flags Washington D.C/Baltimore, and when you try to pick a park in SixFlags' web site you will see it that way, but it's neither in Washington nor in Baltimore.It's in Largo town of Maryland which is about 60 mi away from Baltimore and very close to Washington D.C.You can even go to Largo by using Washington Metro Train, Blue Line (Short Term Parking, Long Term Parking, Reserved Parking, Car Sharing, Bike Racks, Lockers  are available at the station).Then just take a bus for $ 1,25 directly to the Park.
(Washington D.C metro blue line last station, Largo Town Centre)
By the way, I wanna mention that you are able to see several great scenes during your trip through blue line (WMATA) such as Potomac River.So, keep your camera ready…
Largo town is a pretty quiet one.People who are around Washington, MD or even Virginia could come to the town for a nice weekend without getting too far from their house and work.There are nice hotels by the town. New Holiday Inn Express Hotel & Suites, Radisson Hotel Largo are nice Hotels which you can stay.Nightly rates are about $ 130 – 150 which is reasonably good for the nice quality of the hotels.This region is convenient to Six Flags America, NASA, FedEx Field- home of the Washington Redskins -, University of Maryland, Laro Town Centre.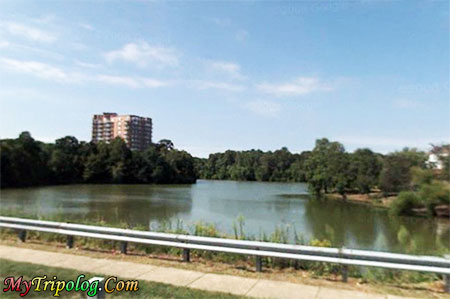 (Northampton Lake, View through "11351 Lake Arbor Way", Largo)
I should say that Largo is a reasonably nice place for a weekend vacation.And including the Six Flags America, it's excellent for it.Beside the Amusement Park, several natural beauties of Largo are worth to see such as Northampton Lake  and a few more small but amazingly beautiful lakes around.The district is very quiet and available for a little picnic, going for a walk etc.Largo town has a good environment which is mostly full of green.
Food is an important matter for sure, (lol).Let me give you trip about it; try Largo Pizza.I love that place.Great foods, very nice people, so cool prices… Now, I will give you the exact adress and the phone number; Phone – (301)-333-6400 Adress: 51 Kettering Dr Upper Marlboro, MD 20774.They've got pizzas, subs, salads, chicken, chips, soft drinks etc. And all are delicious.Call and order !They'll bring it to you as soon as possible.
(On The MainStreet of Six Flags America Baltimore/Washington D.C.Everyday right before closing time, people get together on this point and dance all together; guests, staff, security, managers, supervisors etc. )
At Six Flags America…
It's a very nice amusment park actually.You can get entry coupones online or right at the park before entering in.Buying online could cost you less and the Park actually sometimes have easy  promotions available.So, check web site to pay less before going there.You can check the web site also for some special days such as concerts, special shows etc.
The park is available for also special days such as family reunions, group meetings etc.The district called Oak Grove Picnic Pavillion, or the village  -the way staff call it-, is a pretty big and nice place for such days but you must make reservation before.I have seen people coming even from New York City for a party/meeting in Oak Grove Picnic Pavillion.Many people from all over the World and USA visit this park actually.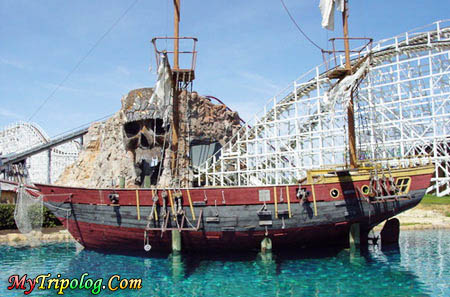 (Ship on Skull Island, SFA, Largo)
By the way here is the guide map for Six Flags America.Click For It.
The park is really very very large and there are tens of rides, food restaurants, water pools, retail shops, stores inside (Let me remind that foods and drink are not allowed to bring from out.Even if you bring, they will be thrown in trash before entering.So, leave your drinks and foods in your car or shuttle whatever).There are also showers, bathroom, payphones, rental tubes (for swimming pool and etc.), first aid, water fountains, public lockers, wheelchairs, strollers, ATM baking inside the park as you can see on the guide map of the Six Flags America.
(Crazy Superman Ride of Steel Roller Coaster at SFA Baltimore/Washington D.C, Largo)
Batwings, Superman, Tower of Doom, Joker's Jinx, Two Face are amongst the most exciting rides.They will have you feel your heartbeats crazily.And absolutely so much fun.(See the photos below)
Water Park has many wet rides and plus a really large swimming pool which also offers you places for sunbathing.There are rental tubes, as i said before, to make you feel okay as your kids get in the water or to use for crazy water rides.An for sure,  there're lifeguards for safety…
Now, Let's see the park more photos of Six Flags America.They will tell you more than my words anyway.Enjoy…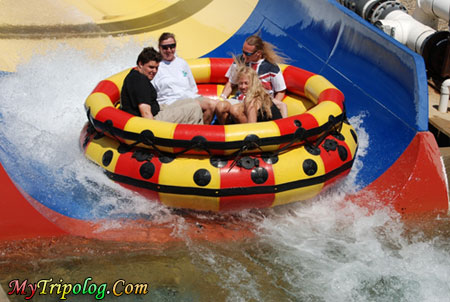 (A Little Wet Work  At SFA Baltimore/Washington D.C, Largo)
(Another Crazy Ride; "Batwings" at SFA)
(Gotham City Entrance; There are some nice Batman shows right across the street and this is the way to Batwings, Joker's Jinx and Superman Roller Coasters.)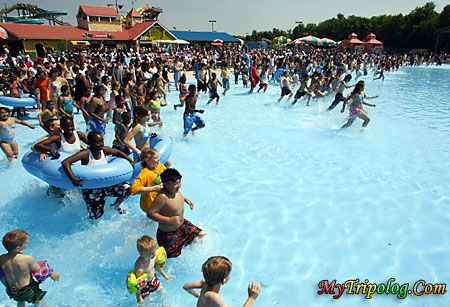 (Running Into Swimming Pool After The Break, SFA WaterPark, Hurricane Harbor)
(Joker's Jinx Roller Coaster, One of the craziest rides in the park.You will ask yourself if you were out of your mind after riding it)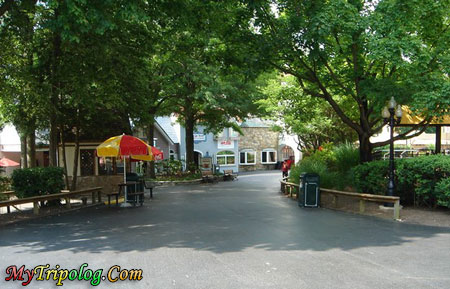 (On The Streets of Six Flags America)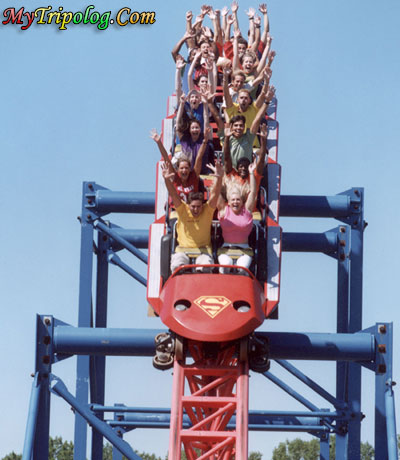 (Mind Eraser Peak Point of Superman Roller Coaster at SFA)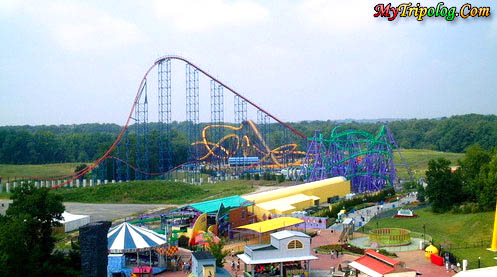 (A View of Six Flags America Amusement Park in Largo.This is probabily just %10 of the entire park.)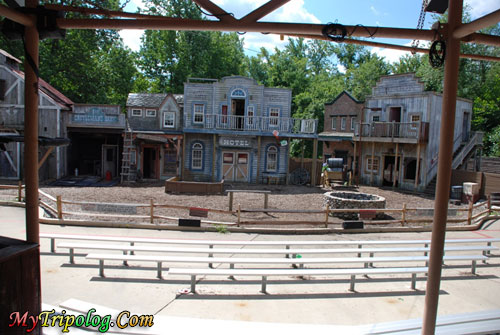 (This place is used as an outdoor threathre for nice stunt shows or theathres.)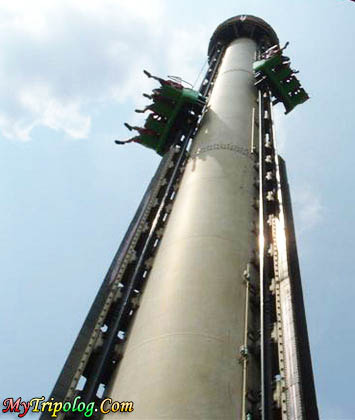 (A hearbuster ride; Tower of Doom at SFA, Largo)
Enjoy your day or days in Largo and/or Six Flags America Amusement Park.Stay in touch with your Travel Advisor, You TripOlog.