Metro Manila, A "Must See" Metropol: Part 1
|
Manila, the capital city of Philippines, is one of the 17 cities that make up Metro Manila.Most foreigners think of entire Metro Manila when it is said Manila.Actually, I was one of them.But it's not a big mistake, once you get in the city, Metro Manila, you are to visit many important place in some municipalities of its such as Manila, Makati, Quezon City etc.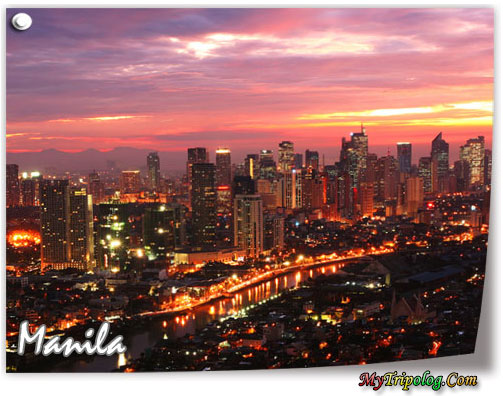 Here, I will mention entire metro Manila; "must see" places, where to stay and the costs, the transportation tips and the costs, nice foods to taste and the costs, what especially to do and the photos within and after the article. Transportation in Manila… Let's start from the beginning.I mean the airport, Ninoy Aquino International Airport (NAIA) is about half an hour drive to the city center.You'll probabily take a taxi from Airport to the center.So, when you take the taxi from Airport, the price is fixed and 13 Dollars to any central district (it's been 13 dollars for last 4 years).Actually, that distance costs even less than half of it in Philippines but for airport taxi, that's the way.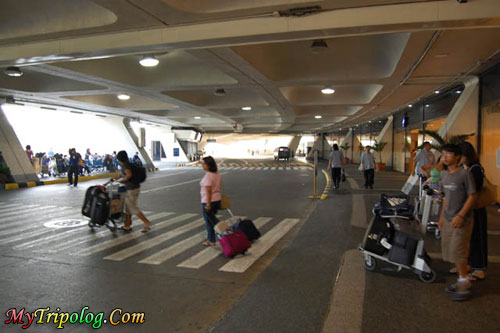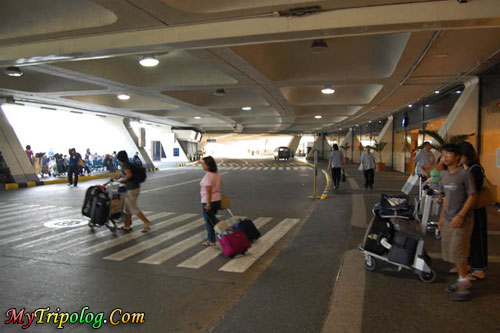 (Passengers exiting NAIA -Ninoy Aquino International Airport-, Manila) Let me remind, if you haven't made a hotel reservation yet, you can meet some people who can find you a hotel to stay as you ask.Just when you get out of the airport, look at your right and you will probabily see the sign "Hotel".Get there and ask what you want.There will be some people awaiting for a customer 24 hour a day.But I suggest you to make your reservation earlier. Now, you are in Metro Manila; you could take taxi which is not really expensive but be careful with taxi drivers.Not only for this city but taxi drivers are generally the same everywhere.I am sure you know what I mean here.But I met considerable number of taxi drivers who were pretty kind and honest too.It's just a reminding.
(Bus and Jeepney in public transportation in Manila) Besides taxi, I strictly advise you to try the experience of colorful Jeepneys and Tricycles.Those are not something you may experience everyday.So, don't loose that chance.Plus, it's much cheaper.Bus and also -like they call- FXs are widely used in public transportation.FX is a like a small jeep which is for 10 passengers (2+4+4) and the driver.The FX has Air-con and provides a nice trip.For the bus, depend on the price you wanna pay, you can take an air-con one or without air-con.Prices for the bus might change (like, between 1-3 dollars ) depending on the place that you wanna go and the type of the bus (air-con/ordinary).For FX you are to pay about 30-40 pesos and for Jeepney it's about 15-20 pesos. Where to stay in Manila? As most other districts of Philippines, you have a wide range of choices on this matter.From modest motels to five star hotels; from boarding houses to rental condominiums.Price range is pretty wide too; starts from 30 dollars per month boarding houses and goes up to thousands dollars per night hotels.
(A room in Pacific Garden Hotel -about 100 Dollars per night-, Manila) Regular/modest motel or hotel rooms' prices start from about 20-25 dollars per night which is not bad, and these rooms may even be in a central point.El Cielito Inn Makati, rooms are reasonably comfort and not with that much cost.It's even in the very heart of Metro Manila, Makati.Makati Palace Hotel, which is also in a central point and a little better comfort but sure with a little higher price.You could probabily get a nice room for about 75 Dollars per night.
(Children playing on Manila streets) You may have a smaller budget then I will suggest you to take a boarding house which is about 30 dollars per month.It's not gonna be like a hotel room but if you think that's only a place to be only for sleeping and having bath then why not.But in such a room, you'll probabily be sharing with a few others who are mostly Filipinos.You can ask for a room for one person; that's available too.You'll pay about 100 dollars for one month and get it.But you may need to buy your own electric fan, it's a pretty hot and humid country.You can't stand without an electric fan or air-con. You may ask for a much much better hotel.Makati Shangri-La Hotel Manila, Manila Hotel are amongst the bests.You could check the hotel rates online.And for sure, there're many more good quality hotels.These are just some clues/advises.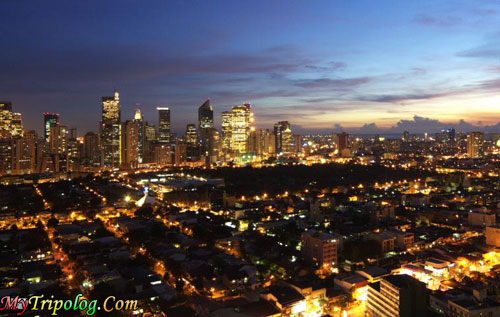 (Makati skyline at night, Manila) What to do in Manila… It's really many to mention.Malls, historical places, great parks, a wonderful bay, amusement -theme- parks, nightlife, many kind of restaurants, yacht club, religious places, tasty traditional foods, museums and many more are falling in line.Let's start to mention them…
(A view of Greenbelt in Makati, Manila) Malls & Greenbelt… I will mention two popular malls here, Glorietta (in Makati) and Mall of Asia (in Pasay City).These both malls are amongst attraction centers of whole Metro Manila.It's not only shopping what you can do in the malls, but also very nice reastaurants, ciname saloons, amusement points are available in the malls.Mall of Asia is the largest mall of Asia which is another attraction face of mall.
(Mall of Asia in Pasay City, Manila) By the way, as I've just mentioned Glorietta, let me tell about the famous Greenbelt which is in the same district with Glorietta.Greenbelt is amongst most visited places of Manila by tourists and locals.It's possible to see people from all over the world in this district.Many restaurants to offer you foods from many other countryies such as Italian, Turkish, Chinese foods are available here.Greenbelt is also a center of nightlife.Lights, a crowd of people are making it up.By the way, I suggest you Pasha Restaurant where you can find delicious Turkish foods in Philippines.It will cost about 20-30 Dollars per person for a regular meal.And surely, there're nice places for traditional Filipino foods too.
(Glorietta mall in Makati, Manila) In the second part of the article, I will mention much more about what to do, what to see, what to eat in Manila; and there will be more excellent photos of Metro Manila. Now, it's more photo time, friends…
(Greenbelt at night, Makati, Manila)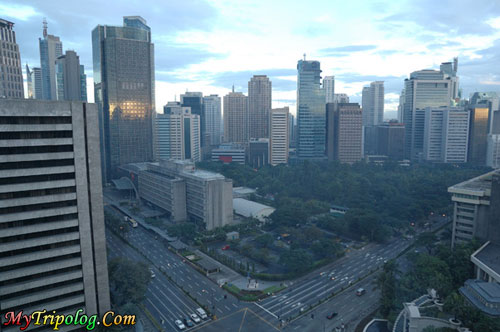 (A view of Makati, Manila)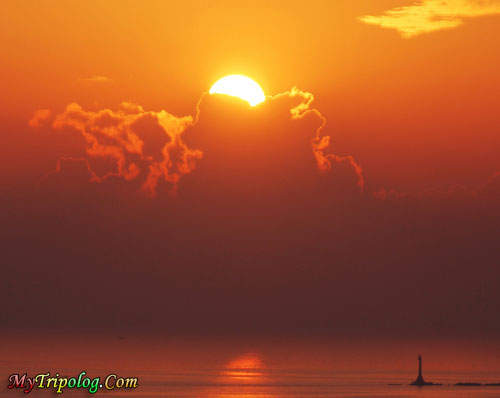 (Excellent sunset view in Manila)
(Malls in Greenbelt, Makati/ Manila )
(A quiet Manila street)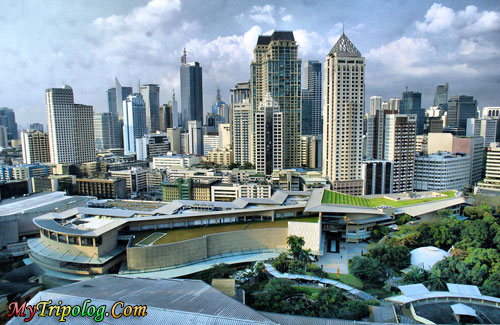 (A great view of Makati) The second part of the article is coming very soon. Your Trip Advisor ChaOs …