Hatteras Island, North Carolina's Outer Banks
|
Hatteras Island is one of the most visited places of the USA.With its excellent beaches, wonderful national park and historical places, the island keeps its prestige.It is a barrier island in the Atlantic Ocean that goes parallel to the coast of North Carolina. Hatteras Island includes the towns of Rodanthe, Waves, Salvo, Avon, Buxton, Frisco, and Hatteras.Each of these towns has its own features to present visitors.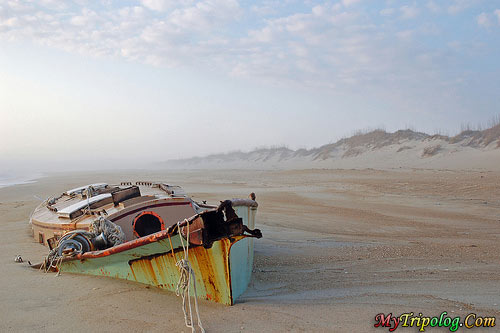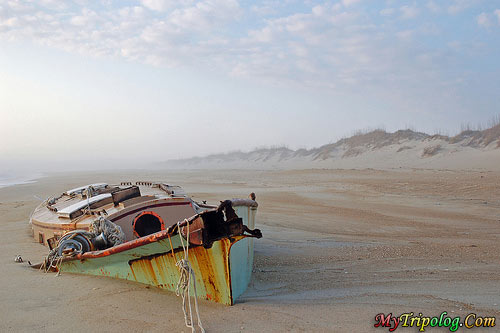 (A lonely boat wreckage on the beach, Hatteras Island)
My first visit to Hatteras Island was in 2007 summer.I visited the Island also the following year, in 2008.That's for sure because enjoyed a lot during the first visit.
The National Park in the Island is one of the most visited National Parks of the USA.There also many famous lighthouses in the Island.Cape Hatteras lighthouse, in Buxton, is the tallest lighthouse in America -198.5 ft (63 m)-.It was at cape point but Atlantic Ocean nearly claimed it, that's why the entire building was moved away from the ocean in 1999.It is open for visitors.A "must see" place in the Island.
(Cape Hatteras lighthouse, N.C, USA)
The beaches of the Island are excellent, especially the beaches by Hatteras town.You can for fishing, swimming, kiteboarding and surfing all over the Island.The beaches are safe and very clean.But it's not a good idea to get in the water when it's dark, you might face a shark danger the.The good thing is you can also find a quiet corner on some beach to get some rest, relax or read something.Not every corner is full of crowds and noise.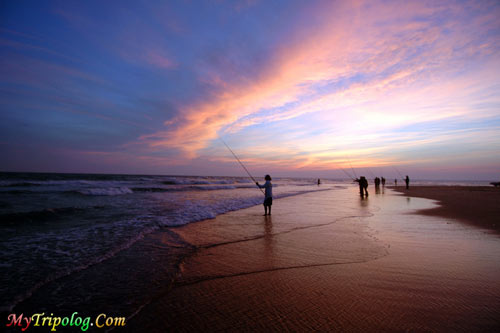 There a saying about N.C "You don't like the weather?Don't worry, it always changes in N.C".That's absolutely true.Even in summer, it rains sometimes a few times a week.But not to worry, it will be sunny and very hot in a few hours again.
The Island is also visited by many people for weddings, family reunions, special days.
The Wright brothers, who flew with an engine plane first, had their first flying experiences on the Island in Kitty Hawk, in 1903.So, it is alsohas historical features with many more,  such as lighthouses, Native American Museum -in Frisco-.
If you are intrested in a few hours aeroplane trip above the Island, you're lucky.There are aeroplanes for rent without too much cost.Planes are mostly for a few passangers and about 50 dollars per person.You will absolutely enjoy watching the Island from the plane.That's a great experience.
Not only at the ocean side but also Sound side is available for swimming, surfing, kiteboarding and fishing.The Pamlico Sound is the largest sound in the world.The sunset view in Pamlico Sound is absolutely a "must see" (see the picture below).
I am like hearing some silent questions from you; "What about the expenses, prices?", "How about transportation?"
Motels, Inns,  oceanfront cottages and condos are available with a wide price range.I am not to mention all the prices here but I can say that you will be able to find a nice room in a Motel or Inn for 90 – 110 dollars per night.Motels and Inns mostly have swimming pool, wireless internet, TVs, air-cons.
You will have many options for a place to eat something.Fastfoods, pizzas, seafoods, breakfasts are widely available.
(Sunset on Pamlico Sound)
If you are looking for a special place, I suggest you to see "Island Perks Cafe" in Buxton.It's right at the entrance of Buxton.With polite service, warm people,  special food (breakfast, lunch and dinner), nice ice-creams, special birthday cakes, many different kind of coffees, retail shop which is surprisingly wide, great deck with nice, cool Island breeze; "Island Perks Cafe" is ready to show you Island's hospitality.
That's it for now.But I will write many more articles about "Hatteras Island" and give deeper information about the towns and special places of the Island.Keep in touch…