Big Large Size Switzerland Political, Road Map and Flag
|
Hello everybody! My dear followers and random visitors. Some of you might have noticed that I have been neglecting my blog for quite a while. Yes, that is true but I have reasons, lol. I have recently started schooling again; back to university, preparing for my graduate school application and education. So, it keeps me quite busy but I will be updating my blog more often for a while. Anyways, today I will be sharing map and flag of Switzerland.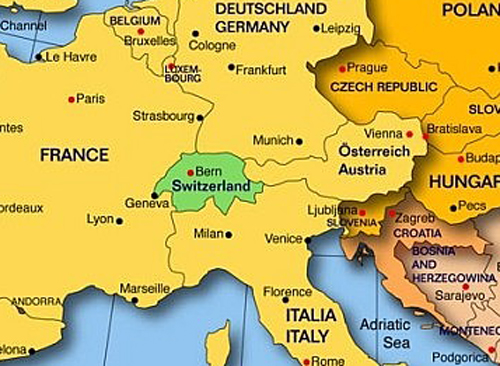 It might be surprising for some of those who will be seeing it the first time that Switzerland is actually in the middle of Europe, not way up northern Europe. Yeah, seeing all the ski-resorts, winter themes, Alps, so on and so forth in media and internet creates somewhat like a cliche wrong-perception in minds. And there is the confusing cause by somewhat similar names if Sweeden/Swedish, Switzerland/Swiss, which adds up more to the misconception.

(Map of provinces/states of Switzerland and their local flags) Click on the pictures to see larger/original sizes
Oh, let me mention this in advance; I will be taking a week trip, vacation in a beautiful country soon. I will not give the name of the country yet, haha. Keep up with MyTripolog, you will be seeing some spectacular pictures. I will be sharing my travel reviews, and write about it too. It all will be published together with photos and etc. OK, OK, let me give just one little clue; it is a South American country.

(Map of Switzerland cities/provinces; surrounding countries shown, Italy, Austria, France, Germany)
Uhmm, some random visitors who came here only for the maps and flags might get angry now. So, let me cut the "crab" here for now.
(Switzerland road map / traffic map / tourist map)