Review Peek'n Peak Resort, Golf, Spa, Skiing; WNY Tourist Attractions
|
Alright, it was my first experience ever in a Peek'n Peak resort and I would like to share about it together with the photos that I've taken during my trip. First of all, this is the Peek'n Peak in Clymer, New York and apparently this is the only Peek n Peak in WNY area. Overall it was a pretty good experience, I have nothing to complain about, even though I will point out a couple of issues, and also will give more details of activities. Yes, this place offers quite a few fun, adventurous, nice activities such as golf, skiing (if visited during winter), indoor and outdoor swimming pool, hot tub, spa, sauna etc. OK, now, let's get going and see more details.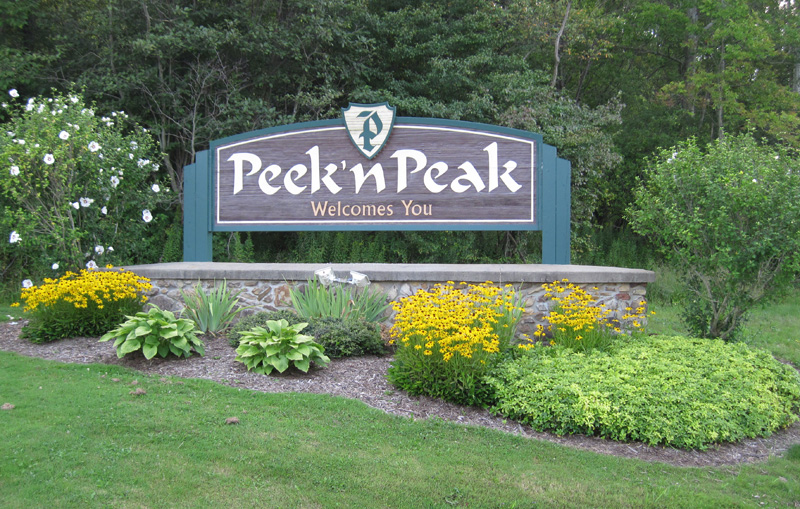 Let me start with the rooms; two queen size beds, bathroom, shower and bathtub, TV, Free-Wifi, microwave, nice balcony… Yea, it's all pretty good, nothing to complain, except that some people really don't like to sleep upstairs where there is no bathroom and that they will have to walk down the stairs in-case they need to go to bedroom in the middle of the night. Well, they might have rooms in which the bed(s) and bathroom are on the same floor, so make sure with that before making your reservation. Here is how the upstairs, i.e. the bedroom of the hotel room looks like:
If you love skiing and winter sports, this place seems to be one of the best ski resorts of WNY area, and possibly North Eastern Pennsylvania area, as well. So, you could either get one of the rooms in Inn at Peek'n Peak or you could actually rent a condominium; Camelot, Condominium Rentals; it's like right next to the skiing places and just a little further, like a minute or two walking distance, from the main entrance or the reception of the resorts where you could find a nice pub and dining place, as well as the indoor and outdoor swimming pool, hot tub, water slide, sauna, fitness center etc. So, here is what those condominiums look like:
There are two golf courses, upper and lower golf courses; consecutively, 4 1/2 star and 3 1/2 star golf digest rated courses. I don't understand much about golf, honestly, but the places seemed to be pretty good. The view of the golf courses ? Oh, it was amazing really, I loved it 🙂 Here is how it looks like, and this should be the lower golf course:
Maybe, just like me, you also don't care much for golf, but I am sure you will love taking a tour over the course. Fabulous view, very clean and taken care of. Just go and ask for a golf cart (I did, and they didn't even charge me anything for it, thanks a lot 🙂 ) and drive around the golf course. Very relaxing, very nice. It will take you around half an hour to see all around the lower golf course. I have also seen some rental apartments on the other side of the golf course; the Fairway Suites. You could rent one of those suites, too, and stay there right next to the golf course if you love golf that much 🙂 And I, actually, caught a very nice shot at that very spot; here is how those suites look like, and here is the magnificent reflection that I caught in my camera:
Dwayne Randall, Western New York PGA Player of The Year in the years of 2010, 2011, 2012, is the director of Peak Academy that offers "one on one" golf lessons within the Peek'n Peak resorts. If you'd like to take some golf lessons, this might be a good place for you.
Anyways, here is how the main entrance to the information desk and the rooms look like (I've taken this shot from the lower golf course):
Beautiful building; nice architecture, beautiful design and decor inside and out, clean and quite taken care of. Even though, I think, it would be best if the management went through a very fine maintenance throughout the entire building. Not to mean that there are big and obvious problems all over the place, not at all; overall, it's very nice and elegant. But just to keep it that way, they could pay attention to some of the "little details"; hence, I said, a "fine" maintenance.
Here is how the rooms look like from outside (small, nice balconies, I like that 🙂 ) :
Ok, before finishing my review of Peek and Peak Resort in WNY, Clymer. I'd like to give a list of activities that can be experienced here: swimming pool, hot tub, water slide, skiing, golf, mini golf, ziplines, segway tours, ultimate bungy, aerial adventure course, sauna, spa. And among the other attractions of the area are: Splash Lagoon Indoor Water Park in Erie, PA (only 25 minutes away), Millcreek Mall in Erie, PA, Presque Isle Downs Casino in Erie, PA, Finley Lake (about which, I will write a separate post tomorrow, hopefully), Erie Zoo, Lucille Ball, Southern Tier Brewery, Lake Erie Wine County. 
Yep, that's it. Well, here is also how the dining room or the Inn at Peek and Peak looks like, at least a small part of it:
Please, don't forget to leave your feedback 😉 And if you have any questions, just go ahead and ask, leave a comment, I will get back to you as soon as I can. Thanks, keep calm and travel 🙂