Brisbane's hidden treasures; Australia
|
Brisbane's hidden treasures
This subtropical metropolis, where people are as friendly and warm as the weather seem to be, is also called the "City of Sun Days" called – there is always something to do. Brisbane, located in Queensland state, proudly carries these words. It offers several relaxation areas, from shopping one afternoon a visit to South Bank Parklands, the sandy inland Australia. The area around Brisbane is especially rich in nature and therefore feels good …
North Stradbroke Island and Moreton
Brisbane where the river flows just outside the city, starting Moreton Bay, an immense bay where as many as 360 islands. North Stradbroke – Stradbroke part – is one of the two largest and consists of endless white pearl beaches, palm trees and complemented with more beauty of Mother Nature. Especially the wild orchids make this island a favorite.
Moreton Island is the other large island and is best known for the Mount Tempest, a sand dune 280 m high, but love it the largest in the world. Of course there is more to do, like watching wild dolphins each evening the Tangalooma Wild Dolphin Resort to accompany visitors to visit.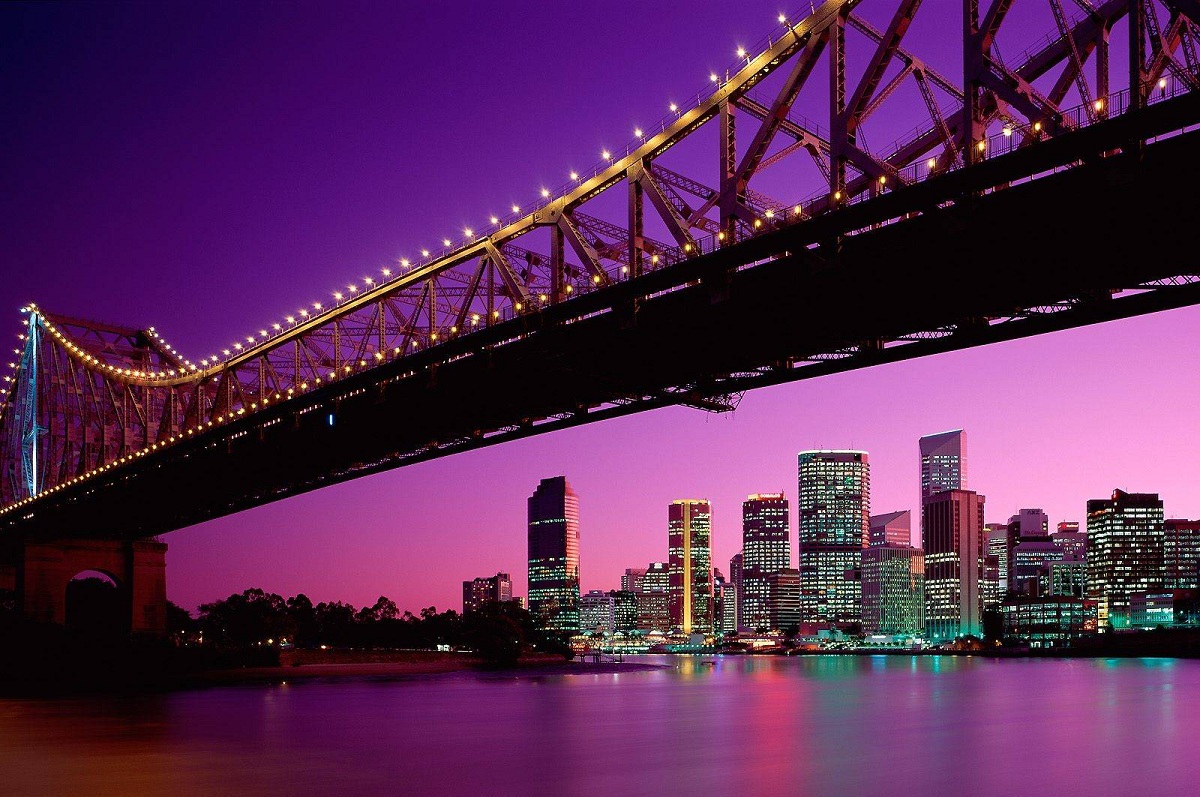 Tip! Visit between July and late October Moreton Island and spot humpback whales!
Gold Coast
An hour's drive from Brisbane, the Gold Coast to find a place that is very popular with the Australians. With its 35 beaches is the place for swimmers, divers and surfers. It's not for nothing that the environment of the Gold Coast Surfers Paradise is also called. Outside the water sports or relaxing on the beach, the Gold Coast is also home to quite a night out your boogie on the dance floor. Or you scream your heart out to one of the rides in Dream World – the largest amusement park in the southern hemisphere. Do not miss a visit to the Lamington National Park, the largest subtropical rainforest of Australia.
And after all this you do not want to leave the Gold Coast? Stay comfortable and stay in one of the numerous accommodations. For those who seek some quiet, the Sunshine Coast – at one hundred kilometers north of Brisbane – a good alternative.
Toowoomba
At about 130 km from Brisbane lies this small town in the mountains of the Great Diving Range. From here you have phenomenal views of the surrounding area, known as the Golden West. Toowoomba is known as Australia's garden city, but love has 150 public parks each spring during the Carnival of Flowers thousands of visitors. Just outside Toowoomba are also several parks, including the Bunya National Park. Aborigines once traveled long distances to the notes of the Bunya pine collection – a delicacy of the jungle.

After an adventurous day to one of the farms, devoted to cattle or sheep farming. Enjoy the hospitality of the people who offer overnight, and help the next day with the daily farm activities. A unique experience!
Both Brisbane and the surrounding area have a great natural beauty. The saying "Queensland is beautiful one day perfect the next", it therefore came true.