Vacation in Marseille city with rich history
Marseille: Marseille city with rich history
Marseille is known to us as a gray industrial city, where at best you could engage in the Foreign Legion. As they say in Marseille itself quite differently, as evidenced by a number of sites with pictures of this port city on the Mediterranean.
Marseille has a rich history that spans many as 2,600 years. Around the old port (Vieux Port) is a part can be found. The port itself is now a regular marina, but on opposite sides of the influx are two ancient forts. Particularly, the museum of the Roman port at Place Vivaux. That is no harbor, but here were destroyed by the Germans in a part of the city remains of Roman port installations found. The Marseille researchers have simply built around a flat on the ground floor and use the findings to show.
The city with its narrow streets, pleasant terrace and downright Mediterranean character has further include a magnificent moated castle, the Palais Longchamp, where museums of natural history and fine arts are located.
The best view of the state can be found at the Notre Dame de la Garde, an impressive church in Romanesque-Byzantine style. The church is an eleven-foot statue of Mary. The church has such a prominent place, that by the inhabitants of Marseilles nicknamed "Our mother called. In recent years worked hard to reduce the impact of air pollution, wars and the ravages of time to recover. Notre Dame de la Garde has been restored to its former glory.
Apart from the town beach is also a rugged piece of coast called Calanques or cornice. With heights of over 400 meters above sea level would be the highest cliffs in Europe.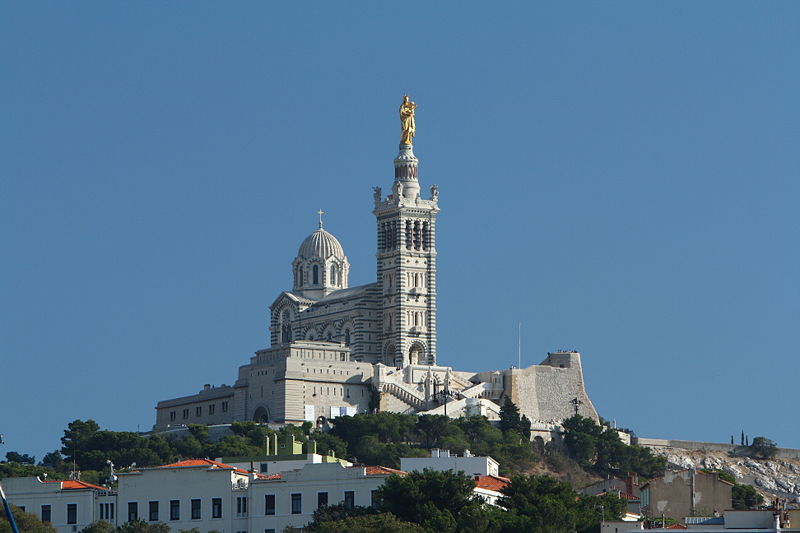 Obviously it again the walkers who enjoy the most, but for the entire route (GR 98) to go off you have to eleven hours. Moreover, keep in mind a cold mistral wind and provide adequate drinking water.
Those who prefer the car up, it looks a bit east and take between Cassis and La Ciotat the Route des Cretes. It is useful to map quite a bit to read, because this route is the way to even by French standards specified downright lousy.