Best and Cheapest Hotels & Resorts on Phi Phi Island
|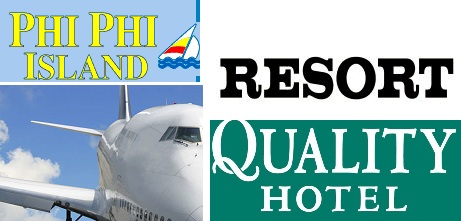 Phi Phi Bay View Resort
The Phi Phi Bay View Resort is located at the western end of Ton Sai Bay. The bungalows are built up the hill, offering spectacular views over the bay and Phi Phi Lee. Because of its location on the edge of the bay you come here with day-trippers do not touch. However, the center with restaurants and shops easily reached on foot. The room rates are moderate to Phi Phi. Overall recommended.
Phi Phi Village Iceland
The resort, which probably imagine the guests for their holiday on Phi Phi Islands. The 800 meter long sandy beach lined with palm trees evokes South Pacific dreams and is ideal to unwind from everyday life and relax. Our favorite site on the island can not be visited by day trippers, it's really quiet. The Superior Bungalows are already highly recommended if value is placed on a large terrace and more closeness to the sea, the DLX bungalows are suitable. The well-trained staff is very friendly and accommodating, round out the thoroughly positive picture. At low tide, bathing is not possible as the water retreats far.
Arayaburi Resort
This resort is the extension of the Phi Phi Bay View departments and shared with the reception and the restaurant. The system consists of Grand Deluxe Grand Deluxe Sea View Bungalows all of which are spacious and well equipped. the rooms are distinguished only by its location within the system with the Sea View Bungalows below the pool and near the small private bay. The others undergo sometimes quite far up the slope above the pool. Recommended as the Bay View Resort but with new bungalows.
Phi Phi Erawan Resort
Phi Phi Natural Resort