Alanya, For a wonderful vacation in the Mediterranean
Alanya town of Antalya province of Turkey, having one of the longest beaches of the Mediterranean, is one of the best vacation places of Mediterranean coasts of all.Its world renown beaches, and natural beauties attracts tourists from all over the world during the 12 months of the year, even though the most popular time is the summer time.Alanya's resorts, hotels, restaurants, night life and many more attractions makes this place a true vacation spot.
The castle built in 13th century by the Seljuks, situated as a crown on the Alanya peninsula, welcomes you first.Cafes, restaurants, shops that are surrounding the harbor gets to wear its nice suits especially at night time, and is a place where you could easily find many nice places to  shop around and buy some souvenirs.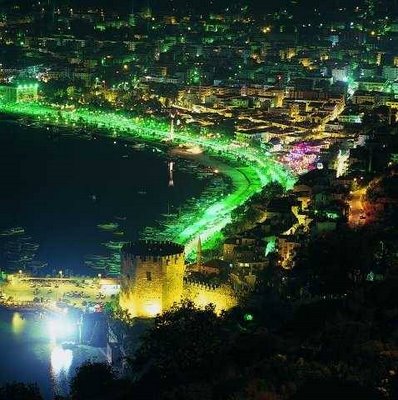 If you like exploring caves, there are many of those each of which having its own history and that had been used for various purposes throughout the history.There are even some sea caves which you could take a tour by boats.amongst the most popular of all those interesting caves is named as Damlatas Cave.
All of the beaches of Alanya are suitable, clean and nice, and that makes this place even a better and distinctive one.Alanya is a true paradise of sand, beach and sun.The area is also known to be a very nice one for sports such as rafting and hunting.Places for camping is also available in the region.