Ergemni Beach Of Lefkada, Greece
|
Egremni Beach is one of the most beautiful beaches of Lefkas (Lefkada) Island in Greece. This beach is 3 km long. To this beach is the fastest way through Dragano village. Egremni beach is long enough, so do not be afraid of many cars over the beaach – always here privacy. To get to the beach Egremni you go 350 steps should, after passing them you will see paradise.
Lefkada is one of the Eptanisa (a group of seven islands) located in the Ionian Sea off the coast of Akarnania, the mainland of Greece. The island is connected to mainland Greece by a long dike with an intervening "boot bridge"so we can reach the island without a ferry.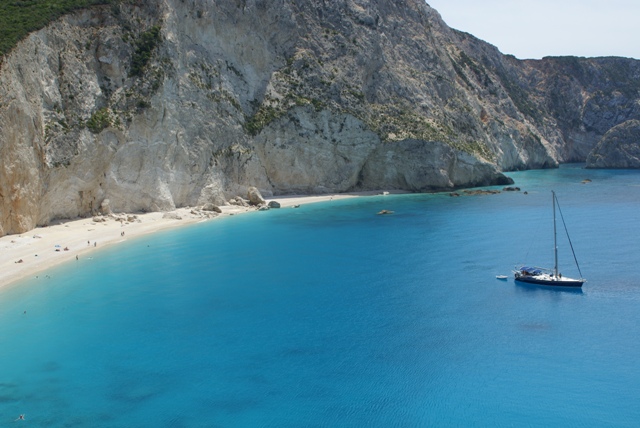 You will find on the beach, right below the stairs, mini-bar with umbrellas and sunbeds. Beach Egremni you can alway go by water taxi, which you can swim here for 3 hours. If you really want privacy, this is the right place to swim. Number os stairs to beach Egremni change each year and depends on how many stairs was destroyed by the earthquake. Because of the high rocks near Beach Egremni, it is recommended to stay in a minimum of 7 meters from the rocks …
District
In the city, a number of tourist attractions, including about 11 km Agios Ilias, Amnousa about 8 km, Porto Katsiki Beach approximately 4.5 km, about 12 km Mikros Gialos, Agiofili about 6 km, about 2.1 km Gialos, Kathisma about 16 km, Beach Milos about 17 km, about 14 km Kalamitsi, Emblisi Beach about 19 ​​km.